New Ferrari is fast, says Schumacher
FORMULA ONE After finishing seventh in Sunday's Malaysian Grand Prix, the F1 champion was cheered up by getting behind the wheel of the new F-2005
Michael Schumacher tested his new Ferrari for the first time on Wednesday in a hurried effort to get the car into action and improve on his underwhelming start to the season.
"My feelings are good," said Schumacher. "I realized immediately that the F-2005 is fast. I can already say that it's a step forward and I am without a doubt satisfied."
The seven-time Formula One champion completed 81 laps around the Mugello circuit for a total of 422km.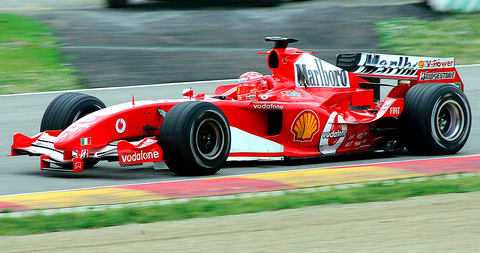 Ferrari's German driver Michael Schumacher tries out the new F-2005 during a test session at Mugello race track on Wednesday. Schumacher completed his first laps in the new Ferrari in Mugello, as the Italian marque considers moving forward the car's launch to the Bahrain Grand Prix on April 3. Schumacher has managed just two points from his first two races using last year's F-2004M car and is already 14 points behind Renault's Fernando Alonso, winner of last Sunday's Malaysian GP, in the drivers' standings.
PHOTO: EPA
Ferrari is desperate to have the car ready for the Bahrain Grand Prix on April 3, or the San Marino Grand Prix on April 24.
Using a modified version of last year's car in the first two races, Ferrari has finished no higher than 11th in qualifying and twice had their cars forced out of the race.
Schumacher was seventh in Sunday's Malaysian Grand Prix, more than a minute behind winner Fernando Alonso in his Renault. Barrichello exited the race on the 50th lap.
That has left Ferrari with 10 points from two races -- 16 behind Renault.
"It's always a great feeling to get behind the wheel of a new car. It's an even more special feeling after what happened in Malaysia," Schumacher said.
On Tuesday, Barrichello completed 95 laps -- about 500km -- in the new model before hearing an unsettling noise in the engine and ending his session.
"It is better in every area than the F-2004 and faster," Barrichello said.
Ferrari said on Wednesday that there was no "specific" problem with the engine that Barrichello used after performing a complete check of the machine.
Schumacher used a different engine for his tests.
In the past several years, Ferrari has waited until the fourth or fifth race to debut its new car. This season, the move backfired with offseason rule changes that rendered the old car nearly obsolete.
Comments will be moderated. Keep comments relevant to the article. Remarks containing abusive and obscene language, personal attacks of any kind or promotion will be removed and the user banned. Final decision will be at the discretion of the Taipei Times.