Vermont upsets Syracuse
HOOPS The shocks came early in this year's NCAA tournament as the Catamounts beat the fourth-seeded Orange by three points in OT, while Kansas fell to Bucknell
Tom Brennan called his Vermont Catamounts a dangerous team. Syracuse found out just what he was talking about.
Germain Mopa Njila and T.J. Sorrentine hit consecutive 3-pointers in a 48-second span of overtime, and the 13th-seeded Catamounts upset the Big East champions 60-57 Friday night in the first round of the US college NCAA tournament.
When Gerry McNamara missed a desperation 3 from the top of the key in the final seconds, the Cats had their first tournament triumph. They swarmed together and hugged in celebration, jumping up and down as Brennan raised his right arm in triumph.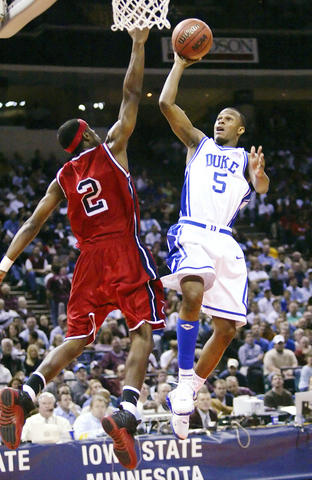 Duke's Daniel Ewing, right, shoots over Delaware State's Aaron Williams during the second half of their game in the first round of the NCAA Division I Tournament at the Charlotte Coliseum in Charlotte, North Carolina on Friday.
PHOTO: AP
Brennan, who is retiring at the end of the season, continually brushed tears from his eyes after beating a Syracuse team that had hopes of making the Final Four for the second time in three years.
Syracuse coach Jim Boeheim left the court with his head down, and the players followed.
Vermont (25-6) advanced to play either Michigan State or Old Dominion in the second round of the Austin Regional. Fourth-seeded Syracuse, the 2003 national champions, finished its season 27-7.
Michigan St. 89,
Old Dominion 81
In Worcester, Massachusetts, fifth-seeded Michigan State couldn't pull away until the final minutes, when Shannon Brown made a spinning layin to start a three-point play that helped the Spartans beat Old Dominion.
Michigan State (23-6) managed to avoid a second consecutive first-round exit and instead gave coach Tom Izzo his 20th tournament win -- his NCAA record is second only to Mike Krzyzewski's.
Brown scored 13 points, and Alan Anderson had 15 to lead five Spartans in double figures. Michigan State shot 57 percent (29-for-51) from the floor in the game, and that was despite making just three of 14 shots from 3-point range.
Alex Loughton had 22 points, 11 rebounds and six assists for Old Dominion (28-6) after playing much of the second half in the foul trouble.
Duke 57, Delaware St. 46
In Charlotte, North Carolina, Shelden Williams had 14 points and 11 rebounds and the top-seeded Blue Devils gave Coach K his 65th career victory in the tournament.
In 21 NCAA tournaments, Krzyzewski is 65-17, tying Dean Smith's total for the most career victories.
This one certainly was expected, even though Duke (26-5) had a hard time in the Austin Regional. The Blue Devils struggled throughout with the Hornets (19-13) despite having guard Sean Dockery back for the first time in seven games after he recovered from a knee injury.
Tracey Worley led Delaware State with 13 points, and Troy Roundtree added 11.
Mississippi St. 93, Stanford 70
In Charlotte, North Carolina, Winsome Frazier made six 3-pointers and scored 20 points to lead the ninth-seeded Bulldogs over Stanford.
Lawrence Roberts, the 2004 Southeastern Conference player of the year, led the Bulldogs (23-10) with 23 points and 14 rebounds. But it was Frazier who provided the spark they needed to get past No. 8 Stanford (18-13).
Frazier finished 7-of-9 from the floor, including 6-of-8 from 3-point range.
Chris Hernandez led Stanford with 17 points. Rob Little and Matt Haryasz had 14 each and Fred Washington finished with
Florida 67, Ohio 62
In Nashville, Tennessee, Florida blew a 20-point lead, but Anthony Roberson converted a three-point play with 42.3 seconds left to help the Gators advance.
Florida came into its seventh straight NCAA tournament hoping to forget about first-round losses of the past. The Gators had lost two of their last three first-round games, including last year to Manhattan when they were a No. 5 seed.
This time, though, fourth-seeded Florida (24-7) hung on after blowing a 55-35 lead with 11:51 left. The Bobcats (21-11), who rallied from 19 points down to win the Mid-American Conference title, went on a 20-2 run and tied the game at 60 with 2:12 left on Mychal Green's sixth 3-pointer.
Matt Walsh led the Gators with 18 points, and Lee added 14. Green finished with 24 points for the Bobcats. Florida moves on to play Villanova in Round 2 today.
Villanova 55, New Mexico 47
Kyle Lowry made two sets of free throws in the final 1:38, then came up with a clutch steal to help Villanova hold off New Mexico.
Lowry finished with eight points, while Mike Nardi led the Wildcats with 15 points. The Wildcats (23-7) got away with one against the Lobos.
After holding 12th-seeed New Mexico to just 11 points in the first half and leading by as much as 24, Villanova made just three field goals in the second half. The Lobos (26-7) made a furious rally, pulling within 52-47 with 29 seconds left. But they couldn't overcome their dismal start. Danny Granger led New Mexico with 15 points.
Fifth-seeded Villanova (23-7) moves on to face fourth-seeded Florida in the Syracuse Regional today.
Connecticut 77,
Central Florida 71
At Worcester, Massachusetts Charlie Villanueva scored 22 points for the defending national champion Huskies, who opened a 19-point lead but had to hold on to win.
UConn (23-7) will play North Carolina State on Sunday in the second round. But that could be it for the second-seeded Huskies if they don't snap out of the slump that has stymied them for the last three games.
Gary Johnson had career-high 29 points and 3-pointers for Central Florida (24-9), which had won eight straight games. Kingsley Edwards' layup got UCF to 74-69, but only 23.2 seconds remained and the Golden Knights were forced to start fouling.
Marcus Williams made three of four free throws down the stretch.
NC State 75, Charlotte 63
Julius Hodge atoned for the lowest moment of his college career in a big way, with 19 points, nine assists and seven rebounds.
The 10th-seeded Wolfpack (20-13) play again Sunday in the Syracuse Regional against defending national champion Connecticut. Andrew Brackman had 16 points, Ilian Evtimov and Cameron Bennerman each had 12 and Engin Atsur 10 for the Wolfpack.
A year ago in the NCAA tournament, Hodge was in tears after fouling out in a second-round game against Vanderbilt. Brendan Plavich, Eddie Basden and Curtis Withers each scored 15 for the seventh-seeded 49ers (21-8).
North Carolina 96, Oakland 68
In Charlotte, North Carolina freshman Marvin Williams scored 20 points and Sean May added 19 in the top-seeded Tar Heels' rout.
Rashad McCants added 16 points for the Tar Heels (28-4), who shot 73 percent in the first half to take a 28-point lead and never looked back. North Carolina advanced to Sunday's second round to face ninth-seeded Iowa State in the Syracuse Regional.
Oakland (13-19) won only nine regular-season games all year. The Michigan school reached the NCAA tournament thanks to an improbable run through the Mid-Continent Conference tournament and then beat Alabama A&M in Tuesday's play-in game.
Cortney Scott finished with 21 points to lead Oakland.
Iowa St. 64, Minnesota 53
The Cyclones relied on the same formula that sparked a dramatic turnaround during the regular season, using a variety of pressure defenses to pull out the victory in the Syracuse Regional.
Iowa State held Minnesota to 33 percent shooting, and Curtis Stinson led a balanced attack with 18 points. Rahshon Clark and Jared Homan added 14 each for Iowa State (19-11), which got past the first round for the first time since reaching the round of eight in 2000.
Brent Lawson and Vincent Grier had 14 apiece for the eighth-seeded Gophers (21-11). The Cyclones forced 17 turnoverst.
Wisconsin 57,
Northern Iowa 52
In Oklahoma City, Kammron Taylor scored 16 points in a reserve role, including a jumper and four free throws in the final minute, to help Wisconsin hold off Northern Iowa.
The Panthers, who had a chance to tie eventual Final Four participant Georgia Tech on their final possession in the first round of last year's tournament, rallied from an early 16-point deficit before having another upset bid fall short.
Sharif Chambliss hit a season-high five 3-pointers and had 15 points for Wisconsin (23-8), which didn't get its usual output from leading scorers Alando Tucker and Mike Wilkinson. Tucker, who'd been averaging 14.9 points, scored only six and Wilkinson (14.3 points) had seven.
Ben Jacobson led the Panthers (21-11) with 20 points, and Erik Crawford finished with 13.
Bucknell 64, Kansas 63
The Bucknell Bison won their first NCAA tournament game in their 110th season. And, wow, what a victory it was.
Chris McNaughton banked in a hook shot over Wayne Simien with 10.5 seconds left, then Simien missed an open 15-foot jumper at the buzzer, giving the 14th-seeded Bison a stunning victory over third-seeded Kansas.
Bucknell (23-9) began playing basketball in 1896, joining Yale and Minnesota as the nation's oldest Division I programs. But the only other times the Bison even made the NCAA field were 1987, when they lost by 22 to Georgetown, and '89, when they lost by 23 to Syracuse.
The Jayhawks (23-7) ended a streak of 15 straight first-round tournament wins and 21 in a row overall. This was their first opening-round exit since being eliminated by UCLA in 1978.
Oklahoma State 63,
Southeastern Louisiana 50
JamesOn Curry gave second-seeded Oklahoma State the spark it needed in the Chicago Regional.
Curry sliced into the lane and found Ivan McFarlin cutting to the basket for a layup, and the Cowboys turned a three-point lead into a comfortable edge down the stretch.
Curry added a free throw, then found McFarlin for another basket inside to make it 49-43 Oklahoma State. Terrence Crawford emphatically jammed home a miss by John Lucas III, and Curry hit a 3-pointer from the left wing then pumped his fist.
McFarlin scored 18 points to lead the Cowboys (25-6), a Final Four team last season. Ricky Woods led the Lions (24-9) with 16 points.
Southern Illinois 65,
Saint Mary's 56
Stetson Hairston broke a late tie with three free throws, then followed with a 3-pointer and Darren Brooks drove for the next two baskets, to push Southern Illinois into the next round.
Southern Illinois (27-7) advanced to the second round for the first time since 2002, when Hairston and Brooks were freshmen on a club that made the regional semifinals. The Salukis were knocked out by one point in the opening round the last two years, missing shots at the buzzer both times.
Next up for seventh-seeded SIU is second-seeded Oklahoma State.
Daniel Kickert led Saint Mary's (25-9) with 16 points, but made only one field goal after sinking his first three shots. Hairston led SIU with 13 points.
Louisville 68,
Louisiana-Lafayette 62
In Nashville, Tennessee, Francisco Garcia went 7-for-7 from the foul line in the last 2 minutes, and finished with 27 points to help fourth-seeded Louisville advance.
Louisville coach Rick Pitino insisted Louisiana-Lafayette was not a typical No. 13 seed, going as far as to say the Ragin' Cajuns were the most difficult first-round opponent one of his teams has drawn in 10 trips to the tournament.
There were eight lead changes in the second half before Louisville finally went ahead for good, 56-55, on two free throws by Larry O'Bannon with 3:43 to go.
O'Bannon scored 13 points and Taquan Dean has 12 for Louisville (30-4). Brian Hamilton led Louisiana-Lafayette (20-11) with 19 points before fouling out. Tiras Wade had 15 points and Chris Cameron added 11.
Georgia Tech 80,
George Washington 68
Jarrett Jack, Will Bynum and B.J. Elder combined to score on six straight possessions in the second half, leading Georgia Tech over George Washington.
Jack had 20 to lead the fifth-seeded Yellow Jackets (20-11), who never won by more than eight points last year in their march to the championship game. Bynum had 17 and Elder added 15 for Georgia Tech.
Pops Mensah-Bonsu scored 15 to lead four players in double figures for 12th-seeded George Washington, but the Colonials couldn't overcome their dismal foul shooting. George Washington (22-8) was just 4-of-16 at the line, including seven straight misses at one point.
Reggie Miller scored a season-high 39 points Friday, his highest total in nearly 4 1/2 years as the Indiana Pacers held off a fourth-quarter rally to defeat the LA Lakers.
Miller made a 3-pointer with 59 seconds left to give the Pacers a 95-90 lead, then made six straight free throws in the final 24.8 seconds to seal the victory.
"Hopefully, I won't always have nights like this, but right now we're short-handed," said Miller, who will retire after this season. "Stephen [Jackson] and myself recognize that we are going to take the brunt of the scoring load each and every night, so we both try to take an active role of getting into games early."
Miller's 39 points were his most since he had 41 against Milwaukee on Nov. 8, 2000.
Jackson had 19 points and five assists, and Anthony Johnson added 13 points and 11 assists for the Pacers, who improved to 5-2 in their last seven games.
76ers 93, Cavaliers 81
In Cleveland, Allen Iverson tore the bandage off his chipped thumb and scored 31 points, and Chris Webber added 14 -- including an audacious 3-pointer to start Philadelphia's game-ending 16-2 push over Cleveland.
Kyle Korver added 15 points and 11 rebounds for the Sixers, who improved to 6-5 since Webber arrived in a trade.
With the 24-shot clock running down, Webber picked up a loose ball in front of Cleveland's bench and flung in his 3-pointer to put Philadelphia ahead 80-79. The 76ers then held the Cavaliers without a field goal over the final 6:51.
Celtics 103, Rockets 92
In Houston, Mark Blount came off the bench and matched his season high with 22 points to lead the Boston over Houston for its season-best sixth straight victory.
Boston has won 10 of its last 11 games. The loss snapped a six-game winning streak for Houston.
Antoine Walker had 18, Ricky Davis 15, Paul Pierce 12, Tony Allen 11 and Gary Payton 10.
Tracy McGrady led Houston with 22 points, followed by Yao Ming with 18, Jon Barry with 16 and David Wesley with 12.
Comments will be moderated. Keep comments relevant to the article. Remarks containing abusive and obscene language, personal attacks of any kind or promotion will be removed and the user banned. Final decision will be at the discretion of the Taipei Times.