Chen Yi-an blazes keeps on kicking
Olympic heroine Chen Shih-hsin (陳詩欣) may have been Taiwan's first "official" gold medalist with her victory in taekwondo over Cuba's Yanelis Yuliet Labrada Diaz in the 2004 Athens Olympic Games, but the first Taiwanese-born athlete to set foot on the gold medalist's stand was actually Chen Yi-an (陳怡安) in the 1988 Seoul Olympic Games, when she beat a tough American opponent. Unfortunately for Chen, taekwondo was still listed as a demonstration sport at that time.
In part two of this three-part series named "Where are they now?" we will visit Chen, the former taekwondo standout whose electrifying performance in Seoul and Barcelona in the 1992 Olympic Games as a member of Taiwan's Olympic squad, won the heart of the nation.
Chen has since moved on to successful careers in sports broadcasting, television shows and eventually her own business in handmade soaps.
Chen Yi-an takes top honors during the 1988 Seoul Olympics.
PHOTO: CHEN YI-AN
THE NATURAL
Taekwondo competitions came natural to Chen and her 173cm, 51kg frame. Chen's arduous year-around training at the Zuoying National Sports Training Center were made easier with her sound work ethic and the full support of her parents.
Chen spent most of her teenage years striving for the right balance between academic achievements and athletic excellence.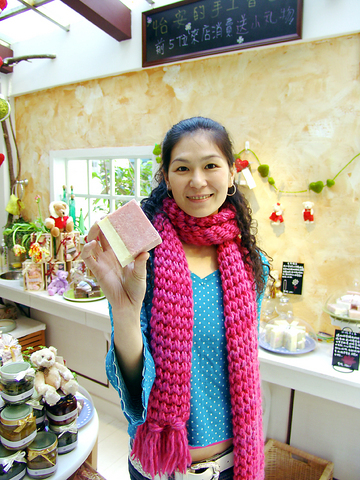 PHOTO: CHEN YI-AN
Chen's accomplishments in athletics gave her the opportunity to attend National Cheng Chi University, from which she received a degree in Business Administration in 1996.
By then, Chen had formally retired from the world of taekwondo and was ready to take on a different challenge in the field of sports broadcasting as a sports anchor for a local television station.
"Interviewing other athletes was quite awkward for me at first because I had been so used to being the interviewee," Chen said. "The role reversal as the interviewer took some time for me to get used to."
Despite her initial awkwardness, Chen's outstanding performance as a sports anchorperson quickly gained her a standing in local mass-media circles, landing her additional offers to host her own children's program and a China-travel show.
Chen's transition from a top-ranked athlete to a new career in broadcasting was one of the most publicly witnessed transformations of a sports star in Taiwan.
taekwondo became an official Olympic event at the 2000 Sydney Olympic Games, which prompted Chen to attempt a return to competition in an effort to win "official" Olympic gold.
Even though she would eventually fail to qualify for the chance to represent her country in the 2000 Sydney Olympic Games, Chen's courageous effort to even consider such a campaign won tremendous respect from her fans nationwide.
BACK TO BUSINESS
Trying to put her business degree to good use, Chen recently decided to open her own handmade-soap boutique in a busy alley near Taipei's Sun Yat-san Memorial Hall when she is not occupied with projects for television.
"The drive to succeed in my soap boutique is the same as the one that had been with me every time I went out on a taekwondo mat," Chen said. "The only difference is that I don't have to constantly be No. 1 in my new role."
Comments will be moderated. Keep comments relevant to the article. Remarks containing abusive and obscene language, personal attacks of any kind or promotion will be removed and the user banned. Final decision will be at the discretion of the Taipei Times.