Miller nears overall title
WORLD CUP SKIING Bode Miller won the super-G in a tie with fellow American Daron Rahlves, claiming the season title in the discipline as the season winds down
Bode Miller needed a top finish. He needed his Austrian rivals to have a bad day. He got both Friday -- and now stands on the verge of becoming the first American to win the overall World Cup title in 22 years.
Miller won the super-G in a tie with fellow American Daron Rahlves, claiming the season title in the discipline and opening up an almost insurmountable lead over Austria's Benjamin Raich in the overall standings.
"Things worked out perfectly," said Miller after becoming the first American to win the super-G World Cup crown since the discipline was introduced in 1986.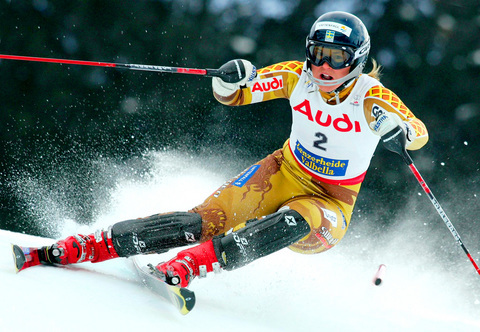 Swedish ski racer Anja Paerson during the first run of the last women's World Cup slalom during the World Cup finals in Parpan-Lenzerheide, Switzerland, yesterday.
PHOTO: EPA
The victory stretched Miller's overall World Cup lead to 184 points over Raich, who finished 11th in Friday's race. The American now leads 1,528 points to 1,344.
The only way Miller can lose the overall title is if Raich wins the remaining two races -- Saturday's giant slalom and Sunday's slalom -- and the American finishes outside the top 15 both days.
"There are still 200 points up for grabs. It's never over until it's mathematically over," Miller said. "The chances now are better than this morning for me to win. But Benni is capable of winning both the GS and slalom. So I want to go out and win the GS tomorrow, defend my title and hopefully win the overall."
Miller would become the first American to win an overall title since Phil Mahre and Tamara McKinney in 1983.
Miller started the day trailing 54 points behind Hermann Maier in the super-G standings.
Miller and Rahlves finished in an identical time of 1 minute, 10.24 seconds to take the lead and put the pressure on Maier.
The last skier down, Maier needed a top-three finish to lock up the super-G title. But the "Herminator" only managed ninth.
"Hermann didn't do so well," Miller said. "Daron finally got his first win of the season. I got 100 points, too. I won the super-G title. I extended my lead in the overall. It all went our way. I couldn't have asked for a better day."
Even finishing behind Rahlves by a tiny .01 second would have cost Miller the super-G title, with a second place giving him 20 points less. Instead, Miller beat Maier 470-453 in the final discipline standings.
"Last year I didn't even finish in the top-10 in super-G," said Miller, who posted his first career wins this season in downhill and super-G. "This year I have the globe. To win this globe is a big step for me."
Maier, last year's overall champion, took the result in stride.
"I've been lacking intensity," he said. "But I have 14 crystal globes. Bode only just got his second this season. There's a big difference so I don't care."
For Rahlves, the win helped atone for a disappointing season where he found himself repeatedly finishing behind his celebrated teammate. He was bitterly disappointed to finish sixth in Thursday's downhill, when Miller was second behind Norway's Lasse Kjus.
"I don't like to be second, it doesn't matter who is ahead of me," Rahlves said. "I was going all out. I wanted this win. Bode needed as many points as he could get. There are no free points and I wasn't going to hold back for Bode. But this was perfect. We both got what we wanted -- needed -- today."
Rahlves concludes his season Saturday in the giant slalom.
Miller began his career as a technical specialist but has transformed himself into one of the top speed skiers on the circuit this season.
He won the season-opening super-G in Lake Louise, Canada, in November and finished second in another super-G a few days later in Beaver Creek, Colorado. He finished in the top-five of every super-Gs this season.
Despite winning two gold medals at last month's world championships, Miller had seen his World Cup lead shrink from 400 points over Raich in December to just 52 entering the World Cup finals. His last World Cup win dated back to a night slalom in Sestriere, Italy, on Dec. 13.
Janica Kostelic has all but conceded the women's overall World Cup title to Anja Paerson.
Paerson, of Sweden, finished third in Friday's super-G and opened up an 89-point lead on the Croat with only two races remaining -- Saturday's slalom and Sunday's giant slalom. Wins are worth 100 points.
Michaela Dorfmeister of Austria won the final super-G to claim the World Cup title in the discipline.
"I had a chance to do better today," said Kostelic, who finished only 15th, the last place that gains points at the finals.
"I had a chance at the title. I was better in the season, but my last two races -- downhill and super-G -- I didn't ski well. I was lucky to even get points today."
Paerson now leads Kostelic 1,333 points to 1,244.
In Thursday's downhill, Kostelic finished fourth and Paerson eighth.
"All I can do is my best. I'm giving my best and she's giving hers. What else can you do?" said Kostelic, who has already won the overall title twice.
While Kostelic and Paerson have performed evenly in slalom this season, the Swede holds a significant edge in GS and leads the season standings in the event.
Paerson, who won last season's overall while Kostelic was out with illness and injuries, started after her rival Friday.
"I was extremely nervous at the start and when I heard Kostelic didn't ski well I got even more nervous," she said. ``It's great to extend my lead over her.
"It's important having 89 points because tomorrow I'm going to be able to attack. I'm going to be able to relax and take some risks. Even if I go out, I feel really good about GS."
Last year, Paerson won the overall on the basis of her 11 wins in the technical events of slalom and GS. This season, having developed into an all-around skier, she has only four victories -- one in every discipline.
"Last year I wanted to win a lot of GS and slaloms. This year I had to give myself other challenges," Paerson said. "It was my dream when I was young to win in all events. I'm steadily going forward. I won in all four [events] this year and I didn't expect it. I'm living a dream right now."
Dorfmeister, the 2001-02 overall winner, added to her giant slalom crystal globe from 1999-2000 and the downhill crown she won in 2003.
The last skier on the course, she only needed to finish ninth once countrywoman Renate Goetschl, who skied immediately before her, finished outside the top three.
Dorfmeister took nothing for granted, however, racing down the course to win the title in emphatic fashion with a time of 1 minute, 12.38 seconds, 0.30 seconds ahead of another Austrian, Marlies Schild.
"My big goal was the super-G globe," Dorfmeister said. "The race conditions for the last [starters] had become very difficult but it made it exciting for everyone and that is why I'm so proud of this win, because it was tough to win today."
Dorfmeister finished with 493 super-G points, while Goetschl -- who won the downhill race and season title Thursday -- finished with 416 after coming fifth in Friday's race.
The victory was Dorfmeister's third in super-G this season. She also won the season opener in Lake Louise, Canada, in December and a race last month in Are, Sweden.
Lindsey Kildow of the US was fourth Friday and wound up third in the super-G standings with 396 points.
``I'm really happy. Third isn't bad, but I know I could have won,'' Kildow said. ``But shoulda, coulda, woulda. And third is good.''
Matti Hautamaki won his fourth straight World Cup ski jump competition Friday night while fellow Finn Janne Ahonen clinched the overall title with a fourth-place finish on Lillehammer's Olympic hill.
Ahonen jumped 137m for a hill record before a crowd of 12,000 at Lysgardsbakken, but only managed 122.5m in the second round to miss the podium with 267.6 points.
With only three events left in the World Cup season, Ahonen leads second-placed Roar Ljokelsoy of Norway 1,648-1,278.
"My first jump was really good, but I was lucky that the conditions were so good," said Ahonen, who needed at least a sixth-place finish to clinch his second consecutive overall crown. "My form is not as good as my first jump showed."
Hautamaki had jumps of 131m and 135m for 281.3 points.
"I just went out there and jumped, it was not neccessary to think about something special," Hautamaki said.
Despite the victory, Hautamaki failed to improve his place in the overall standings, remaining seventh with 1,025 points.
Two Norwegians, Sigurd Pettersen and Lars Bystol, were second and third Friday. Ljokelsoy finished sixth.
Comments will be moderated. Keep comments relevant to the article. Remarks containing abusive and obscene language, personal attacks of any kind or promotion will be removed and the user banned. Final decision will be at the discretion of the Taipei Times.