Williams, Davenport in Australian Open final
ALL AMERICAN Serena Williams and Lindsay Davenport both had to fight back from the brink of defeat yesterday to book their places in tomorrow's women's singles final
Serena Williams and Lindsay Davenport set up an Australian Open showdown yesterday after fighting back from the brink of defeat in two epic semifinal duels. \nFormer world No. 1 Williams pulled off an extraordinary escape to defeat fourth-seeded Russian teenager Maria Sharapova, saving three match points to win 2-6, 7-5, 8-6 in 2hr 39 min. \nTop seed Davenport, meanwhile, was made to work just as hard before she finally overcame French 19th seed Nathalie Dechy 2-6, 7-6 (7/5) 6-4 in a nerve-jangling encounter on Rod Laver Arena. \nIn the end, the experience of Williams and Davenport, who have nine grand-slam titles between them, was to prove crucial. \nFor Williams, it was a case of history revisited. Her pulsating contest bore a striking resemblance to her 2003 Australian Open semifinal with Kim Clijsters, when she saved two match points before going on to win. \nWilliams said she had been comforted by the memory of that Houdini act as she fought off three match points on Sharapova's serve when trailing 5-4 in the final set. \nShe said the victory ranked among her most satisfying. \nWilliams said she had kept her composure despite a high unforced error count -- 53 throughout -- which allowed Sharapova a free ride throughout the early part of the match. \nSharapova said Williams' experience of retrieving lost causes had been the key. "She's one of the best competitors out there," she said. \nWilliams will now meet Davenport in tomorrow's final, who she leads 9-4 in head-to-head encounters. \nDavenport has the better recent record though, having beaten Williams on the two occasions they met last season. \nBut the experienced 28-year-old will want to make a quantum improvement after toiling desperately against Dechy before finally staggering over the line. \nShe amassed 52 unforced errors, 10 double-faults and it might have been a different story had Dechy kept her composure when leading 4-1 in the second set tie-break. \nInstead, she buckled and Davenport fought back to square the match, going on to clinch victory in the decider. \nLike Sharapova, Dechy believed that her opponent's experience had been the key. "Maybe she handled the tight moments a bit better than me," the 25-year-old said, who had been playing in her first grand slam semifinal. \nDavenport, who delayed retirement at the end of last season after convincing herself that she could still challenge for honors at the highest level, is now contemplating her first grand-slam final for five years. \nThe women's semifinals took center stage at Melbourne Park, with the night session seeing a replay of last year's final between world No. 1 Roger Federer and Russia's Marat Safin in the first of the men's semifinals. \nHewitt presses on \nLleyton Hewitt gave Australia's national day celebrations a giant lift on Wednesday when he beat David Nalbandian in a four-hour quarterfinal battle at the Australian Open. \nHewitt drew on all his reserves of stamina and courage to beat the Argentine 6-3 6-2 1-6 3-6 10-8 and advance to a semifinal showdown with Andy Roddick today. \n"I just had to dig deep in the fifth set, and yet again the never-say-die attitude came out," Hewitt said. \n"I'm definitely giving the crowds their money's worth. I'm doing all the right things for the tournament," he said. \nHewitt's victory kept alive Australian hopes of a local winner in the centenary of their national championship after Alicia Molik lost to Lindsay Davenport. \nThere was more drama when Russian Nikolay Davydenko was forced to retire from his match with second-seed Roddick because of breathing problems on another scorching day in Melbourne.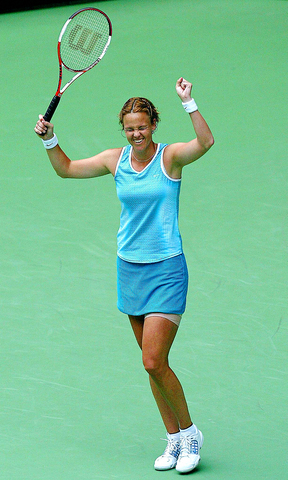 World No. 1 Lindsay Davenport of the US celebrates after winning her semifinal match against Nathalie Dechy of France in Melbourne yesterday.
PHOTO: EPA
Comments will be moderated. Keep comments relevant to the article. Remarks containing abusive and obscene language, personal attacks of any kind or promotion will be removed and the user banned. Final decision will be at the discretion of the Taipei Times.