Steelers' streak comes to a halt
NFL CONFERENCE FINALS Pittsburgh's magnificent run came to an abrupt end in their own stadium as New England methodically smelted their opponents
Tom Brady and Bill Belichick were an unstoppable combination again for the New England Patriots, exposing all of the Pittsburgh Steelers' weaknesses to end their 15-game winning streak and win the AFC championship 41-27 Sunday. \nBrady gave the inexperienced rookie Ben Roethlisberger a lesson in quarterbacking a championship game, throwing two touchdown passes -- one to Deion Branch that gave New England a 10-0 lead in the first quarter. \nBelichick upstaged can't-win-the-big-one Steelers coach Bill Cowher, improving to 9-1 as a playoffs coach and matching Vince Lombardi for the best postseason record in NFL playoff history. \nBrady has a record of his own: 8-0 as a postseason quarterback, bettering Troy Aikman's 7-0 record at the start of his playoffs career. \n"I'm just so proud of these players. Our team has played well in big games and this was a huge one," Belichick said. \nNow, the defending champions will play the Philadelphia Eagles in the Super Bowl on Feb. 6 in Jacksonville, Florida. New England was installed as an early 6-to-6 1/2-point favorite. \nThe Eagles ended their three-game losing streak in the NFC championship game by beating Atlanta 27-10 earlier Sunday. \nThe Patriots can become the first team to win three Super Bowls in four seasons since Dallas did it between the 1992-95 seasons. \nThis game was a near-replay of Pittsburgh's breakthrough 34-20 win Oct. 31 that ended New England's record 21-game winning streak. Again, an under-pressure quarterback kept making mistakes as a team seized a 24-3 lead in the first half -- only this time it was the rookie, not the cool-as-can-be Brady doing so. Roethlisberger threw three costly interceptions in his first loss in 15 NFL starts. \n"It wasn't a great game on my part, but I learned an awful lot this season," said Roethlisberger, who failed to become the first rookie QB to lead his team to the Super Bowl. "We had a great season, but there are a lot of people -- some in that locker room -- that now think" it's a disappointment. \nStaying away from turnovers is "important when you play the really tough teams," Brady said. \n"It's important to protect the ball and that's what we did," he said. \nBrady was 14-of-21 for 207 yards and no interceptions to Roethlisberger's 14-of-24 for 226 yards and two scores. \nFor the Steelers, it was their fourth loss in five AFC championship games at home since 1995 under Cowher. \nNew England entered the game as a 3-point favorite despite the Steeler's franchise-record 15-game winning streak and NFL-best 16-1 record. \nPrivately, they were motivated by the perceived slight and linebacker Joey Porter promised they wouldn't flop in a title game again. \nThen, they went out and flopped, generating boos from their normally adoring crowd even before the Patriots led 24-3 by halftime. \nNew England didn't have an injured Corey Dillon during the Oct. 31 game, but the running back had a below-average 73 yards on Sunday. Instead it was Branch, also injured and out of the first game, who made the big plays with a touchdown catch, 23-yard touchdown run and 45-yard reception that set up David Givens' 9-yard touchdown catch that made it 17-3. \nBranch got behind cornerback Deshea Townsend for a 60-yard scoring pass on the play after Jerome Bettis fumbled on a fourth-and-1 at the Patriots' 39, and it was 10-0 New England halfway through the first quarter. \nAdam Vinatieri kicked a 48-yard field goal -- matching the longest in 4-year-old Heinz Field -- following Roethlisberger's first interception, on Pittsburgh's opening drive. \nNew England's early leads forced the Steelers to do exactly what they didn't want: ask Roethlisberger to win it for them rather than rely on their running game. Instead, he threw an interception that Rodney Harrison returned 87 yards for a touchdown that put New England up 24-3. \nPittsburgh tried to get back in it in the second half on Bettis' touchdown run and Roethlisberger's touchdown pass to Hines Ward, but a replay reversal led to Dillon's 25-yard touchdown run and a 31-10 New England lead. \nPittsburgh could have gotten to within a touchdown early in the fourth quarter, but was turned aside on three straight plays after having first-and-goal at the 5 and settled for Jeff Reed's field goal. \nEagles 27, Falcons 10 \nDonovan McNabb ignored the burden of three straight losses in the NFC championship game and the Philadelphia Eagles warmed a frozen city's heart, stuffing Michael Vick and the Atlanta Falcons 27-10 on Sunday. \nPhiladelphia moves on to its first Super Bowl in 24 years -- the only acceptable outcome for the Eagles and their rabid fans after so many close calls. They will meet New England in Jacksonville, Florida, on Feb. 6 for the NFL championship. The Patriots beat the host Steelers, across Pennsylvania in Pittsburgh, 41-27 for the AFC title. \n"This team has great personality," coach Andy Reid said. "Everybody here in Philadelphia loves 'em." \nThe fourth time was the charm for the Eagles, even though they didn't have top receiver Terrell Owens -- reduced to the role of cheerleader on the sideline. Nothing was going to stand in the way of this team, which entered the season with a Super Bowl or Bust mentality -- and met those enormous expectations. \nMcNabb threw a pair of touchdown passes to Chad Lewis, including the clinching score with 3:21 remaining. That turned the final minutes into a delirious coronation, the 67,717 fans -- most of whom never sat in their seats on a 17-degree day -- saluting a team that finally fulfilled its destiny. \n"Super Bowl! Super Bowl!" they chanted when play was halted for the two-minute warning. \nThe only warm-weather team left in the playoffs went cold in its biggest game of the year. Vick was sacked four times by the fearsome Philly defense, which also came up with a crucial interception that set up David Akers' second field goal. \nThe significance of the day was evident on the field -- the Eagles pranced and danced after every big play -- and in the stands, where hugs and beer flowed freely at Lincoln Financial Field. \nPhilly's only previous Super Bowl appearance came in 1981, but the Eagles fell flat in a 27-10 loss to the Raiders. This time, that score worked in their favor. \nMcNabb completed 17-of-26 passes for 180 yards, a workmanlike performance that solidified his position as one of the game's best quarterbacks. \nVick is, too, but his first appearance on the Super Bowl stage will have to wait. He completed just 11-of-24 for 136 yards, while the Eagles stifling defense kept him from pulling off one of his signature runs. He ran it just four times for 26 yards, but gave up even more yards on the sacks. Derrick Burgess dropped the elusive quarterback twice. \n"I didn't get outside the pocket," Vick said. "I think that was their first priority." \nThe Eagles were clearly relieved to make it to the Super Bowl, but they're not satisfied with merely winning a conference title. \n"We've got one more game to play," McNabb told the crowd. "Enjoy it now and we'll bring something else home." \nPhiladelphia led only 14-10 at halftime, a bit to close for comfort for a team that had lost to St. Louis, Tampa Bay and Carolina in the last three NFC title games. Even more galling -- the last two losses were at home. \nBut, as the sun gave way to a nearly full moon over "The Linc," the Eagles dominated the final two quarters. Akers connected from 31 and 34 yards, then McNabb and Lewis teamed up to finish off the Falcons with their 2-yard touchdown play. \n"This is their fourth trip in a row to the championship game," said Jim Mora, the Falcons' rookie coach. "They've been in this position before, and they played like they've been in this position before." \nOwens, who didn't play because of a severe ankle injury, played a prominent role nonetheless. He led the Eagles on the field and drew plenty of attention with his sideline antics, flapping his arms and waving a towel to urge on a crowd that didn't need any encouragement.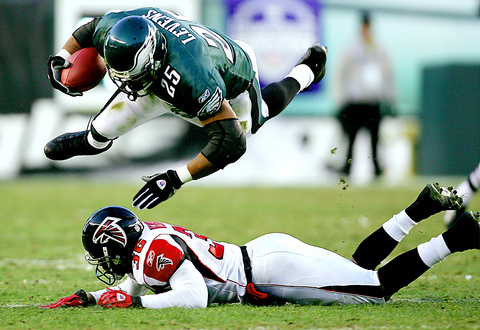 Dorsey Levens of the Eagles is tackled by Jason Webster of the Falcons during the third quarter at Lincoln Financial Field in Philadelphia, Pennsylvannia on Sunday.
PHOTO: AFP
Comments will be moderated. Keep comments relevant to the article. Remarks containing abusive and obscene language, personal attacks of any kind or promotion will be removed and the user banned. Final decision will be at the discretion of the Taipei Times.