McNabb-Owens combination broken
NATIONAL FOOTBALL LEAGUE Eagles quarterback Donovan McNabb says he will look for running back Brian Westbrook to make up for the loss of Terrell Owens
From the back of the interview room, in his mock-reporter voice, Philadelphia quarterback Donovan McNabb called out to running back Brian Westbrook: "What are you going to do with T.O. out?" \nIt drew a big laugh on Wednesday, but the question has been on the mind of every Eagles fan, and likely every player, too, since receiver Terrell Owens tore ligaments in his ankle and fractured his leg on Dec. 19. \nWhat is the Eagles' offense going to look like without him? \nWill McNabb run more often? Can receivers Freddie Mitchell and Todd Pinkston make up for Owens' absence? Will the Eagles be rusty or rejuvenated after most starters rested during the final two regular-season games and the team had more time off with a first-round bye in the playoffs? \nThe local math goes like this for the Eagles' National Football Conference divisional playoff game tomorrow against Minnesota: The subtraction of Owens is offset by the addition of Westbrook, who missed the playoffs last season after a freakish injury. He tore a triceps tendon during the final regular-season game while bracing to hit the ground. \n"I don't see anybody on their defense that can cover Westbrook," Eagles linebacker Jeremiah Trotter predicted on the radio of the Vikings' defense, which is ranked 28th in the National Football League. \nGenerously listed at 5 feet 10 inches and 205 pounds, Westbrook brings a threatening versatility to the Eagles, as a younger Marshall Faulk did for St. Louis. With his ability to play running back and line up as a receiver, Westbrook led the Eagles with 812 yards rushing and finished second to Owens with 73 receptions. \nThe only coach who truly shut down Westbrook this season was Andy Reid, who did everything but package him in bubble wrap while shelving him for Philadelphia's final two regular-season games. \nUncomplaining about his enforced vacation, Westbrook said he felt rested and sensed that his elusiveness might provide an edge over the size and muscle of Minnesota linebackers Chris Claiborne (6-3, 259), E.J. Henderson (6-1, 245) and Keith Newman (6-2, 248). \n"They are bigger guys," Westbrook said. "They play the run very well, and we have to use our advantages. My advantage is to get them matched up on one-on-one situations and try to use my quickness to make them miss, or use my quickness to run routes. That helps both our running game as well as the passing game." \nThere is much speculation here about how Westbrook will be used in the playoffs. Some believe he will spend more time as a receiver, with Dorsey Levens getting extended time at running back. Many would like to see Westbrook returning punts again. Last season, he scored twice on punt returns. \nReid suggested few alterations with Westbrook, saying: "We will do what we have done with Brian all year. We are not going to change the offense." \nBrad Childress, Philadelphia's offensive coordinator, left open the possibility of something exotic and inspired. He knows that the Vikings are guessing as urgently as Eagles fans are about the new offense. \n"Curiosity is a good thing," Childress said Thursday. \nWestbrook throttled Green Bay with his resourcefulness during a 47-17 victory on Dec. 5. He caught 11 passes for 156 yards and 3 touchdowns. The Packers tried to cover him with a cornerback, linebacker and safety, but he kept slipping his defender at the line of scrimmage and racing free into Green Bay's poor-tackling secondary. \n"He could probably go and play receiver, he's that nifty a route runner," Green Bay coach Mike Sherman said at the time. "When he's lined up with a linebacker, it's a mismatch." \nOf course, that occurred with Owens frequently absorbing double teams, leaving the other receivers in single coverage. It seems logicalthat Minnesota will pay more attention to Westbrook now. \n"That's our challenge; 36 is the guy," Minnesota coach Mike Tice said in a conference call, referring to West-brook's jersey number. "I think their offense is going to go through him." \nEven in shoulder pads, Minnesota Vikings cornerback Antoine Winfield appears slight next to the receivers and running backs he tries to tackle. But confidence comes in many sizes, and the Vikings think Winfield's is the perfect fit for them. \nWhen Winfield wavered after tentatively agreeing to terms with the Jets last March, Vikings coach Mike Tice had a friend lease a private jet to collect Winfield and his wife, Erniece, on Long Island and fly them to Minnesota. The historically cost-conscious Vikings outbid the Jets by US$4.8 million and signed Winfield to a six-year, US$34.8 million deal -- the richest they ever lavished on a free agent -- within hours after his arrival. \n"We were allowed by management to pursue this player to what it took to get him," Tice said, "and we went the extra yard because we wanted him." And the friend? "We paid him back," Tice said. \nWinfield, the former Buffalo Bill, injected grit and spirit into a defense that struggled all season until last Sunday's 31-17 wild-card victory over Green Bay. \nListed at 5 feet 9 and 180 pounds, Winfield had been Minnesota's leading defensive and special-teams tackler before sustaining a high left ankle sprain on Dec. 5 in Chicago. He sat out two games and played sparingly in two others while the Vikings went 1-3, which Tice did not consider a coincidence. \nLast Sunday, Winfield's 11 solo tackles and a first-quarter interception of Brett Favre keyed the best effort of the season by Minnesota's defense, which ranked 28th in the league. In all, the Vikings intercepted Favre four times (after managing 11 in the regular season) and limited the Packers to seven second-half points. The Vikings need to reprise that performance on Sunday to compete with Philadelphia in a National Football Conference divisional game at Lincoln Financial Field. \n"Anytime you can add a guy like that back in your lineup, whether on offense or defense, it's a big plus," said linebacker Keith Newman. \nWinfield may be the best player on a defense that includes the Pro Bowl performer Kevin Williams.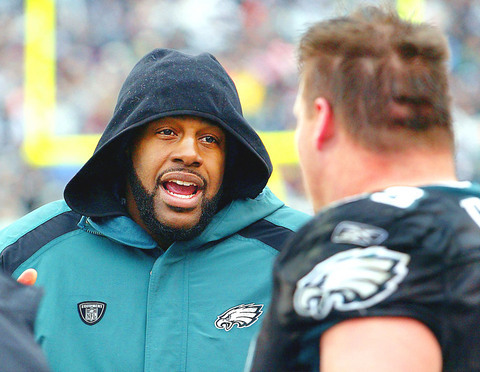 Donovan McNabb, left, starting quarterback of the Eagles talks to teammate Jon Runyan on the sidelines during their game against the Bengals at Lincoln Financial Field in Philadelphia, Pennsylvania on Jan. 2. McNabb's favorite receiver, Terrell Owens, tore ligaments in his ankle and fractured his leg on Dec. 19.
PHOTO: EPA
Comments will be moderated. Keep comments relevant to the article. Remarks containing abusive and obscene language, personal attacks of any kind or promotion will be removed and the user banned. Final decision will be at the discretion of the Taipei Times.