US sets its sights on Hopman Cup title
THREE IN A ROW? The US Hopman Cup team of James Blake and Meghann Shaughnessy easily beat the team from The Netherlands, taking an unbeatable 2-0 lead
The US set its sights on three consecutive Hopman Cup titles yesterday when they brushed past The Netherlands in their opening tie of the mixed-teams tennis tournament at the Burswood Dome. \nThe American pairing of Meghann Shaughnessy and James Blake won both singles ties to take an unbeatable 2-0 lead in the tie with the remaining mixed doubles fixture a dead exhibition rubber. \nThe team of Lindsay Davenport and Blake gave the US back-to-back titles last year, the first nation to achieve the feat, but their hopes of a hat-trick were set back shortly before this year's tournament when Davenport was forced out with a knee injury. \nBut Shaughnessy proved she was an adequate replacement, downing Michaella Krajicek, the world's number one junior 7-5, 6-4 in the opening match. \n"Anything less than a win is a disappointment for the US so we've got some pressure," Shaughnessy joked. \nThe American was tested in the first set of her match with the teenage Krajicek and it was the 12th game before she was finally able to break the sister of former Wimbledon champion Richard Krajicek. \n"She makes me feel old -- I mean she's 15-years-old but she's a great player," Shaughnessy said. \nFor Blake, on the comeback trail after a disastrous year in 2004 when his father died and he suffered several debilitating injuries, the 6-1, 7-6 (7/4) win over Peter Wessels was a welcome return to a tournament he adores. \n"I love it ... this was kind of my first big tournament," he said. \n"These fans supported me when I was definitely a nobody so I want to come back here as many times as I can in front of these fans -- it's the best tournament in the world I think." \nBlake, now ranked 97 in the world, suffered a freak injury last May while practising for the Masters tournament in Rome, fracturing a vertebra in his neck after he tumbled into a net post. \nIn July his father died from cancer and later in the year his season was written-off completely when he contracted Zoster -- a virus which left him weak, blurred his vision and partially paralyzed one side of his face. \n"I really didn't know what to expect coming out here for my first match and I think this is the perfect test," he said. \n"I saw that I could play some of my best tennis in the first set and I saw even when it got tight and I was down a break in the second set that I could come back and still play well and be composed. \n"I never knew if I was going to come back after such a tough year last year." \nBlake said the horror year had put things in perspective for him. \n"I realize it's a lot of fun -- it's what I do for a living and I want to be as good as I can be but there are more important things in life," he said. \nThe American cruised through the first set against Wessels but dropped his serve to trail 5-3 in the second before breaking back immediately and dominating the tiebreak. \nLater yesterday the German pair of Anna-Lena Groenefeld and Tommy Hass, who upset the top-seeded Russian duo of Anastasia Myskina and Marat Safin in their first tie, were due to take on Italy. \nItaly, represented by Francesca Schiavone and Davide Sanguinetti, lost their first tie to Argentina. \nFederer back on track \nRoger Federer began the new year with a surprise by announcing a new coach, Tony Roche, and also with more of the same -- a thunderous attacking performance to extend his unbeaten sequence to 18 matches. \nThe world number one from Switzerland overwhelmed David Ferrer,one of the sport's rising young players, in less than an hour in the Qatar Open and afterwards said it was a "relief" to have Roche's help after more than a year without a coach. \nFederer hardly seemed to need any of that as he won 6-1, 6-1 against the 22-year-old Spaniard who had just finished a season in the world's top 50 for the first time and is hoping to make further progress this year. \nBut positively though Ferrer tried to play, he was given very little chance to display the extent of his abilities, and near the end was driven by frustration into hurling his racket violently down on the court. \nDespite this Federer was in no doubt that it would be an asset to have Roche's services for around ten weeks of the year. \n"I have no clue what I would do [without him]," Federer said, rather surprisingly. \n"It's relief that there will be help at times when I want it," he said. \nThe arrangement with Roche will last for one year for the time being, and represents a change of mind for the Australian, who originally turned down the opportunity to coach the world's best player when Federer asked him in February last year. \nOn Monday's evidence, the triple Grand Slam title holder will continue to carry all before him with or without Roche's help, although his performance suggested that a greater emphasis on net play has already been discussed between them. \nFerrer played a large number of entertaining rallies, including arguably the shot of the match, a perfectly timed and placed topspin backhand lob in the sixth game which lurched diagonally for a winner as Federer came threateningly in. \nBut it merely spurred Federer to further aggressive efforts, including a second break of serve in that game and an increasing ratio of attacks from the net, despite the cool, slightly slow conditions. \nFederer had already set out to hit many of his groundstrokes at a pace higher than his opponent's in order to intimidate him, and the greater his lead became the more he took liberties in attempting to attack. \nIn closing out the first set he served and came in to the net on every point, still winning the points when he was twice obliged to make half volley pick-ups from dipping Ferrer returns. \nAll this convinced Ferrer, who had set out to impose his forcing ground strokes upon Federer from the start, to take a few more chances in attack, with the result that he dropped serve again in the third game of the second set after over-hitting with two ambitious forehand drives. \nFor a while Ferrer set out to contain a little more, but that was less successful than attack, with Federer hitting several rampant backhand winners down the line as accompaniment to his fearsome forehand and his menacing forays forward. \nThere were just no weaknesses in Federer's game and only occasional mistakes as he tested the limits of his assertiveness. \nFederer next plays Greg Rus-edski, the former US Open finalist from Britain, who beat Jan Hernych of the Czech Republic 6-3, 7-5.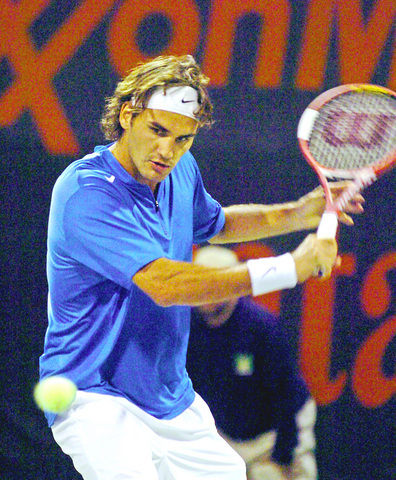 Swiss world No. 1 Roger Federer in action during the match against Spain's David Ferrer in the Qatar Open Tennis Championship on Monday.
PHOTO: EPA
Comments will be moderated. Keep comments relevant to the article. Remarks containing abusive and obscene language, personal attacks of any kind or promotion will be removed and the user banned. Final decision will be at the discretion of the Taipei Times.