No. 23 Texas Tech upsets California
NCAA FOOTBALL The Golden Bears (10-2), who were 11-point favorites, simply had no answer against the Red Raiders (8-4) and their efficient spread offense
Maybe Mack Brown isn't such a villain, after all. \nIf No. 4 California was angry and frustrated after being snubbed by the BCS and denied a Rose Bowl berth, it had to have been flat out humiliated after No. 23 Texas Tech pulled a 45-31 upset in the Holiday Bowl on Thursday night. \nThe Golden Bears had no answer against the Red Raiders' spread offense, which uses four wide receivers most of the time. \nTech senior Sonny Cumbie threw for a career-high 520 yards and three touchdowns, including a 60-yarder to Joel Filani, and safety Vincent Meeks set up a score with a 48-yard interception return. \nCumbie was 39-of-60 and broke the Holiday Bowl attempts record of 59 set by BYU's Ty Detmer in 1989. He was short of Detmer's Holiday Bowl record of 576 yards, also set in 1989. \nCal's J.J. Arrington became just the third running back in Pac-10 history to rush for 2,000 yards in a season. The senior from Nashville, North Carolina, carried 25 times for 173 yards, for 2,018 yards. \nAaron Rodgers was 24-of-42 for 246 yards, with one interception for Cal. \nCal had been in position to go to the Rose Bowl for the first time in 46 seasons, but was leapfrogged in the final Bowl Championship Series standings by Brown's Texas Longhorns, who ended up in Pasadena to face Michigan on Saturday. \nNavy 34, New Mexico 19 \nIn San Francisco, Aaron Polanco ran for three touchdowns and passed for another, and Navy capped the academy's best season in 99 years with a win over New Mexico in the Emerald Bowl. \nPolanco scored on runs of 14, 1 and 27 yards and completed a 61-yard touchdown pass to Corey Dryden, the longest of the season by Polanco and the first career score by Dryden. The Midshipmen's defense was impressive, too, despite the rain-soaked field at SBC Park. \nThe unit forced two first-half turnovers that led to TDs and staged a goal-line stand late in the third quarter. Then Navy kept the ball for the next 14 minutes, 26 seconds, and held New Mexico to only seven plays in the fourth quarter. \nThe Midshipmen (10-2) tied for the most wins in school history, last accomplished when Navy went 10-1-1 in 1905. It was a fitting end for the Mids, some of whom will head off to war in the coming year. Only two months ago, Navy's players dealt with the death of former teammate JP Blecksmith in a military operation in Fallujah, Iraq. \nBoston College 37, \nNorth Carolina 24 \nIn Charlotte, North Carolina, Kicker Ryan Ohliger ran 21 yards for a touchdown on a fake field goal one play after quarterback Paul Peterson was taken off the field on a stretcher with a broken leg to lead 25th-ranked Boston College to the win in the Continental Tire Bowl. \nBefore leaving, Peterson went 24-of-33 for 236 yards and two touchdowns, helping Boston College win a bowl game for the fifth straight season. But he wasn't able to return to the field to accept the game's MVP award. Instead, his wife went out to collect the trophy. \nThe Eagles (9-3) gave the Big East its first win in the 3-year-old bowl game. It was BC's final game in the league -- it joins the Atlantic Coast Conference next season. \nDarian Durant threw three scoring passes for North Carolina (6-6), and completed 23 of 41 passes for 259 yards. \nNorthern Illinois 34, Troy 21 \nIn San Jose, California, Josh Haldi passed for 146 yards and rushed for two touchdowns to lead Northern Illinois to its first bowl victory in 21 years. \nThe Huskies (9-3) overcame a steady downpour, lighting problems and a delayed kickoff by scoring 34 straight points to roll by Troy 34-21 in the Silicon Valley Football Classic. \nGarrett Wolfe, the NCAA's scoring co-leader, rushed for his 21st touchdown of the season for Northern Illinois before leaving with a hip injury. A.J. Harris filled in with 120 yards rushing and another score for the Huskies. \nTroy (7-5) scored two touchdowns in the first nine minutes of its first bowl game in just its fourth season in Division I-A. \nD.T. McDowell threw a touchdown pass and rushed for two more scores for the Trojans, but they got stuck in the mud and were unable to move the ball effectively.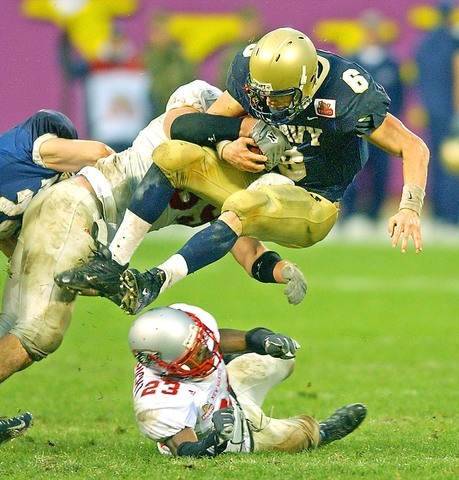 Navy quarterback Aaron Polanco jumps over New Mexico's Gabriel Fulbright during the fourth quarter of Navy's 34-19 win in the Emerald Bowl in San Francisco on Thursday. Polanco scored on runs of 14, 1 and 27 yards and completed a 61-yard touchdown pass for the win.
PHOTO: AP
Comments will be moderated. Keep comments relevant to the article. Remarks containing abusive and obscene language, personal attacks of any kind or promotion will be removed and the user banned. Final decision will be at the discretion of the Taipei Times.