Real Madird hires 3rd coach this year
EUROPEAN FOOTBALL The struggling Spanish League team which features an all-star lineup signed Brazilian guru Wanderley Luxemburgo to bring unity to the club
Real Madrid hired Wanderley Luxemburgo as its coach Thursday -- its third this year -- turning to the Brazilian soccer wizard to try to salvage a dismal season for the world's most glamorous team. \n"What I will bring to Real Madrid is discipline, unity, hard work and professionalism," Luxemburgo told a news conference where he appeared with club's sporting director Emilio Butragueno and new soccer director, Arrigo Sacchi. \n"It is a very great personal satisfaction to coach the world's best team," Luxemburgo said. \nHe left newly crowned Brazilian champion Santos to finish this season with Real Madrid and stay for at least one more. \nHe replaces Mariano Garcia Remon, who had taken over from Jose Antonio Camacho just three weeks into the season. Garcia Remon will remain with Madrid as part of its management team. \nCamacho resigned amid reports he found the team's underachieving superstars too hard to handle. \nButragueno said he and Sacchi had decided Tuesday -- a week after Madrid lost 1-0 at home to Sevilla to fall to fifth place in the Spanish league -- that a change of coach was needed. \n"Sacchi agreed with me that this was the best move for the club," Butragueno said. "We then informed club president Florentino Perez." \nThe board of directors met before the press conference Thursday to unanimously approve the appointment, moments after Luxemburgo had arrived from Brazil accompanied by two assistant coaches. \nReal Madrid is languishing 13 points behind leader FC Barcelona in the Spanish league despite a lineup that boasts star players like Ronaldo, Zinedine Zidane and David Beckham and it struggled to qualify for the second round of the Champions League. \nUnder Luxemburgo, Santos won its second Brazilian championship in three years earlier this month. \nThe 52-year-old has won the title a record five times -- also with Palmeiras in 1993 and 1994, Corinthians in 1998 and Cruzeiro last year. \nHe served as Brazilian national coach from 1998 to 2000 and coached Ronaldo at Cruzeiro. \nLuxemburgo's first match in charge of Madrid will be a curious one next Wednesday. Only seven minutes long, it will be the a resumption of the match with Real Sociedad which was abandoned due to a bomb hoax on Dec. 12. \nManchester United striker Wayne Rooney was suspended for three matches Thursday after accepting a charge of violent conduct for pushing a player in the face. \nRooney shoved Bolton's Tal Ben Haim on Sunday in an incident not seen by referee Dermot Gallagher and charged using video evidence. The Devils won 2-0. \nThe 19-year-old England international will miss three matches -- Saturday's game against Middlesbrough, Tuesday's match against Tottenham and the FA Cup third round tie against non-league Exeter five days later. \nUnited is already without injured forwards Louis Saha and Ruud van Nistelrooy. \nHaim, who was criticized for over-exaggerating his response to the push by falling on the ground, was charged with improper conduct. The Israel defender has until Jan. 20 to respond to the charge and also faces suspension. \nBolton said it would appeal the charge -- and Manchester United manager Alex Ferguson understands why. \n"The violent conduct charge bemuses me because every man and his dog would agree it was not violent conduct," Ferguson said Thursday. "If it is violent conduct why are they charging Ben Haim? I can't understand it. \n"If it is violent conduct, Ben Haim should not be charged. He is being charged so they therefore believe he is guilty of diving and bringing the game into disrepute." \nFerguson believes Rooney, who has a fiery reputation, was being unfairly targeted. \n"It was no more than a push in the face, there was no swing of the arm or anything like that," Ferguson said. "The system is completely flawed. \nBolton manager Sam Allardyce has admitted his player had fallen "too easily."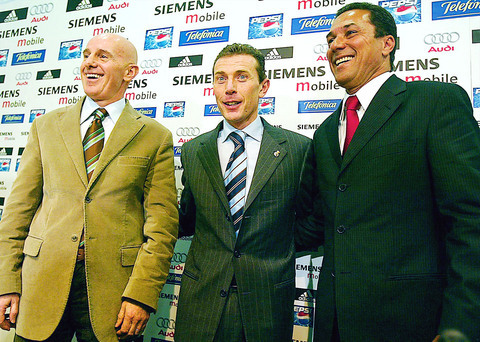 The new coach for Real Madrid, Vanderlei Luxemburgo, right, stands with Vice President and General Manager Emilio Butragueo, center, and Real Madrid's Sports Director Arrigo Sacchi during a press conference at Santiago Bernabeu Stadium in Madrid on Thursday.
PHOTO: AFP
Comments will be moderated. Keep comments relevant to the article. Remarks containing abusive and obscene language, personal attacks of any kind or promotion will be removed and the user banned. Final decision will be at the discretion of the Taipei Times.