Eagles dominate this year's Pro Bowl roster
Donovan McNabb and Terrell Owens were among nine Philadelphia Eagles voted to the NFL Pro Bowl, the most representatives for a team since 1998. \nThe Eagles, who already clinched home-field advantage for the NFC playoffs with a 13-1 record, easily had the most Pro Bowlers in results announced on Wednesday. \nJoining quarterback McNabb and wide receiver Owens, who had ankle surgery on Wednesday and is out for the rest of the regular season and perhaps the playoffs, were tackle Tra Thomas, linebacker Jeremiah Trotter, placekicker David Akers, special teamer Ike Reese, and three of four secondary starters: Cornerback Lito Sheppard and safeties Michael Lewis and Brian Dawkins. \n"It's good to see that Lito, Mike and Ike have made it and get an opportunity to get over there and get a good feel of All-Star play and to say that they've been a Pro Bowler," McNabb said. "It says a lot for this organization, it says a lot for those players and it says a lot for this team." \nPittsburgh, the league's other 13-1 team, had the next-most selections in balloting by players, coaches and fans. The Steelers had six: Linebackers Joey Porter and James Farrior, safety Troy Polamalu, center Jeff Hartings, guard Alan Faneca and wide receiver Hines Ward. That led the AFC, ahead of Baltimore and Kansas City with five each, while Indianapolis and New England had four apiece. \nGreen Bay, Atlanta and Dallas had four each in the NFC for the inter-conference game in Honolulu on Feb. 13. \nFor only the third time, a set of brothers made the same Pro Bowl. Cornerback Ronde Barber of Tampa Bay and running back Tiki Barber of the New York Giants were selected -- the first twins to make it. \nThe other brothers were Bruce and Clay Matthews in 1989 and 1990, and Sterling and Shannon Sharpe from 1993-1995. \nThe Indianapolis Colts' Peyton Manning set a record in the fan voting and was a runaway choice for AFC quarterback, along with the New England Patriots' Tom Brady and the San Diego Chargers' Drew Bress. \nManning is one touchdown pass short of Dan Marino's record of 48 in a season. \nThe other Colts on the AFC roster were wide receiver Marvin Harrison, running back Edgerrin James and defensive end Dwight Freeney, the league's sacks leader with 15. \nTwo consistent Pro Bowlers, Minnesota Vikings wideout Randy Moss and Chicago Bears linebacker Brian Urlacher, did not make it, mostly because of injuries. \nCurtis Martin, the league's leading rusher with 1,511 yards, was one of three New York Jets chosen. Martin is having one of the best seasons of a 10-year career in which he has rushed for at least 1,000 yards each time. \nThe other AFC running back was San Diego's LaDainian Tomlinson. The NFC runners were Shaun Alexander of Seattle and Ahman Green of Green Bay. \nJoining McNabb as NFC quarterbacks were Michael Vick of Atlanta and Daunte Culpepper of Minnesota. \nMichael Vick agreed to a 10-year contract worth more than US$100 million with the Atlanta Falcons that also guarantees the quarterback an National Football League-record US$37 million in bonuses, an official close to the negotiations said Thursday. \nVick's contract surpasses the US$98 million deal Indianapolis quarterback Peyton Manning signed in March and makes him one of the top-five best-paid players in the NFL. Manning was guaranteed US$34.5 million in bonuses. \nThe deal was first reported by the Atlanta Journal-Constitution on its Web site. \nThe official, who requested anonymity, said Vick reached incentives in his original contract, a six-year, US$62 million deal, that would have allowed him to void the 2005 and 2006 seasons next month. Had he done so, the 24-year-old Vick would have become an unrestricted free agent on March 2. \nVick, chosen Wednesday to his second Pro Bowl, needs 80 yards to break the single-season record for rushing by a quarterback, set by Chicago's Bobby Douglass in 1972. \nIn a Week 8 victory at Denver, Vick became the first player in league history to rush for 100 yards and pass for 250 in a single game. \npatriots versus jets \nThe season ended for New England Patriots cornerback Tyrone Poole last Saturday when he was placed on the injured reserve list with a sore knee. \nAnother cornerback, Ty Law, the perennial Pro Bowl selection, has missed the last seven games with a sore foot, and it is unclear when he will return to the lineup. The Patriots' secondary is so banged up that for weeks, Troy Brown, a wide receiver, has taken the field as a fifth defensive back. \nWhile it would seem that the Patriots' patchwork secondary would be an easy target, the New York Jets' offense appears to be treading cautiously as it prepares for Sunday's game against New England at Giants Stadium. \nThere is much at stake: the Jets (10-4) would clinch an AFC playoff berth with a victory, while a triumph by the Patriots (12-2) would guarantee them a first-round bye in the playoffs. \nEven though their defensive backfield is thin, the Patriots have gone 6-2 since Law was injured in their loss to the Pittsburgh Steelers, just one more testament to how resourceful the team has been under coach Bill Belichick. \n"They know how to play defense," Jets quarterback Chad Pennington said. \nThe Patriots coaches have covered their holes in the secondary by using an assortment of defensive schemes and disguising some packages. \n"They do a great job," said Jets coach Herman Edwards of the Patriots' ability to compensate for personnel losses. "They've done a really great job when you talk about guys that have been injured and they still win games." \nLast week, New England started a rookie, Randall Gay, and a second-year player, Asante Samuel, at cornerback, and still held the Miami Dolphins to 179 passing yards.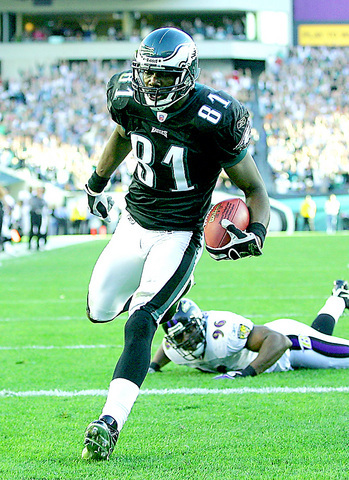 Terrell Owens of the Eagles scores a touchdown as Adalius Thomas of the Ravens looks on at Lincoln Financial Field in Philadelphia, Pennsylvania on Oct. 31. Owens was one of 11 Eagles invited to the Pro Bowl. Philadelpia will dominate the NFC's lineup.
PHOTO: AFP
Comments will be moderated. Keep comments relevant to the article. Remarks containing abusive and obscene language, personal attacks of any kind or promotion will be removed and the user banned. Final decision will be at the discretion of the Taipei Times.