Officials ready for fake tickets
EUROPEAN FOOTBALL A Frankfurt court barred an unauthorized German firm, which had been advertising `VIP' packages at inflated prices for the Confederations Cup in June, from selling tickets
The German soccer federation warned Thursday against buying World Cup tickets from unauthorized agents, saying they could be prevented from entering stadiums for the matches. \nThe DFB, which is especially fearful of fraud on the Internet, won a court ruling Thursday that it hopes is the first step to limiting ticket problems for the 2006 World Cup, which Germany will host. \nThe federation saw the ruling as a precedent for the upcoming World Cup. \n"Our goal is to protect fans from being misled by dubious offers. All we can do is urgently warn fans off freeloaders, the majority operating on the Internet," said Horst Schmidt, vice-president of Germany's World Cup Organizing Committee. \n"Anyone who takes up these offers runs the risk of losing a lot of money and failing to gain entry into the stadium," Schmidt added. \nThe tickets for both the World Cup and Confederations Cup, a biennial championship of the six regional confederations, will contain a microchip, which will allow entry only for fans who have acquired them legally. \nThe Germans are hoping to limit ticket fraud, which has been a ritual complaint in recent years with regard to soccer's premier event. \n"The tickets sales will influence the mood at the World Cup," Schmidt said. \nThe Bild newspaper, Germany's largest, also reported Thursday that world soccer governing body FIFA was in talks with Internet auction house eBay to stop World Cup tickets from being sold on their Web site. \nFIFA officials were unavailable for comment and an eBay spokesman Chris Donlay said that due to the upcoming Christmas holiday, he couldn't confirm any discussions had occurred. \nBild reported dubious offers already have surfaced for World Cup tickets, although they don't go on sale until Feb. 1. One England-based company was reporting offering a "VIP" package -- including hospitality -- for the final in Berlin for 4,990 euros (US$6,670). \nPop musician/singer Elton John and other celebrities attended a lavish party held by English national team captain David Beckham and his wife Victoria on Thursday for the christening of their sons. \nThe ceremony for Brooklyn, 5, and Romeo, 2, was held in the grounds of the family's Hertfordshire mansion, which has been dubbed Beckingham Palace. \nThe christenings were conducted by the Rev. William Paul Colton, a bishop in the Anglican Church of Ireland, who had married the couple five years ago. \nOther guests who showed up at a chapel newly built for the occasion included actress Liz Hurley; three other members of Victoria's band, the Spice Girls -- Geri Halliwell, Emma Bunton, and Melanie Chisholm; and tennis player Greg Rusedski with his wife Lucy. \nThe guess list also reportedly included fellow England teammates Gary Neville and Wayne Rooney, actor Tom Cruise, and England national team manager Sven Goran Eriksson. \nElton John arrived for the black-tie affair with his partner David Furnish in a silver Rolls Royce. The ceremony was closed to the media, but reports said that the rock star would become the godfather of the two boys. \nEarlier in the afternoon, Beckham's mother, Sandra, drove to the couple's home near Sawbridgeworth, 56km north of London, closely followed by Victoria's parents, Tony and Jackie, and then her sister, Louise. \nAerial photographs showed that Beckham and his wife had the private chapel, which has a white angel above its arched doorway, built for the occasion. To get to the chapel, guests walked past fake ruins modeled on the crumbling Irish church where the couple wed. \nInamoto heads to Cardiff \nJapanese World Cup midfielder Junichi Inamoto has moved from Premier League club West Bromwich Albion to Cardiff City in the second, or Championship, division on a one-month loan in an attempt to return to competitive fitness. \nInamoto, who transferred to West Brom in the summer, hasn't made a first team appearance for the Baggies after a breaking his ankle while playing for Japan against England in May. \nAlthough he has played several games for the Albion reserves, he is not considered fit enough for Premier League action. \nSheffield picks up Hai \nVeteran Chinese international Hai Hai-dong is set to move to English soccer with Sheffield United. \nThe Blades have offered the forward a 2 1/2-year contract after he was released by his Chinese club, Dalian Shide. \n"He is still playing in the Chinese team and he's a big tough lad who will do well," said Sheffield United manager Neil Warnock, whose club is in fifth place in the second, or Championship, division. \n"He is going to come initially as a player but he will do some coaching work for us and will eventually return to China with our academy.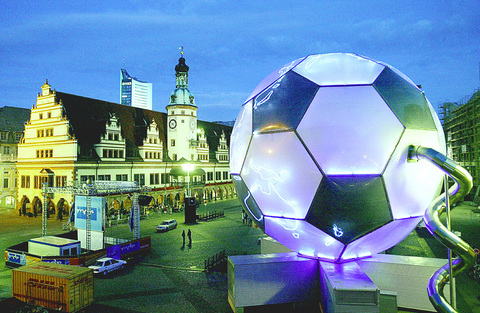 A soccer globe is illuminated in this June 14, file photo in Leipzig, Germany. Organizers warned yesterday that holders of fraudulant tickets would not be admitted to World Cup events. World Cup tickets will contain a microchip, which will allow entry only for fans who have acquired their tickets through legal channels.
PHOTO: AFP
Comments will be moderated. Keep comments relevant to the article. Remarks containing abusive and obscene language, personal attacks of any kind or promotion will be removed and the user banned. Final decision will be at the discretion of the Taipei Times.