Wizards conjure up win over Knicks
AMERICAN BASKETBALL The game was undecided until the final seconds of the game as Washington materialized a three-point play to beat the NY Knicks
Brendan Haywood atoned for two missed free throws by converting a three-point play off the Wizards' 27th offensive rebound with 7.1 seconds remaining Friday, giving Washington a 106-104 victory over the New York Knicks.' \n"Missing those free throws really hurt. ... You have to keep your mind clear, because you never know how it's going to come back," Haywood said. ``Tonight it just came back on me, and I was able to make the play.'' \nHaywood's first points of the second half came after he missed a pair from the line with 55 seconds remaining. The Knicks had two final chances, but Nazr Mohammed missed a tough shot in traffic and Kurt Thomas failed to put in the rebound as time expired. \n"I got a good look at it and missed the shot," Mohammed said. "Besides an open layup, you can't ask for a better shot. I got a wide open shot within a foot in the paint." \nAntawn Jamison had 25 points and 13 rebounds for the Wizards, who have won eight of 10. Haywood, an unstoppable force in the first half before disappearing for much of the second, had 17 points and 14 rebounds, and Gilbert Arenas had 20 points and seven assists. \nNuggets 101, Raptors 87 \nIn Toronto, Carmelo Anthony had 28 points, nine assists and eight rebounds, and Nene had a season-high 21 points to lead Denver past Toronto. \nKenyon Martin added 14 points and 12 rebounds for the Nuggets, who have won four straight. \nWith regular starting center Marcus Camby sidelined by a bruised tailbone, Nene went 9-for-10 from the field in a season-high 40 minutes. Denver shot 54 percent compared to 38 for Toronto. \nRafer Alston had 25 points for the Raptors, who have lost six straight. \nHeat 92, Grizzlies 84 \nIn Miami, Dwyane Wade narrowly missed a triple-double and Shaquille O'Neal scored 11 of his 20 points in the fourth quarter as Miami downed Memphis. \nO'Neal made four of his five shot attempts and added two assists in the final 12 minutes, a stark difference from the middle two quarters when the Grizzlies held him scoreless and he missed the only three shots he tried. \nWade had 26 points, nine assists and nine rebounds -- coming up just short in a bid for what would have been the fifth triple-double in Heat history and just the second in the last 10 seasons. He and O'Neal combined for 19 of Miami's 23 fourth-quarter points. \nNets 94, Hornets 91, OT \nIn East Rutherford, New Jersey, Jason Kidd hit a go-ahead basket early in overtime, as the Nets denied former coach Byron Scott a win in his return to New Jersey. \nThe Nets rallied from a seven-point deficit with 2:10 to play in the fourth quarter and sent the Hornets to their season-high ninth straight loss and 17th in 18 games. \nRichard Jefferson scored 24 points and Eric Williams added 19 for the Nets, who had 30 turnovers. Kidd, playing in his third game since returning from knee surgery, had eight points and eight assists in a season-high 28 minutes. \nHawks 88, Pistons 72 \nIn Auburn Hills, Michigan, rookie Josh Smith replaced Kenny Anderson at point guard and had career highs of 12 points and four blocks in his first NBA start as Atlanta beat Detroit. \nThe Hawks, who led by as many as 29, won for just the second time in 12 games and held Detroit to a franchise record for fewest points in a home game. \nTony Delk and Predrag Drobjnak had 16 points each for Atlanta, which had five players in double figures. Detroit's Richard Hamilton led all scorers with 24. \nThe Hawks replaced Anderson in the starting lineup with the 6-foot-9 Smith, and Boris Diaw was Atlanta's shortest starter at 6-foot-8. The big lineup paid immediate dividends, as Smith blocked three shots in the first quarter and the Hawks shot 66.7 percent on their way to a 32-20 lead. \nTimberwolves 113, Kings 105 \nIn Minneapolis, Kevin Garnett scored a season-high 35 points with 18 rebounds and nine assists to lead Minnesota over Sacramento. \nPlaying before their largest crowd of the season, the Wolves trailed for most of the first three quarters before using a 18-3 burst in the fourth to turn a four-point deficit into a 109-98 lead with 2:57 remaining. \nEddie Griffin added 18 points for Minnesota, and Sam Cassell scored 14 of his 15 points in the second half. Chris Webber had 25 points for the Kings. \n76ers 93, Bulls 88 \nIn Chicago, Allen Iverson had 23 points and 10 assists, and Samuel Dalembert had 13 points, 14 rebounds and six blocked shots in his first start of the season for Philadelphia, which ended an eight-game road losing streak with a win over Chicago. \nThe Bulls scored 10 unanswered points to get within 91-88 on Luol Deng's two free throws. Kirk Hinrich was called for a charge after making a driving layup with 1:00 left that would have cut the 76ers' lead to one point. \nBucks 95, Pacers 86 \nIn Milwaukee, Michael Redd scored 21 points and Mike James added 16 as Milwaukee handed Indiana its sixth straight loss. \nThe victory, Milwaukee's second over Indiana in four days, helped the Bucks (6-11) avoid their worst starting record in a decade, a 5-12 mark to begin the 1994-1995 season. \nMilwaukee, which had lost nine of its previous 11 games, also got 13 points from Maurice Williams and 12 from Desmond Mason. \nIndiana was led by Reggie Miller's 17 points, 10.5 below his average, and Austin Croshere had 14 off the bench. \nSuns 115, Bobcats 106 \nIn Phoenix, Amare Stoudemire came close to the first triple-double of his career with 36 points, 15 rebounds and eight assists, and Phoenix edged New Orleans. \nThe victory was the Suns' fourth in a row, 13th in their last 14 games and gave them a 17-3 record -- tying Seattle for the best in the NBA -- on the one-year anniversary of Mike D'Antoni taking over as head coach. \nShawn Marion and Quentin Richardson each added 20 points for Phoenix, which exceeded its NBA-high average of 108.6 points per game. Joe Johnson scored 12 points and Steven Hunter 10, with Steve Nash contributing nine points and 14 assists. \nThe expansion Bobcats were led by guard Brevin Knight's season-high 17 points. \nMagic 113, Warriors 109 \nIn Oakland, California, Steve Francis scored a season-high 36 points and also finished with eight rebounds and eight assists in Orlando's fifth win in six games. \nFrancis shot 11-for-26 and made all 14 of his free throws, carrying the load as Grant Hill sat out with a badly bruised right shin. \nTony Battie had 16 points and matched his career high with 15 rebounds, Cuttino Mobley added 15 points and Hedo Turkoglu scored 14 off the bench. Jason Richardson finished with 27 points, Mike Dunleavy scored 22 points and Speedy Claxton had 19 points and five assists for the Warriors. \nJazz 92, Trail Blazers 87 \nIn Salt Lake City, Matt Harpring scored 17 points, including six in overtime, as Utah beat Portland to snap a six-game losing skid and avoided its first seven-game skid since 1981-1982. \nAttempting to tie the game in the final minute of overtime, Zach Randolph missed in the lane and Mehmet Okur stripped Shareef Abdur-Rahim after he grabbed the offensive rebound. Carlos Arroyo made one free throw and Harpring hit two to clinch the win in the last 18 seconds. \nCarlos Boozer scored 17, Okur had 14 and Kirk Snyder recorded a career-high 13 points for the Jazz, who had lost three in a row at home and 10 of 12 overall. \nRookie guard Yuta Tabuse of Japan was activated by the Phoenix Suns, who placed center Jake Voskuhl on the injured list on Friday. \nYuta Tabuse, the first native Japanese player in the NBA, was placed on the injured list with a right quadriceps strain on Nov. 8 after appearing in two games. \nVoskuhl underwent emergency appendectomy surgery on Friday. \nJoey Graham scored 20 points and grabbed seven rebounds to lead No. 5 Oklahoma State to an 86-73 win over Alabama-Birmingham at Gallagher-Iba Arena. \nJohn Lucas added 18 points, 14 in the second half, and a season-high eight assists for the Cowboys (7-0), who have yet to win by less than double-figures this season. Daniel Bobik added 14 points, and Stephen Graham, JamesOn Curry and Ivan McFarlin each had 10 points as OSU has won 21 straight at home. \n"UAB is a very good team," said Lucas, who keyed a second-half run. "They came out with a lot of intensity. It was the kind of game we needed." \nDonell Taylor had 17 points and eight rebounds for the Blazers, (4-1), who were handed their first setback of the season. \nThe first half was closely contested until the final five minutes. With UAB holding a 22-20 lead, Oklahoma State went on a 19-7 run to end the half and take a 39-29 cushion. \nGraham started the run with a three-point play and Daniel Bobik drained a three-pointer with 20 seconds remaining to cap the half's scoring. \nIn the second, after the Blazers drew within 46-40, the Cowboys went on a 14-0 run to take control. Lucas drained a pair of threes during the run and ended it with a three-point play at the 15-minute mark for a 60-40 lead. \nThings got chippy on a loose ball play shortly after Oklahoma State extended to the 20-point lead. Officials had to break up a scuffle between players that didn't amount to much more than pushing and shoving. \nThe Cowboys, who are fresh off a Jimmy V Classic win over Syracuse, finished the game shooting 52 percent from the field, going 56 percent in the second half. \nNo. 17 Iowa 70, Iowa State 63 \nIn Iowa City, Iowa, Adam Haluska scored 20 points while Greg Brunner added 11 along with 13 rebounds as 17th-ranked Iowa earned a hard-fought 70-63 victory over rival Iowa State at Carver-Hawkeye Arena. \nPierre Pierce compiled 15 points, eight rebounds and five steals for the Hawkeyes (8-1), who recorded their fifth straight win despite shooting just 37 percent from the floor. \nThe Cyclones (4-2) never led at any point, but hung tough, mainly due to a huge effort by Jared Homan. The senior center delivered a career-high 25 points and pulled down 11 rebounds. \nWill Blalock added 15 points for Iowa State, while Curtis Stinson finished with 14 before fouling out with 7:46 to play. \nEast Tennessee St. 65, \nTennessee Tech 54 \nIn Johnson City, Tennessee, Travis Strong recorded 14 points to lead four East Tennessee State players in double-figures as the Buccaneers posted a 65-54 win over Tennessee Tech at the Memorial Center. \nStrong connected on 4-of-6 attempts from three-point range to help ETSU (3-5) snap a three-game slide. Tim Smith had 13 points and dished out seven assists for the defending Southern Conference champs. \nWillie Jenkins poured in 24 points for the Golden Eagles (3-4), who shot just 32 percent from the floor and had a two-game win streak snapped. \nThe Bucs led 28-24 at halftime before slowly pulling away after the break. East Tennessee State extended its advantage to 10 points, 53-43, with under five minutes remaining and held Tennessee Tech off the rest of the way.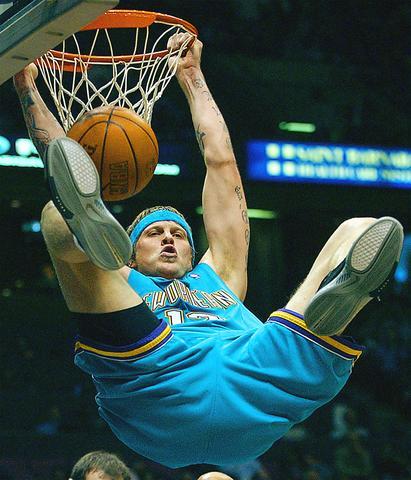 Chris Anderson of the Hornets dunks the ball against the Nets in East Rutherford, New Jersey on Friday. The Nets 94-91 in OT.
PHOTO: AP
Comments will be moderated. Keep comments relevant to the article. Remarks containing abusive and obscene language, personal attacks of any kind or promotion will be removed and the user banned. Final decision will be at the discretion of the Taipei Times.