Valentino Rossi takes Australian GP
Four MotoGP world championships in a row, three consecutive wins at Phillip Island in the Australian Grand Prix: not a bad day -- and season -- for Valentino Rossi. \nRossi overtook Spain's Sete Giberneau on the final lap Sunday, when the lead changed hands three times, to win for the eighth time this season. It was his fifth career victory in Australia. \n"It's a fantastic finish to a fantastic championship," said Rossi. "It was very close on the last lap, I'm sure very good for the fans." \nRossi finished in 41 minutes, 25.819 seconds, just ahead of Gibernau's 41:25.916. Loris Capirossi of Italy was third in 41:36.305. \nRossi took the last 500cc title in 2001 and won the last two MotoGP championships with Honda before switching to Yamaha this year. He is the second rider after American Eddie Lawson to win the championship for different manufacturers in consecutive seasons. \nAfter crossing the finish line, Rossi raised his left arm into the air and shaped the figure "1" with his index finger. \nGiberneau, the only rider in a position to challenge for the world title, led for most of the race. He needed to win and have Rossi finish worse than second in order to keep the title going until the 16th and final race in Valencia, Spain, on Oct. 31. \nGiberneau said he had mechanical problems with his Honda. \nEarlier on the 4.448km circuit, Argentina's Sebastian Porto won the 250cc race but couldn't prevent Daniel Pedrosa of Spain from clinching the world championship with a fourth-place finish. \nPedrosa, who won last year's 125cc crown, needed only two points to clinch the 2004 title after winning last weekend's race in Malaysia. \nItalian Andrea Dovizioso, who clinched the 125cc world championship in Malaysia, won Sunday's Australian race in the same class. \nDovizioso, whose second placing behind Casey Stoner of Australia gave the Italian the season title at the Malaysian Grand Prix on Oct. 10, finished the 23-lap Australian race Sunday in 38:01.877.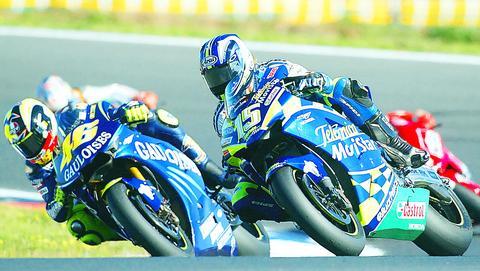 Italian MotoGP rider Valentino Rossi, left, sneaks past Spaniard Sete Gibernau on the final lap to take the lead during the Australian Grand Prix on Phillip Island, Australia, Sunday. Rossi won the race. for the 25-year-old Italian's 46th Grand Prix victory.
PHOTO: AP
Comments will be moderated. Keep comments relevant to the article. Remarks containing abusive and obscene language, personal attacks of any kind or promotion will be removed and the user banned. Final decision will be at the discretion of the Taipei Times.