Wildcats surprise No. 8 Buckeyes
College Football \nNoah Herron scored on a 1-yard run in overtime and had two other touchdowns Saturday as the Northwestern Wildcats backed up its pregame trash talk with a 33-27 upset victory over No. 7 Ohio State. \nThe victory was Northwestern's first over Ohio State (3-1) since 1971, snapping the Buckeyes' 24-game winning streak in the series and handing them their first loss in Evanston since 1958. After Herron broke through the Buckeyes at the goal line, his teammates piled on him in the corner of the end zone and Northwestern students ran onto the field, turning it into a purple mosh pit. \nHerron ran for 113 yards and caught two passes for 12 yards, Mark Philmore had 134 yards receiving and a touchdown, and Brett Basanez was 24-of-44 for 278 yards. \nOhio State's offense had another shaky night. Justin Zwick was 18-of-38 for 211 yards. Santonio Holmes had 99 yards receiving and a score. \nNo. 8 Auburn 34, \nNo. 10 Tennessee 10 \nIn Knoxville, Tennessee, Jason Campbell threw for 252 yards and two touchdowns, and Auburn stamped itself as a national title contender. \nCarnell Williams and Ronnie Brown each ran for a touchdown to compliment Campbell, and the Tigers' swarming defense made Tennessee's two freshmen quarterbacks look like neophytes for the first time this season. Junior Rosegreen had four interceptions to set a record for Auburn and tie the SEC mark. \nNo. 2 Oklahoma 28, Texas Tech 13 \nIn Norman, Oklahoma, Jason White threw three touchdown passes to break Oklahoma's career mark, and Adrian Peterson added 146 rushing yards and a touchdown run. \nWhite broke Josh Heupel's record in the third quarter with his 54th career touchdown pass. Fullback J.D. Runnels caught White's pass in the right flat and took it into the end zone to put Oklahoma (4-0, 1-0 Big 12) ahead 21-6. Travis Wilson caught his second touchdown pass of the game in the fourth quarter to make it 28-6. \nTexas Tech dropped to 3-2 overall and 1-1 in the Big 12. \nNo. 3 Georgia 45, No. 13 LSU 16 \nIn Athens, Georgia, David Greene set a school record by throwing five touchdown passes as Georgia got a huge victory in the South-eastern Conference. \nIt was a totally unexpected performance by Georgia (4-0, 2-0 SEC), which has never been an offensive juggernaut during Mark Richt's four years as coach. The Tigers (3-2, 1-2) had not given up this many points since a 56-13 loss to Florida in 1996. \nNo. 4 Miami 27, Georgia Tech 3 \nIn Atlanta, Brock Berlin threw three touchdown passes and Frank Gore ran for 115 yards in Miami's first ACC road game. \nPlaying without the injured P.J. Daniels, the ACC's leading rusher, Georgia Tech (2-2, 1-2) was shut down by Miami's tough defense, which forced four turnovers. Miami (4-0, 2-0) has allowed only one offensive touchdown in four games. \nBerlin completed 10 of 20 passes for 200 yards with no interceptions. \nNo. 5 Texas 44, Baylor 14 \nIn Austin, Texas, Cedric Benson ran for 188 yards and three touchdowns, and Vince Young passed for two scores for Texas. \nBenson passed Earl Campbell for second place on the school career rushing list, and Young threw his first scoring passes to a wide receiver, both going to Tony Jeffery in the first half. \nNo. 9 Florida St. 38, North Carolina 16 \nIn Tallahassee, Florida, quarterback Wyatt Sexton threw three touchdown passes in his starting debut, and Leon Washington ran for 153 yards and a touchdown for Florida State. \nFlorida State (3-1, 2-1 Atlantic Coast Conference) built a 24-6 lead early in the third quarter, but didn't put the game out of reach until Sexton's 15-yard TD pass to Chauncey Stovall completed the scoring with 6:53 left. \nNorth Carolina (2-3, 1-2 ACC) managed 363 yards against Florida State's tough defense, but had difficulty reaching the end zone. \nNo. 10 California 49, Oregon St. 7 \nIn Corvallis, Oregon, Chase Lyman had five catches for a career-high 176 yards and three touchdowns, and Aaron Rodgers completed 12 of 16 passes for 140 yards and three scores for California (3-0, 1-0 Pac-10). \nCal had not played for 20 days. A game against Southern Mississippi, originally scheduled for Sept. 16, was postponed by Hurricane Ivan. \nNo. 16 Florida 45, Arkansas 30 \nIn Gainesville, Florida, Chris Leak threw for a career-high 322 yards and three touchdowns as Florida held off another late rally. \nFlorida led 38-7 late in the third quarter before the Razorbacks scored 23 consecutive points. Quarterback Matt Jones, who leads the conference in total offense, hurt the Gators running and passing. \nNo. 18 Minnesota 16, Penn St. 7 \nIn Minneapolis, Laurence Maroney ran for 144 yards and a touchdown and No. 18 Minnesota overcame Penn State's scrappy defense. \nThe Gophers (5-0, 2-0 Big Ten) recorded their second straight 5-0 start since 1940-41 and have won four in a row against Penn State. But Minnesota's offense, which entered the game averaging 44 points, stalled frequently against the Lions (2-3, 0-2). \nWhile Maroney set a school record with his sixth consecutive 100-yard rushing game, the Lions helped limit Minnesota's powerful backfield by holding Marion Barber III to 88 yards on 21 carries and one score. Bryan Cupito went 8-for-18 for 113 yards and an interception for the Gophers. \nNo. 19 Michigan 35, Indiana 14 \nIn Bloomington, Indiana, Chad Henne threw for 316 yards and three touchdowns, and Leon Hart returned a punt 76 yards for a score for Michigan. The Wolverines retained a share of the Big Ten lead by winning their third straight game and their 13th in a row against the Hoosiers since 1987. \nIndiana (2-3, 0-2) lost its third straight game this year and is 1-14 against the Wolverines at Memorial Stadium. \nNo. 20 Wisconsin 24, Illinois 7 \nIn Madison, Wisconsin, Anthony Davis ran for 213 yards and three touchdowns in his first action in a month and Wisconsin (5-0, 2-0 Big Ten) held its fifth straight opponent to a touchdown or less, a feat it last achieved in 1951. \nDavis, who sat out the last 3 1/2 games with an orbital fracture in his right eye, had scoring runs of 31, 16 and 7 yards and set up Mike Allen's 48-yard field goal with a 27-yard run. Illinois dropped to 2-3 and 0-2 in the Big Ten. \nNo. 21 Arizona St. 28, Oregon 13 \nIn Eugene, Oregon, Andrew Walter overcame a shaky start to throw three touchdown passes and third-string tailback Hakim Hill ran for 134 yards and a touchdown to help Arizona State beat Oregon. \nHill was playing in place of suspended starter Loren Wade and injured backup Randy Hill for the Sun Devils (5-0, 2-0 Pac-10), off to their best start since winning 11 straight in their 1996 Rose Bowl season. \nNo. 23 Boise St. 38, SMU 20 \nIn Boise, Idaho, Jared Zabransky threw for 190 yards and two touchdowns to help Boise State extend the longest winning streak in the nation to 16 games. \nZabransky completed 20 of 31 passes before leaving after three quarters and the Broncos (5-0, 2-0 Western Athletic) won at home for the 22nd straight time. Chris Foster had six catches for 125 yards for SMU (1-4, 1-1). \nNo. 25 Oklahoma St. 36, Iowa St. 7 \nIn Stillwater, Oklahoma, Vernand Morency ran for 143 yards and two touchdowns and Jason Ricks kicked three field goals for Oklahoma State. \nJamie Thompson caused two fumbles and recovered another for Oklahoma State (4-0, 1-0 Big 12). The Cowboys, who led 23-0 at halftime, held the Cyclones (2-2, 0-1) to just 59 yards rushing on 37 carries.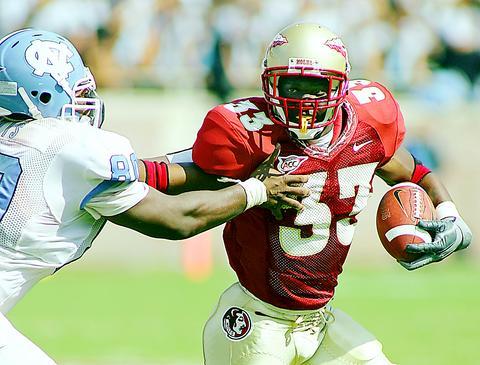 Jamaal Edwards of the Florida State Seminoles fights off defender Tommy Davis of North Carolina Tarheels at Doak Campbell Stadium in Tallahassee, Florida, Saturday.
PHOTO: AFP
Comments will be moderated. Keep comments relevant to the article. Remarks containing abusive and obscene language, personal attacks of any kind or promotion will be removed and the user banned. Final decision will be at the discretion of the Taipei Times.