Giambi breaks out of slump in big way
AMERICAN BASEBALL Jason Giambi was 0-for-32, with 11 of those at-bats coming since he returned from the disabled list. His homer broke the drought
American LeagueJason Giambi homered to end the longest slump of his career and Esteban Loaiza finally earned his 100th career victory and first for the Yankees, leading New York over the Toronto Blue Jays 5-3 Tuesday. \n"It doesn't get much better than that," Giambi said. \nGary Sheffield hit his 36th home run two days after getting a pair of cortisone shots. Alex Rodriguez almost homered for the Yankees, too, but was robbed on a spectacular catch by center fielder Vernon Wells. \n"You hate to rob guys of stuff they earn, but that's the way it goes," Wells said. \nMariano Rivera matched his career high with his 50th save as the Yankees held their 4 1/2-game lead over Boston in the American League East and stopped Toronto's three-game winning string. \nGiambi had been 0-for-32, with 11 of those at-bats coming since he returned from the disabled list. \nLoaiza (10-7) outpitched Roy Halladay (7-8) after finishing runner-up to the Toronto ace last year in the AL Cy Young pitching award voting. Halladay, in his first outing since July 16, left after four innings trailing 3-2. \nRed Sox 3, Orioles 2 \nIn Boston, Mark Bellhorn singled in two runs in the ninth as Boston rallied past Baltimore and snapped a three-game losing streak after nearly blowing the game in the top of the inning. \nCurt Schilling cruised through eight innings, striking out a season-high 14 as he went for his major league-leading 21st victory. \nGiven a 1-0 lead on Kevin Millar's sacrifice fly in the eighth, Keith Foulke (4-3) gave up Javy Lopez's two-run homer on a 3-2 pitch with two outs in the ninth. \nB.J. Ryan (3-6) walked Kevin Youkilis in the bottom half, and Bill Mueller doubled off the Green Monster for his career-high fourth hit. Pinch-hitter David McCarty popped up to first, then Johnny Damon struck out looking. \nDevil Rays 7, Royals 4 \nIn St. Petersburg, Florida, Jorge Cantu hit a go-ahead, two-run double during a five-run eighth inning to help Tampa Bay beat Kansas City. \nCantu made it 5-4 on his drive to left-center field off Shawn Camp (2-1), and Carl Crawford and Jose Cruz Jr. followed with RBI singles off Jaime Cerda. \nRocco Baldelli pulled the Devil Rays to 4-3 on a solo homer earlier in the eighth off Dennys Reyes. \nCruz had four hits, including a two-run homer for the Devil Rays. \nMark Hendrickson (9-15) allowed one unearned run in two innings, and Danys Baez pitched the ninth for his 28th save. \nIndians 8, Tigers 7 \nIn Detroit, Casey Blake's bloop single broke a ninth-inning tie and lifted Cleveland over Detroit. \nThe Indians trailed 7-2 after five innings before rallying behind five RBIs from Ben Broussard. \nCoco Crisp led off the ninth with a walk, and took second on a sacrifice bunt. After Victor Martinez flew out, Esteban Yan (3-5) intentionally walked Matt Lawton, but Blake looped a single into shallow right field to give Cleveland the lead. \nBobby Howry (3-1) got the win in relief, and Bob Wickman pitched the ninth for his 10th save. \nBroussard hit a three-run homer in the sixth and a two-run double in the eighth. \nWhite Sox 8, Twins 6 \nIn Chicago, Paul Konerko hit his 40th home run of the season, and Juan Uribe had his first career grand slam, a pinch-hit shot in the seventh inning that sent Chicago over Minnesota. \nRoss Gload and Aaron Rowand also drove in runs for the White Sox, who snapped a seven-game losing streak against the AL Central-champion Twins. \nMinnesota rested Torii Hunter and Shannon Stewart a night after clinching its third straight division title. \nKonerko became only the third White Sox player to hit at least 40 homers in a season with his first-inning shot, joining Albert Belle and Frank Thomas. \nNeal Cotts (3-3) struck out two in one inning for the win. Shingo Takatsu pitched the ninth for his 18th save. \nRangers 9, Athletics 4 \nIn Arlington, Texas, Michael Young hit a grand slam, Mark Teixeira had a two-run double as Texas beat Oakland's All-Star starter Mark Mulder for the second time in a week. \nWhile the September struggles of Mulder continued, Ryan Drese (14-8) won his third straight start even though he allowed four runs in 5 2-3 innings. \nMulder (17-6) didn't make it out of the fifth, allowing nine runs -- five earned -- on eight hits with two walks and two hit batters. The left-hander is 0-2 with an 8.22 ERA in four starts this month. \nYoung's second career grand slam, his 21st homer this season, came in the fourth after first baseman Scott Hatteberg's two-out error and put the Rangers up 7-2. \nMariners 7, Angels 3 \nIn Anaheim, California, Ichiro Suzuki went 5-for-5 to pull within 14 hits of George Sisler's major league season record of 257 as Seattle beat Anaheim. \nAnaheim remained 2 1/2 games behind Oakland in the AL West and dropped 5 1/2 games behind Boston in the wild-card race. \nSuzuki singled every time up for his fourth five-hit game of the season and his major league career, and raised his batting average to .372, taking over the major league lead from San Francisco's Barry Bonds (.369). Suzuki has 11 games left to break the record Sisler set in 154 games with the 1920 St. Louis Browns. \nJamie Moyer (7-12) allowed three runs and six hits in six-plus innings. He had been 0-10 since winning at Pittsburgh on June 18. \nNational League \nPedro Feliz matched his career high with four RBIs, and Brett Tomko won his sixth straight decision as the San Francisco Giants beat the Houston Astros 9-2. \nBarry Bonds drove in a run to help the Giants win for the eighth time in nine games. \nSan Francisco snapped Houston's four-game winning streak to maintain a half-game lead in the NL wild-card race over Chicago. The Astros dropped two games back. \n"For the young guys who have never been to the playoffs, this is the closest they've been to a playoff atmosphere. This is what you play all year for. Everything's big," said Tomko. \nThe Giants also closed within 1 1/2 games of division-leading Los Angeles in the NL West. \nBonds remained at 701 homers, finishing the day 0-for-3 with his 107th intentional walk. \nTomko (11-6) gave way to Jim Brower with two outs in the ninth after walking Lance Berkman. \n"I hadn't seen Tomko for a while," Astros manager Phil Garner said. "He's a different pitcher now. He threw a lot more fastballs. He picked up some velocity somewhere." \nThe Giants rallied after Jeff Bagwell and Berkman homered on back-to-back pitches in the first inning to give the Astros a 2-0 lead. \nAstros starter Carlos Hernandez (1-3) took the loss. \nPadres 9, Dodgers 4 \nIn San Diego, Ramon Vazquez and Ramon Hernandez each hit three-run homers for San Diego, and Adam Eaton beat Los Angeles for the fourth time this season. \nAdrian Beltre hit a pair of two-run homers for the Dodgers, who have their smallest lead since July 17, when they also led the Giants by 1 1/2 games. \nBeltre leads the majors with 47 homers. \nThe Padres pulled within 5 1/2 games of the Dodgers, but remained four games behind the Giants in the tight wild-card race. \nEaton (11-13) settled down after allowing Beltre's two-run homer with two outs in the first. \nJeff Weaver (12-12) was pulled after Hernandez's shot gave the Padres a 7-2 lead in the fifth. \nPhillies 4, Marlins 2 \nIn Miami, Cory Lidle took a no-hitter into the seventh inning, Ryan Madson escaped a jam, and Philadelphia ended two years of frustration in Florida. \nThe Phillies had lost 14 consecutive games in Miami, including seven this season. \nLidle (10-12) departed after giving up three hits in the seventh, all infield singles, then hitting a batter and walking in a run. Madson, who came on with two outs and the bases loaded, preserved a 4-2 lead by striking out pinch-hitter Mike Lowell. \nBilly Wagner completed the three-hitter with a perfect ninth for his 18th save. Three walks and a passed ball helped the Phillies score four runs in the first off Dontrelle Willis (10-10). \nCubs 5, Pirates 4, 10 innings \nIn Pittsburgh, Pirates reliever Salomon Torres' wild pitch scored the go-ahead run in the 10th inning, and Aramis Ramirez's two-run homer helped Chicago beat Pittsburgh. \nThe Cubs couldn't hold a 4-1 lead, with the Pirates tying it in the ninth on Jack Wilson's RBI single, but rallied to win their 10th in 13 games. \nCorey Patterson doubled to start the 10th against Torres (7-6), who came on after the Pirates tied it. After a sacrifice bunt and an intentional walk, Torres struck out Moises Alou for the second out, but his first pitch to Derrek Lee skidded off the dirt and past catcher Jason Kendall to score Patterson. \nLaTroy Hawkins (5-4) got the victory despite allowing the tying run in the ninth. Ryan Dempster pitched a perfect 10th for his second save. \nExpos 6, Mets 1 \nIn Montreal, Tony Batista homered twice to reach 30 this season, Livan Hernandez pitched another complete game and Montreal beat New York before just 3,839 at Olympic Stadium. \nHernandez (11-14) allowed six hits, including Mike Piazza's 20th homer, in his major league-leading ninth complete game. But it came in front of the third-smallest Montreal crowd of the season, the lowest attendance since 3,766 showed up for a 5-4 loss to Minnesota on June 16. \nThe Expos, last in the NL East since April 15 after getting off to a 2-7 start, got their fifth win in seven games to move within one game of tying New York -- which has lost three straight -- for fourth place in the division. \nAl Leiter (9-8) took the loss. \nBraves 5, Reds 4 \nIn Atlanta, John Thomson pitched seven strong innings, Julio Franco had three hits and Atlanta reduced its magic number for winning the NL East to three with a victory over Cincinnati. \nThe Braves' can clinch their 13th straight division title as soon as Thursday. \nThomson (13-8) allowed only one run and five hits to win his third straight start, also setting a season high with nine strikeouts. The right-hander is 7-1 in his last 14 starts. \nJohn Smoltz finished for his 40th save, the 150th of his career. \nFranco singled in his first three at-bats, driving in a run in the fourth. The 46-year-old first baseman moved up to 91st on the career hit list with 2,447, passing Mark Grace and Dwight Evans. \nBrandon Claussen (2-6) lasted only four innings for Cincinnati, giving up seven hits and walking four. \nBrewers 6, Cardinals 4 \nIn Milwaukee, Victor Santos won for the second time in 12 starts since July 16 and rookie Dave Krynzel scored three runs to help Milwaukee stop a seven-game losing streak. \nThe Cardinals, who clinched their third NL Central title in five years on Saturday, rested five of their eight regular position players. \nSantos (11-11) allowed two runs and four hits in six innings. Since beating the Chicago Cubs at Wrigley Field in July, his only previous win was at the Chicago White Sox on Aug. 17. \nDan Kolb pitched the ninth for his 38th save, breaking the Brewers' record set by Bob Wickman in 1999. \nJason Marquis (14-6) gave up four runs -- three earned -- and eight hits in five innings. \nBarry Bonds will have two more seasons to break Hank Aaron's career home run record with the San Francisco Giants, who decided Tuesday to drop their right to void the final year of his contract. \nUnder the US$90 million, five-year deal agreed to in January 2002, San Francisco could have voided the 2006 season if Bonds failed to reach 500 plate appearances next year or 1,500 combined from 2003 to 2005, including at least 400 next season. \nBut with Bonds as dominant as ever, the Giants decided to keep the 40-year-old outfielder for two more seasons. Bonds, who needs 55 homers to pass Aaron's mark of 755, will make US$20 million in 2005 and US$18 million in 2006, with US$5 million of each year's salary deferred at 3.5 percent and paid from 2007 to 2011. \n"Given his track record I feel very confident that he'll be wearing a Giants uniform for future team and personal milestones," owner Peter Magowan said. \nBonds is the biggest draw at SBC Park, where the Giants have topped 3 million in attendance all five seasons the stadium has been open, and is far and away the best player on a team hoping to make the postseason for a third straight year. \nBonds has been pushing for this change all year, saying he might retire after the 2005 season if the team didn't commit to keeping him through the end of his contract. \nMagowan said Saturday the team would talk to Bonds about 2007 later. \nBonds, a six-time NL MVP, became the third player to reach 700 home runs last Friday against the San Diego Padres. He added his 701st the next day and entered Tuesday's game against the Houston Astros with 43 on the season, third most in the majors despite a major league record 208 walks. \nBonds is on pace to pass Babe Ruth (714) for second place early next year and could close in on Aaron's mark late in 2005.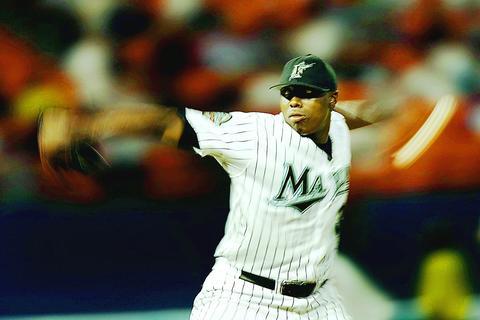 Pitcher Dontrelle Willis of the Marlins pitches against the Phillies in Miami, Florida, Tuesday. Philadelphia won a game (4-2) for the first time in Florida in two years.
PHOTO: AFP
Jason Giambi of the Yankees hits a home run against the Blue Jays at Yankee Stadium in New York, Tuesday.
PHOTO: AP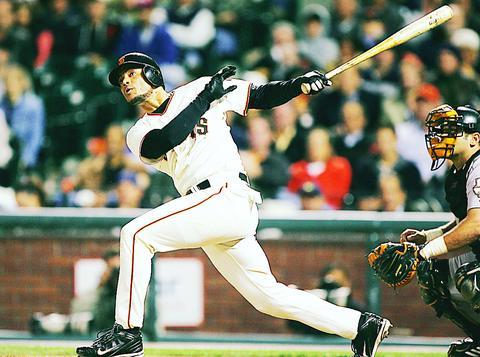 Pedro Feliz of the Giants hits a three-run double in the fourth inning against the Astrosin San Francisco, Tuesday. San Francisco beat Houston 9-2 as Feliz got four RBIs.
PHOTO: AFP
Comments will be moderated. Keep comments relevant to the article. Remarks containing abusive and obscene language, personal attacks of any kind or promotion will be removed and the user banned. Final decision will be at the discretion of the Taipei Times.