Red Sox beat Tigers despite Wakefield
MAJOR LEAGUE BASEBALL Boston's Tim Wakefield allowed two home runs to Ivan Rodriguez and one each to Eric Munson, Craig Monroe, Carlos Pena and Dmitri Young
Tim Wakefield gave up six homers, matching a modern major league record last set 64 years ago, but wound up with a win because the Boston Red Sox outslugged the Detroit Tigers 11-9 on Sunday. \nDavid Ortiz's three-run shot capped a six-run fourth inning, and Kevin Youkilis homered twice to help the Red Sox overcome seven Detroit home runs. \nIvan Rodriguez and Eric Munson each connected twice for the Tigers on an unusual day at spacious Comerica Park. The teams combined for 10 homers, the most in the stadium's five-year history. Detroit's seven homers were the most ever hit by one team at Comerica. \nWakefield (8-6) allowed two homers to Rodriguez and one each to Munson, Craig Monroe, Carlos Pena and Dmitri Young. Yet the knuckleballer left after five innings with a 10-7 lead. \nHe's the sixth pitcher since 1900 to yield six homers in a game, but the first since George Caster of the Philadelphia Athletics against the Red Sox on Sept. 24, 1940. In 1886, Charlie Sweeney of the St. Louis Maroons in the National League gave up seven homers in a game, according to the Elias Sports Bureau. \nKeith Foulke pitched a perfect ninth for his 18th save in 23 chances. \nNate Robertson (9-7) gave up eight runs -- seven earned -- in three-plus innings. \nYankees 8, Blue Jays 2 \nIn New York, Bernie Williams hit the 10th grand slam of his career, leading the Yankees to their fifth straight victory. \nIt was the fifth consecutive loss for Toronto, which fired manager Carlos Tosca after the game and replaced him on an interim basis with first-base coach John Gibbons. \nJon Lieber (8-7) extended the Yankees' streak of eight-inning efforts by starting pitchers to four, limiting the Blue Jays to four hits. \nWilliams connected in the first inning against Miguel Batista (9-7), who gave up infield hits to Derek Jeter and Hideki Matsui and hit Alex Rodriguez with a pitch to load the bases. Williams then took over fourth place on the Yankees' career grand slam list, one ahead of Mickey Mantle and Yogi Berra, trailing only Lou Gehrig (23), Joe DiMaggio (13) and Babe Ruth (12). \nOrioles 11, Rangers 5 \nIn Baltimore, Melvin Mora went 3-for-5 with a homer and four RBIs to back a strong pitching performance by a rejuvenated Sidney Ponson, and the Orioles beat the Rangers for their season-high sixth straight victory. \nThe Orioles roughed up 13-game winner Kenny Rogers and defeated the Rangers for the eighth straight time over two seasons. \nPonson (7-12) allowed three runs and five hits in 7 2-3 innings to improve to 7-1 lifetime against Texas. He's 4-0 in his last five starts after losing nine straight. \nRogers (13-5) gave up eight runs and eight hits in four-plus innings, dropping a second straight decision for the first time this season. Brian Jordan homered and drove in three runs for the Rangers, who made three errors for the second time in three games. \nDevil Rays 5, Mariners 1 \nIn St. Petersburg, rookie shortstop B.J. Upton hit a tiebreaking single in the sixth inning for his first major league RBI, and Rob Bell allowed one unearned run in seven innings for Tampa Bay. \nUpton, the Devil Rays' top pick in the 2002 draft, went 2-for-4 after sitting the previous two games. With the game tied at 1 in the sixth, Upton and Rey Sanchez hit consecutive run-scoring singles off Jamie Moyer to give the Devil Rays a 3-1 lead. \nBell (5-5) gave up six hits, struck out six and walked one for his second win in his last three starts. Danys Baez got one out for his 24th save in 26 chances. \nMoyer (6-8) allowed five runs and 13 hits in 6 1-3 innings, falling to 0-6 with four no-decisions since his last win at Pittsburgh on June 18. \nSeattle's Ichiro Suzuki went 2-for-5 to raise his AL-best batting average to .357. He has 34 hits in his last 67 at-bats. \nWhite Sox 3, Indians 2 \nIn Chicago, Timo Perez scored all the way from first on Ben Davis' long single in the ninth to give the White the win, snapping a four-game losing streak. \nDavis lined a two-out hit to right-center off Cleveland reliever Rafael Betancourt (5-6) after Perez had singled. \nGrady Sizemore cut off Davis' shot before it could get to the wall but Perez never hesitated, racing home and sliding in under catcher Victor Martinez's tag. \nThe White Sox nearly let this one get away and cost Jose Contreras a win in his first home start with Chicago, when Martinez hit a solo homer off Damaso Marte with one out in the ninth to tie it at 2. \nShingo Takatsu (5-3) got the last two outs in the ninth, ending Cleveland's four-game winning streak. \nAthletics 6, Twins 5, 18 innings \nIn Minneapolis, Jermaine Dye hit a tiebreaking single in a three-run 18th inning, and the Athletics held on for the win in a game that lasted 4 hours, 57 minutes. \nIt was the second-longest game in the 23-year history of the Metrodome. Cleveland and Minnesota played 22 innings on Aug. 31, 1993. This one matched the longest game in the major leagues this season. Texas beat Seattle 9-7 in 18 innings on June 24. \nThe A's broke through against Terry Mulholland (3-5) in the 18th. Marco Scutaro hit a one-out single and went to third on Eric Chavez's single. Dye then looped a single to center to put Oakland ahead. One out later, Erubiel Durazo and Damian Miller each hit RBI singles. \nOctavio Dotel gave up a two-run homer to Justin Morneau in the bottom of the inning before finishing for his ninth save in 13 chances with Oakland. \nChris Hammond (3-1) pitched three shutout innings for the win. \nAngels 6, Royals 4 \nIn Kansas City, Missouri, Jose Guillen tied the game with a leadoff homer in the ninth, and David Eckstein's suicide squeeze drove in the go-ahead run. \nWith the Angels trailing 4-3 in the ninth, Guillen homered to center off Nate Field (2-3). \nDarin Erstad walked and moved to second on Robb Quinlan's groundout. After Adam Kennedy was intentionally walked, Dennys Reyes came in and pinch-hitter Tim Salmon hit a fly ball to right field that was misplayed by Abraham Nunez for an error that loaded the bases. \nEckstein followed with a bunt single, and Reyes threw the ball away for an error that allowed another run to score. \nBrendan Donnelly (4-2) pitched 1 1-3 perfect innings for the win. Francisco Rodriguez got his eighth save. \nEdgar Renteria tied his career high with five hits and the St. Louis Cardinals handed Al Leiter his worst loss of the year, completing a three-game sweep of the New York Mets with a 6-2 victory on Sunday. \nJason Marquis (12-4) pitched six strong innings to win his ninth straight decision for the Cardinals, who have won 16 of 20 and raised their record to a major league-best 72-38. \nScott Rolen was 3-for-4 with an RBI and So Taguchi hit a two-run double for St. Louis, which had 12 hits. Larry Walker started his first game for the Cardinals and was 1-for-3 with an opposite-field RBI double, a walk and two strikeouts. \nThe Cardinals have swept 11 series, nine of three or more games, and are 10-2 against the Mets the last two years. \nLeiter (8-4) lasted only four innings. He gave up six runs on eight hits, and walked four and hit two batters. He saw his ERA soar 40 points to 2.52, which is still tops in the majors. \nReds 14, Rockies 7 \nIn Denver, Wily Mo Pena homered and had a career-high five RBIs before leaving in the sixth inning with cramps and dehydration in the Reds' victory. \nPena, who has 11 home runs and 27 RBIs in his last 26 games, was 3-for-4 with two singles and his career-best 18th homer to help the Reds salvage the finale of the three-game series. \nFelipe Lopez, D'Angelo Jimenez, Jason LaRue and Sean Casey drove in two runs each for the Reds, who set season highs with 14 runs and 16 hits. \nCory Lidle (7-10) benefited from the offensive surge, allowing three runs and nine hits over six innings in winning for the first time since June 30 at the New York Mets. \nJeff Fassero (2-8) allowed a career-high 11 runs and 11 hits in three-plus innings. \nPhillies 4, Dodgers 1 \nIn Los Angeles, Brett Myers pitched two-hit ball for eight shutout innings and struck out a season-high nine, leading the Philadelphia Phillies over the Dodgers. \nDodgers starter Brad Penny jumped off the mound in pain in the first inning and left with a strained right biceps. It was just his second outing for Los Angeles since he was acquired in a trade with Florida. Penny (9-9) is scheduled for an MRI on Monday. \nMyers (7-8) held the Dodgers hitless until the sixth, allowed only four baserunners and combined with Tim Worrell on a four-hitter. Worrell gave up an RBI double to Shawn Green with two outs in the ninth. \nChase Utley hit a solo homer two batters before Penny left. Bobby Abreu drove in his 80th run with a sacrifice fly, helping the Phillies conclude their longest road trip of the season with a 6-7 record after losing six of the first seven games. They took two of three against the Dodgers and won the season series 5-1. \nGiants 6, Cubs 3 \nIn San Francisco, rookie Noah Lowry had another impressive start and Dustan Mohr made a run-saving diving catch in the warning track dirt in the eighth inning of San Francisco's win over Chicago. \nLowry (2-0) also added a second-inning single and a double in the fourth, giving him four straight hits over his past two starts until a groundout in the sixth. \nThe Giants moved within two games of the Cubs in the National League wild card race, tied with San Diego. \nToronto Blue Jays manager Carlos Tosca was fired Sunday and replaced by first-base coach John Gibbons. \nStruggling through a disappointing season, the Blue Jays fired Tosca, a native of Cuba, less than an hour after they were beaten by the New York Yankees for their fifth straight loss. \nGibbons will be the interim manager for the rest of the season. \n"We have six or seven weeks left in the season and the team showed signs of not playing hard," said general manager J.P. Ricciardi, who hired Tosca on June 3, 2002. "We have an obligation to try and do as well as we can. It wasn't an easy decision. It never is when you have to tell someone who does what he loves that it's being taken away from him."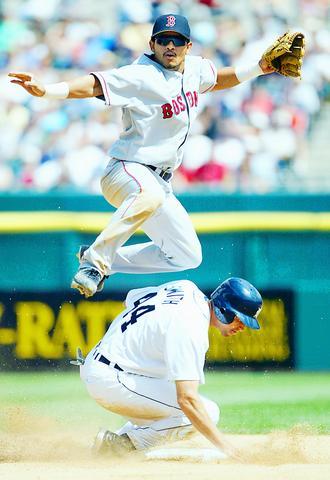 Shortstop Orlando Cabrera of the Red Sox avoids Jason Smith of the Tigers to turn a double play on Alex Sanchez at first base in the seventh inning in Detroit, Michigan, Sunday. David Ortiz's three-run shot capped a six-run fourth inning as the Red Sox won 11-9.
PHOTO: AP
Comments will be moderated. Keep comments relevant to the article. Remarks containing abusive and obscene language, personal attacks of any kind or promotion will be removed and the user banned. Final decision will be at the discretion of the Taipei Times.