Liggett gets foot-in-mouth award
There was so much certainty in Phil Liggett's voice on Thursday as he declared Andreas Kloeden the winner of Stage 17 of the Tour de France that a viewer was tempted to wonder if Liggett, an Outdoor Life Network announcer, has not recognized that after winning five consecutive Tours, Lance Armstrong can do what he wants when he wishes.
With the finish line nearly in sight, Kloeden bolted from the lead pack and Liggett said unequivocally: "The race just got won here by Andreas Kloeden. It's all over." The race wasn't over yet, but Liggett said that Kloeden "is about to get a stage win here."
With even less time to go, he added, "Kloeden doesn't have a lot left, but it's enough to win this stage." No doubt, he said, Kloeden would get the 20-second bonus for winning.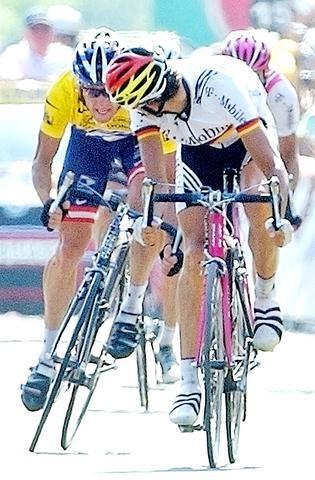 Andreas Kloeden, front, looks behind to see overall leader Lance Armstrong just before Armstrong overtook Kloeden to win Stage 17, Thursday.
PHOTO: AP
Liggett had now entered the territory of "Dewey Defeats Truman."
It was an incredible gaffe by Liggett, who was then compelled by reality, not hasty clairvoyance, to make this final call: "The man in yellow is running at him with the usual determination. Ullrich in the slipstream. Armstrong is coming with an incredible rush and Kloeden has realized it is too late. Is there any stopping Lance Armstrong in this Tour de France? And the answer is no, there is not."
Armstrong's victory in the final 100m gave him an overall lead of 4 minutes 9 seconds and makes him, barring a catastrophe, the probable winner of his sixth successive Tour on Sunday.
Liggett and his OLN partner, Paul Sherwen, maintained an obsession through a large part of the stage that the German Jan Ullrich would attack. Surely they know Ullrich's history and tendencies, but their fixation on what would, but did not happen, was comical: He has to attack, they said. He will attack. He's ready to go.
"He's a beast of a man," Sherwen said of Ullrich, high in his saddle, ready to take control and put Armstrong in his place.
But even after admitting that Ullrich ultimately could not attack because of pressure by Armstrong's US Postal Service team, Liggett said that "Ullrich is the man to beat" and that Kloeden would be the "pacemaker for Jan Ullrich to win the stage."
Armstrong's almost unprecedented dominance has turned him into one of the word's most famous athletes and personalities. The transformation is stunning because cycling, at least in the US, is a niche sport. But Armstrong's success and his recovery from cancer have given cycling a much higher profile in America.
And he is enjoying the spoils of being a symbol of athletic excellence and cancer survival.
His numerous and lucrative endorsements US$17 million a year, said Bob Williams, the president of Burns Sports and Celebrities, which matches athletes and entertainers with advertisers.
"He has broken out of the traditional guidelines of being a successful sports endorser," Williams said. "You almost always need to be in a sport with lots of fans in attendance and with big ratings."
Comments will be moderated. Keep comments relevant to the article. Remarks containing abusive and obscene language, personal attacks of any kind or promotion will be removed and the user banned. Final decision will be at the discretion of the Taipei Times.