Serena reaches quarterfinals of Chase
PROFESSIONAL TENNIS Top-seeded Serena Williams rolled through the first set before struggling for the first three games in the second, only to regroup and rally
Serena Williams defeated Aranxta Parra Santonja 6-0, 6-3 in 53 minutes Thursday to lead a parade of seeded players into the JPMorgan Chase Open quarterfinals.
The top-seeded Williams rolled through the first set and was up 3-0 in the second when the Spaniard won three straight games. Williams regrouped and reeled off the final three games in front of a sparse crowd in the 8,000-seat Home Depot Center stadium.
"She changed up her game and I had to adjust," said Williams, who played in a lime green dress with wide pleats and gold chandelier earrings. "At first, she was making a lot of errors, then she was hitting lobs. I got used to that pretty quick."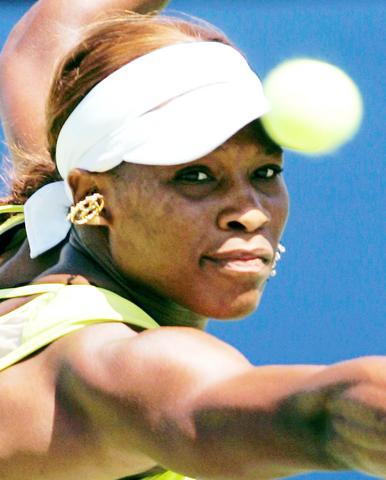 Serena Williams eyes the ball during the third round of the JPMorgan Chase Open in Carson, California, Thursday. Williams defeated Arantxa Parra Santonja of Spain 6-0, 6-3. Detroit Pistons forward Tayshaun Prince came to watch Serna play.
PHOTO: EPA
Among those watching Williams was Detroit Pistons forward Tayshaun Prince, who is from nearby Dominguez Hills. They met two weeks ago at the ESPY Awards in Los Angeles.
Third-seeded Lindsay Davenport needed one hour to beat 15th-seeded Amy Frazier 6-2, 6-4.
No. 2 seed Venus Williams defeated Elena Likhovtseva 6-1, 6-1 in 48 minutes and advanced to the quarterfinals for the first time in four Chase Open appearances. She improved to 9-0 in her career against the Russian, who hasn't taken a set off Williams.
"That's probably in her mind," Williams said.
Venus didn't face a break point on her serve until the fourth game of the second set, which went to deuce six times before she netted a forehand. But she broke Likhovtseva in the next game for a 4-1 lead. Venus served out the match with a love-game that ended on Likhovtseva's netted forehand volley.
RCA tournament
Defending champion Andy Roddick overcame blisters on his right hand, a pair of tough challenges and his second rain delay in as many nights, then moved into the quarterfinals.
First, the world's second-ranked player got past Swiss qualifier Michel Kratochvil in a rain-suspended match that began Wednesday. He then waited out a three-hour rain delay before defeating 15th-seeded Robby Ginepri, 7-6 (5), 6-4, in a night match.
In other third-round matches, No. 4 Paradorn Schrichaphan of Thailand continued his bid to reach the title match for the second straight year by defeating America's Alex Bogomolov Jr. 6-3, 6-0; No.10 Ivan Ljubicic of Croatia eliminated Jan Hernych of the Czech Republic 6-3, 6-4, and German No. 12 Nicolas Kiefer ousted South African qualifier Rik DeVoest 6-1, 6-4.
Roddick's victory gave top-seed a 46-9 mark in match competition this year as he seeks his fifth championship of 2004.
"I knew what I had to do today," said Roddick, who ended his first match at 3:23pm local time and began playing Ginepri at 9:50pm.
Throughout the day he had to get treatment for a blister at the base of the index finger on his right hand.
Roddick, playing in his first tournament since losing to Roger Federer of Switzerland in the championship match at Wimbledon, won the opening set 6-4 with Kratochvil and was trailing 2-5 when a heavy downpour halted play Wednesday night. Kratochvil quickly won the second set 6-2 Thursday, and Roddick's big serve produced a 6-4 victory in the third.
Palermo International
Top-seeded Klara Koukalova of the Czech Republic breezed past Henrieta Nagyova of Slovakia 6-3, 6-0 Thursday, advancing to the quarterfinals.
Koukalova, coming off a second-round loss at Wimbledon, had little trouble with Nagyova, the winner of the tournament in 2000.
Koukalova will next face fifth-seeded Flavia Pennetta of Italy, who prevailed over Yuliana Fedak of Ukraine 6-2, 6-7 (4), 6-2 to earn her spot in the quarterfinals.
Pennetta led 5-3 in the second set, but lost three straight games and then the tiebreaker, tying the match at a set apiece. Trailing 1-2 in the third set, Pennetta regained her composure on the red clay courts of the Palermo Country Club and won five straight games to claim the match.
Pennetta has already won a tournament this month, the International Tennis Federation women's circuit event in Cuneo, Italy.
Earlier, eighth-seeded Ludmila Cervanova of Slovakia, who lost in the semifinals of last year's tournament to eventual champion Dinara Safina, beat qualifier Marta Domachowska of Poland 6-4, 6-4.
Generali Open
Top-seeded Rainer Schuettler and French Open champion Gaston Gaudio reached the quarterfinals.
Schuettler, who fought off 10 match points against Andreas Seppi in the previous round, advanced when his third-round opponent, No. 13 seed David Sanchez, retired after losing the first set 6-0. Sanchez was bothered by pain in his hip and thighs and abandoned the match after treatment failed to improve his condition.
Gaudio, seeded second, beat 14th-seeded Nikolay Davydenko of Russia 6-3, 6-3 in a match full of unforced errors.
Both players were visibly affected by the heat in this Alpine resort that reached 39 degrees Celsius (102 Fahrenheit). The Argentine won in one hour and eight minutes, raising his record to 4-0 against the Russian.
In the quarterfinals, Schuettler will take on compatriot Florian Mayer, who eliminated unseeded Argentine Juan Monaco 6-4, 6-4, while Gaudio will play Luis Horna of Peru.
Horna rallied to beat three-time Kitzbuehel winner Albert Costa 4-6, 7-6 (4), 6-4.
Last year's finalist and third-seeded Nicolas Massu of Chile prevailed over Czech Tomas Berdych 7-6 (3), 3-6, 6-4 to reach the quarterfinals. No. 4 Feliciano Lopez had no problems winning an All-Spanish duel against Santiago Ventura, 6-3, 6-0.
In other third-round action, Argentina's Mariano Zabaleta overcame a 1-3 deficit to start the match to beat Czech Radel Stepanek 6-3, 7-5 and No. 8 Fernando Verdasco of Spain defeated Martin Vassallo Arguello, Italy, 7-6 (7), 6-3.
Croatia Open
Top-seeded Carlos Moya advanced to the quarterfinals after Croat Zeljko Krajan was forced to retire midway through the first set of their second-round match due to a leg injury.
Moya, who is seeking his fourth straight title in the ,US$485,110 ATP event at this northern Adriatic resort, had just broken back to get to 3-3.
Krajan stretched to save a breakpoint which Moya sent forcefully down the line when he hurt his calf muscle. Krajan, who was writhing on the clay surface clutching his leg and grimacing with pain, had to be carried off the court and taken to a nearby hospital.
Moya has won 17 ATP titles -- four at the Croatia Open, including the last three straight.
In other matches, Argentine Guillermo Canas continued the form that won him a title in Stuttgart earlier this month, ousting wildcard Fernando Vicente of Spain, 6-2, 6-1; fifth-seeded Alberto Martin defeated fellow Spaniard Nicolas Almagro, 6-3, 6-1; and another Spaniard Alex Calatrava topped Czech Tomas Zib, 7-5, 6-3.
Comments will be moderated. Keep comments relevant to the article. Remarks containing abusive and obscene language, personal attacks of any kind or promotion will be removed and the user banned. Final decision will be at the discretion of the Taipei Times.