Hafner's hot bat helps the Indians
MAJOR LEAGUE BASEBALL Travis Hafner drove in six runs and finished the two-game series with 11 RBIs, tying Earl Averill's franchise record for a two-game span
Travis Hafner hit three homers to match a major league record with five in two games, leading the Cleveland Indians to a 14-5 rout of the Anaheim Angels on Tuesday.
Hafner drove in six runs and finished the two-game series with 11 RBIs, tying Earl Averill's franchise record for a two-game span. Averill did it in a doubleheader against the Washington Senators on Sept. 17, 1930.
"Hitting three home runs is pretty special because it doesn't happen very often -- especially to me," said Hafner. "I guess I can enjoy this one on the plane ride."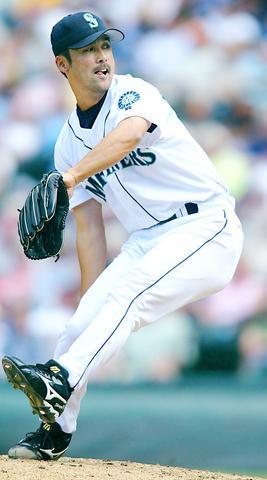 Shigetoshi Hasegawa of the Mariners pitches to the Boston Red Sox in Seattle, Washington, Tuesday.
PHOTO: AP
Hafner also became the second player to hit three home runs Tuesday, joining St. Louis slugger Albert Pujols.
Twenty-six players have hit five homers in a two-game span, a feat accomplished 28 times in all. Hall of Famer Ralph Kiner and Mark McGwire each did it twice.
Hafner is the seventh player to hit three homers in a game this season, including teammate Victor Martinez.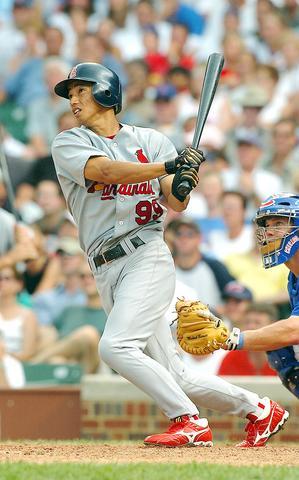 So Taguchi of the Cardinals hits a solo home run tying the game against the Cubs in the eighth inning at Wrigley Field in Chicago, Illinois, Tuesday. Albert Pujols of the Carnials hit a tiebreaking home run in the ninth inning for an 11-8 comeback victory for St. Louis.
PHOTO: AFP
Cleveland hit six homers against the Angels, including solo shots by John McDonald and Coco Crisp and a three-run drive by Martinez.
Jake Westbrook (7-5) won for the first time in seven starts since June 14. Jarrod Washburn (10-5) allowed 10 runs -- nine earned -- and a career-worst 13 hits in 5 1-3 innings.
"You shake your head, try to laugh it off and worry about the next one," Washburn said. "It's not hard to forget about something like this."
Athletics 1, Blue Jays 0,
14 innings
In Oakland, California, Damian Miller broke up Dave Bush's no-hit bid in the eighth inning, then won the game with a bases-loaded single in the 14th as Oakland edged Toronto.
Bush and Rich Harden allowed one hit apiece through eight innings, but the game stretched on long after a duel of promising young right-handers ended in a draw.
Jermaine Dye led off the 14th with a single off Justin Speier (2-6), Toronto's sixth pitcher. After a sacrifice bunt and two walks, Miller singled to nearly the same spot as his eighth-inning single to left.
Yankees 4, Devil Rays 2
In St. Petersburg, Florida, Gary Sheffield hit his 397th homer and drove in three runs, leading Jose Contreras and New York over Tampa Bay.
Derek Jeter left the game in the eighth with a bruised right wrist after getting hit by a pitch from Victor Zambrano two innings earlier. X-rays were negative.
Contreras (8-3) allowed two runs and four hits in seven innings to beat Zambrano (9-6) for the second time in 12 days. Mariano Rivera got his AL-leading 34th save in 35 chances.
Rivera has converted 22 save opportunities in a row, the longest streak in the majors this season. His 317th save moved him within one of Rick Aguilera for 10th place on the career list. Rivera is 32-for-32 lifetime against Tampa Bay.
Contreras won his fourth straight decision since being reunited with his wife and children from Cuba last month.
Red Sox 9, Mariners 7
In Seattle, Manny Ramirez and David Ortiz hit consecutive homers to key Boston's eight-run fourth inning against Seattle.
Winning pitcher Derek Lowe (8-9) gave up four runs and nine hits in five innings. Keith Foulke, who pitched two innings the previous night, got three outs for his 15th save in 20 chances. But the Red Sox had to sweat this one out.
Ichiro Suzuki led off the ninth with his fourth hit and stole second -- his career-high fourth, tying a Mariners record. Foulke walked Randy Winn to put runners on first and second with no outs, but then struck out Bret Boone, Edgar Martinez and Bucky Jacobsen to end it.
Seattle had a season-high 18 hits but tied a club record with 16 left on base.
Ortiz hit his 26th homer, a three-run shot off Joel Pineiro (5-11), and Ramirez followed with his 27th to give the Red Sox an 8-1 lead.
Orioles 12, Royals 3
In Kansas City, Missouri, Karim Garcia began his second stint with Baltimore with two home runs and five RBIs as the Orioles tied a club record with 11 extra-base hits against Kansas City.
Garcia, acquired Monday from the New York Mets for reliever Mike DeJean, was 0-for-16 in eight games for the Orioles in 2000.
The Orioles hit five home runs, a season high, and six doubles. Miguel Tejada, Larry Bigbie and Robert Machado also homered, and Bigbie and Machado also had one double each.
Baltimore hit four homers and four doubles against Royals starter Zack Greinke (2-7). The rookie was tagged for eight runs and nine hits before being lifted with none out in the third.
Daniel Cabrera (8-3) pitched five innings for the win, giving up three runs. He improved to 3-0 against the Royals this season.
Twins 5, Tigers 4, 10 innings
In Detroit, Jacque Jones homered and drove in the go-ahead run with a sacrifice fly in the 10th inning as Minnesota beat Detroit.
Justin Morneau also homered for the Twins, who swept the two-game series after losing six of their previous seven games.
With one out in the 10th, Lew Ford lined a pitch from Ugueth Urbina (3-4) to right-center and hustled to second base, just beating center fielder Brandon Inge's throw.
After Morneau and Torii Hunter walked to load the bases, Jones hit fly ball to the warning track in left, scoring Ford with the go-ahead run.
Grant Balfour (4-1) got the win with three shutout innings of relief. Joe Nathan pitched the 10th for his 26th save in 27 tries.
Rangers 6, White Sox 4
In Arlington, Texas, Rod Barajas broke a tie with a two-run double and Gary Matthews Jr. homered in the eighth inning to lead Texas past Chicago for its fifth win in six games.
Chicago got home runs from Paul Konerko, Jose Valentin and Carlos Lee but dropped out of first place in the AL Central, a half-game behind Minnesota.
Barajas's tiebreaking hit off Damaso Marte (3-3) was his career-best third double of the game.
Carlos Almanzar (7-1) got a double-play grounder and a strikeout in the eighth for the win. Francisco Cordero struck out all three batters in the ninth for his 29th save in 31 chances.
Albert Pujols hit his third homer of the game in the ninth inning, a tiebreaking shot that sent the St. Louis Cardinals to an 11-8 comeback victory over the Chicago Cubs on a testy Tuesday.
Pujols went 5-for-5 with a double and five RBIs, helping St. Louis rally from a six-run deficit in the final meeting of the season between the heated rivals. The Cardinals left Wrigley Field with a 10-game lead over the third-place Cubs in the National League Central.
``I take every game like it's the last game of the World Series, but this is extra special right here,'' Pujols said. "You're playing against your rival. I don't think we ever thought we were going to have a lead like this."
A day after the teams nearly scuffled, there was more trouble. St. Louis starter Matt Morris threw a fastball behind Corey Patterson in the first, prompting a warning to both benches from plate umpire Tim Tschida.
Cubs reliever LaTroy Hawkins, who gave up Pujols' go-ahead homer, was ejected after he started yelling at Tschida as he walked toward the dugout in the middle of the ninth.
An angry Hawkins had to be restrained by manager Dusty Baker and several Cubs coaches from going at Tschida before he was finally forced into the Chicago dugout.
"Do I regret it? No," Hawkins said, adding that he and Tschida had a feud dating back two years.
Reds 6, Brewers 2
In Cincinnati, Brandon Claussen pitched seven impressive innings in his long-awaited NL debut, and Jason Romano's first homer sent Cincinnati over Milwaukee.
Claussen (1-0) gave up Bill Hall's two-run homer and only five hits overall in his first appearance with the Reds. The left-hander was the Yankees' top pitching prospect last July when they sent him to Cincinnati as part of the trade for Aaron Boone.
The Reds completed a two-game sweep behind a career day from Romano, a diminutive utility player who entered the series hitting .056.
The outfielder had an RBI single off Doug Davis (9-8) that tied it in the fifth. He put Claussen in line for the victory by hitting a two-run homer off Davis in the seventh, his first homer in 149 at-bats in the majors.
Phillies 4, Braves 3, 10 innings
In Atlanta, Bobby Abreu's RBI single in the 10th inning capped Philadelphia's 30th come-from-behind win of the season, pulling the Phillies back into a first-place tie in the NL East on Tuesday night.
The Phillies rallied for two unearned runs in the eighth, ruining another strong outing by Atlanta starter Jaret Wright.
In the 10th, Jimmy Rollins led off with a single against Antonio Alfonseca (5-4) and stole second. Chase Utley put down a bunt in front of the plate, but catcher Eddie Perez bobbled the ball to leave runners at first and third.
Sam McConnell took over for Alfonseca, but Abreu managed a single up the middle to give Philadelphia the lead.
Tim Worrell (3-3) earned the win with a scoreless inning. Billy Wagner got his 15th save.
Pirates 2, Expos 1
In Pittsburgh, rookie Sean Burnett limited Montreal to one run in seven innings to beat the Expos for the second straight time and Rob Mackowiak hit a two-run homer for Pittsburgh.
The Pirates won their 11th in 12 home games, but still dropped the season series to the Expos for a third consecutive season -- losing four of six games.
Burnett (4-2), a 2000 first-round draft pick, pitched much like he did in during a 10-hit shutout as Pittsburgh beat Montreal 11-0 on July 9 in San Juan. There were plenty of baserunners -- nine in the first four innings -- but Burnett repeatedly was able to pitch himself out of trouble.
Livan Hernandez (6-10) allowed four hits over eight innings, striking out eight, but still lost his third straight.
Marlins 9, Mets 7
In New York, Miguel Cabrera homered and drove in three runs as Florida beat New York despite blowing an early six-run lead.
Mike Piazza sprained his left wrist when Juan Pierre ran into his arm as he reached for a wide throw at first base in the second inning. X-rays were negative and he was to be re-evaluated.
Ex-Met Armando Benitez pitched a scoreless ninth for his 32nd save in 35 chances -- and eighth against his former team this season.
Cabrera's 21st homer was part of a six-run first inning against Steve Trachsel. The All-Star outfielder also had three RBIs in a 6-5 victory Monday night.
Mike Cameron and Richard Hidalgo hit home runs for the Mets.
Ben Howard (1-1) won with 2 2-3 innings of one-run relief.
Dodgers 7, Astros 5
In Houston, Adrian Beltre hit his 25th homer and drove in three runs to lead Los Angeles past Houston for its eighth straight win.
The Dodgers have won 14 of 15 and eight consecutive road games, something they haven't done since June 1982. Los Angeles also moved a season-high 16 games above .500 at 54-38.
Jeff Weaver (7-9) gave up four runs on seven hits in six innings, but left trailing 4-1 when the Dodgers began to rally for their sixth straight comeback victory on the road since the All-Star break.
Eric Gagne got four outs for his 27th save in 28 chances.
David Weathers (1-2) allowed two runs on three hits in one-third of an inning.
Giants 3, Diamondbacks 1
In Phoenix, Jerome Williams outpitched Randy Johnson, allowing four hits over seven-plus innings as San Francisco beat Arizona.
Barry Bonds returned to the lineup and was 1-for-4 with a double and an RBI for the Giants, who won for the seventh time in nine games to remain 2 1/2 games behind the Los Angeles Dodgers in the NL West. Bonds missed Monday's series opener following root canal surgery.
The Diamondbacks are winless since the All-Star break and 2-14 under manager Al Pedrique. Arizona has lost 27 of 32 overall since mid-June.
Williams (9-6) allowed one unearned run, walked four and struck out two for his fifth win in seven decisions, sending the Diamondbacks to a team-record sixth straight home loss.
Johnson (10-8) allowed two earned runs over seven innings with a walk and six strikeouts.
Padres 9, Rockies 7
In Denver, Ryan Klesko homered and drove in three runs, Khalil Greene had a homer and two RBIs, and Adam Eaton finally beat Jason Jennings as San Diego edged Colorado.
San Diego had 16 hits, winning for the fifth time in six games, a night after pounding out a season-high 18 in a 13-6 win over the Rockies.
Jeromy Burnitz hit his third homer in two games, Aaron Miles had two RBIs and Colorado had 14 hits, but the Rockies couldn't overcome a big early deficit for the second straight night.
Eaton (5-8) was in danger of becoming the first pitcher since 1976 to lose to an opponent four times in a season, but got the better of Jennings (8-8) this time.
Trevor Hoffman pitched the ninth for his 25th save in 28 chances.
Baseball might abandon its long-standing policy of alternating All-Star sites between National League and American League cities and award the 2007 game to another NL city, commissioner Bud Selig said Tuesday.
Minutes after officially announcing Pittsburgh would host to its second All-Star game in 12 years in 2006, Selig said he expects to reveal the 2007, 2008 and 2009 sites later this summer.
With San Francisco, Arizona, Cincinnati, Philadelphia and San Diego all playing in new or relatively new ballparks and St. Louis to follow in 2006, one NL city would have to wait until 2018 for an All-Star game should baseball stay with its traditional but no-longer mandatory rotation.
By contrast, only the refurbished Anaheim Angels ballpark and Tropicana Field in St. Petersburg won't have been All-Star sites among the newer AL parks, once Detroit stages the 2005 game.
"I don't believe that it [the rotation] is as important as it used to be," Selig said.
"I think the important thing is to try to be fair. In a perfect world, you would alternate NL and AL, but it's more important to reward franchises, I think, that really need to have the game because of their venue. There are so many great new ballparks, and that's the nice part."
The hard part, he said, is deciding which cities must wait, especially when teams such as Kansas City already have waited more than 30 years for a game.
Comments will be moderated. Keep comments relevant to the article. Remarks containing abusive and obscene language, personal attacks of any kind or promotion will be removed and the user banned. Final decision will be at the discretion of the Taipei Times.