Argentina reaches final with shutout
COPA AMERICA Carlos Tevez scored a free-kick goal in in the 32nd minute, Luis Gonzalez hit a running shot in the 50th, and Juan Pablo Sorin finished up with a header
Argentina easily ousted defending champion Colombia 3-0 on Tuesday and cruised into the Copa America final for the first time since its 14th and last championship in 1993.
"Argentina showed flashes of playing at its best today," said Argentina coach Marcelo Bielsa. "Only rarely have we played better."
Colombia's 10-match unbeaten Copa streak since 2001 ended in a timid and seemingly nervous display on its Independence Day.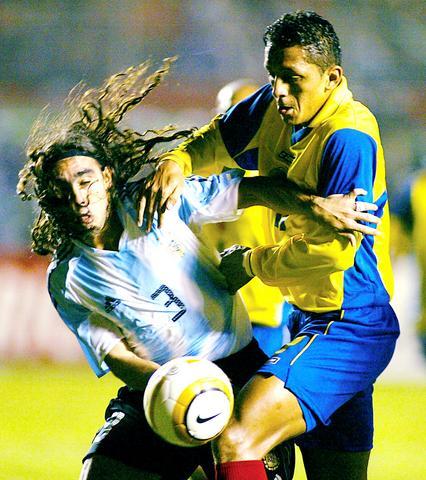 Juan Pablo Sorin of Argentina, fights for the ball with Jairo Patino of Colombia during their match in Lima, Peru, Tuesday.
PHOTO: AP
In Sunday's final, Argentina will play either Brazil or Uruguay, who meet in the second semifinal at National Stadium on Wednesday.
Colombia will play the loser for third place in Cusco on Saturday.
"We have to go out of the tournament playing as well as we can," said Colombia coach Reinaldo Rueda. "Tonight Argentina was too much for us. They showed personality, were dynamic, and played with precision."
Argentina pinned Colombia on defense for most of the match, and the defending champions seemed to pay Argentina too much respect, and not take any risks until they were 2-0 down in the second half.
"We created good scoring opportunities and took advantage of them," Bielsa said.
Cesar Delgado, Gonzalez and Sorin all took shots on goal in the opening 15 minutes as Argentina showed the attacking flair which has netted it a tournament-high 14 goals in five matches.
It wasn't until the 19th that Colombia put Argentina goalkeeper Roberto Abbondanzieri to work when Abel Aguilar's cross forced him to come off his line to make a leaping save.
Five minutes later, Gonzalez had an even better look at goal when Figueroa's shot left 'keeper Juan Carlos Henao sprawled on the ground, and Luis Gonzalez's left-footed shot was headed off the goal-line by Colombia defender Andres Gonzalez.
Tevez, starting for injured midfielder Andres D'Alessandro, drew a free kick when he was taken down by Aguilar, and scored when he curved the ball 25 meters over a six-man Colombian wall and past a diving Henao.
The goal recalled 20-year-old Tevez's bending free-kick score which beat Peru in the quarterfinals on Saturday. On Tuesday, he celebrated by running toward Bielsa before he was swamped by teammates.
Argentina's domination of the half was reflected by six corners and eight shots on goal at the 45,000-seat National Stadium which was less than half full.
Any hope Colombia had of pegging back the goal by starting the second half with a fresh outlook was flushed away within five minutes when an unmarked Luis Gonzalez one-timed a cutback pass from Figueroa for 2-0 and put the result beyond doubt.
Colombia finally snapped out of its lethargy, however, as Edwin Congo and Tressor Moreno spearheaded the attack, albeit in vain.
"Argentina took us completely out of our game," Rueda said. "We didn't communicate and we struggled to get organized."
Colombia's sweat was contrasted by the ease of Argentina's last goal, when Sorin easily slipped behind the defense and was almost on his knees when he headed in a free kick by replacement Mauro Rosales.
For Argentina, injured FC Barcelona striker Javier Saviola did not start for a third straight game, and Fabricio Coloccini replaced captain Roberto Ayala, who was suspended on yellow card accumulation.
Publication Notes
Lineups
* Argentina: Roberto Abbondanzieri, Javier Zanetti, Fabricio Coloccini, Gabriel Heinze, Juan Pablo Sorin, Javier Mascherano, Luis Gonzalez, Carlos Tevez, Cesar Delgado (Mauro Rosales, 61), Luciano Figueroa (Facundo Quiroga, 64), Cristian Gonzalez (Diego Placente, 85)
* Colombia: Juan Carlos Henao, Gonzalo Martinez, Andres Orozco, Andres Gonzalez, Gustavo Victoria, Abel Aguilar (John Viafara, 68), Oscar Diaz, Jairo Patino, Elkin Murillo (Edixon Perea, 62), Tressor Moreno (David Ferreira, 75), Edwin Congo
* Referee: Gilberto Hidalgo, Peru
Comments will be moderated. Keep comments relevant to the article. Remarks containing abusive and obscene language, personal attacks of any kind or promotion will be removed and the user banned. Final decision will be at the discretion of the Taipei Times.