Battered cyclists get their first day of rest
TOUR DE FRANCE After all the thrills and spills of last week, riders got some time off to recuperate and steel themselves for the brutal mountainous stages ahead
Now for some well-earned R&R -- Tour de France-style.
Battered and bruised both physically and mentally by a crash-filled first week, riders were getting their first day of rest yesterday -- a chance to treat wounds, sleep in and steel themselves for the first mountainous stages ahead.
"It's been a crazy first week. I don't ever remember doing one like that," said five-time champion Lance Armstrong, who's nervous that a crash could end his bid for a record sixth crown.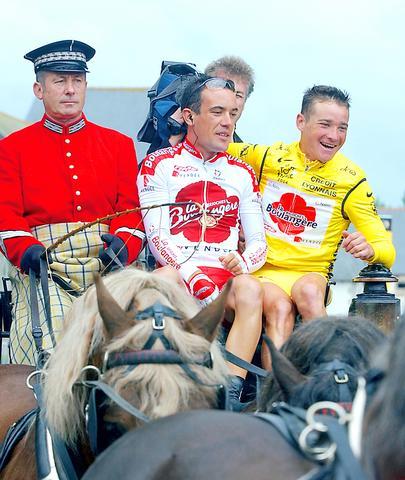 Overall leader Thomas Voeckler of France, right, and teammate and fellow countryman Anthony Charteau, center, take a ride on a horse-drawn cart prior to the eighth stage of the Tour de France cycling race between Lamballe and Quimper on Sunday.
PHOTO: AP
After yesterday's day off, the Tour swings for three days through the Massif Central, a mountainous agricultural plateau of central France that will offer a foretaste of more brutal climbs that lurk further south in the Pyrenees and then, in the final week, in the Alps.
Muscular sprinters like Norway's Thor Hushovd, who won Sunday's hilly but fast stage through Brittany in western France, will give way in the mountains to more nimble climbers and all-rounders like Armstrong.
"We'll start to see the start of the real race," Armstrong said on Sunday evening before boarding a flight that took riders south to the Massif Central. "There are a few days that are not so selective, but then we have the mountains and the start of the real Tour."
?
More than half of the 188 riders who started the Tour last Saturday have been involved in crashes in the nervous and mostly flat first week that took the Tour through Belgium, into northern France and, on Sunday, to the Brittany town of Quimper near the Atlantic coast.
A dog scampering into the pack of riders near the end of the 168km stage from Lamballe felled French rider Samuel Dumoulin, who trailed in nearly 11 minutes behind Hushovd's winning time of 3 hours, 54 minutes and 22 seconds.
"His elbow's swelling. I have to get some ice," said Dumoulin's team manager, Vincent Lavenu, cutting short a telephone interview to inquire about the rider's wounds.
Armstrong, who escaped serious injury in a crash on Friday, heads to the Massif Central with a 55-second lead over rival Jan Ullrich, the 1997 Tour winner, and 36 seconds over the US' Tyler Hamilton, who is also sore from a spill.
The crashes are largely due to rain that has doused the race and slickened roads, early nerves and the high speeds of the first week, where stages have ended with mass sprints. Teams looking to shepherd their leaders toward the front of the pack, out of trouble, fueled jitters by boxing for position.
"Every time I do the Tour, we talk about it being the craziest one to date. But this year has definitely been tough with the weather and all of the crashes," said American Bobby Julich, on his seventh Tour. "Once we get into the mountains, it's really nice ... There's a lot less stress."
French champion Thomas Voec-kler may be able to hang on to the overall leader's yellow jersey into the Pyrenees before Armstrong and other top dogs look to take it from his 25-year-old shoulders.
He is among a string of young riders who have stolen the show from veterans in the first week.
Hushovd, 26, beat veteran German Erik Zabel, 34, into third place on Sunday. Kim Kirchen, a 26-year-old from Luxembourg, was second.
The stage victory, secured with a burst of speed on the final uphill sprint, was the Norwegian champion's second in four Tours. His first was in 2002.
"Today really was my day. I'm very happy," said the sprinter who also placed third in the first stage, second in stage two and wore the leader's yellow jersey for one day in his standout first week.
"The Vikings have returned to Brittany," he said, adding that he's aiming to win the green jersey as best sprinter when the Tour finishes in Paris on July 25.
The youngest rider, 22-year-old Filippo Pozzato of Italy, won Saturday's stage and 23-year-old Swiss rider Fabian Cancellara beat 32-year-old Armstrong in the debut time trial last Saturday.
"This is a real turning point," said Jean-Rene Bernaudeau, general manager of Voeckler's team. "There's a generation arriving and some old riders in their thirties who are still in the saddle."
Overall, Armstrong remained in sixth place, 9 minutes and 35 seconds behind Voeckler -- a gap that could vanish in an instant if the Texan can reproduce the dominant form in the mountains that he showed in previous Tours.
Ullrich, in 21st place, Hamilton, 30th, and Armstrong 33rd, all finished in the same time as Hushovd on Sunday's rain-soaked stage.
"I had trouble because it was slippery and dangerous," Ullrich said, adding that he was looking forward to "some unwinding."
The order of the day for riders yesterday was rest, a few hours of riding to keep their legs from seizing up, massages, meals, meeting reporters and patching up wounds.
"As much as possible a real day off," said the spokesman for Armstrong's team, Jogi Mueller.
"We had some scary moments, but I think it was the same for all the teams. Every team has suffered some damage," added Armstrong's sports manager, Johan Bruyneel. "Seeing all that has happened, the rest day will be very welcome."
Comments will be moderated. Keep comments relevant to the article. Remarks containing abusive and obscene language, personal attacks of any kind or promotion will be removed and the user banned. Final decision will be at the discretion of the Taipei Times.