Hernandez back in NY Yankees lineup
MAJOR LEAGUE BASEBALL Making a surprise start in place of an Mike Mussina, Orlando Hernandez held the Devil Rays to two runs and five hits over five innings
Orlando Hernandez reintroduced himself to the Yankees on Sunday, pitching New York to a 10-3 victory over the Tampa Bay Devil Rays and a four-game sweep.
Tony Clark hit two of New York's five homers, and Jorge Posada homered and drove in two runs before leaving with a sprained ankle. Hideki Matsui and Gary Sheffield also connected.
Making a surprise start in place of an ailing Mike Mussina, Hernandez (1-0) held the Devil Rays to two runs and five hits over five innings in his first major league appearance since 2002. He struck out five and walked three, throwing 51 of his 88 pitches for strikes.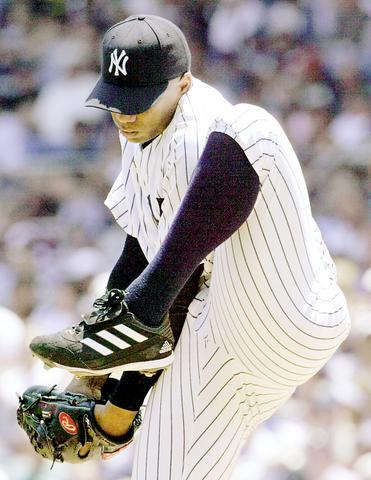 Yankees pitcher Orlando ``El Duque'' Hernandez pitches against the Devil Rays at Yankee Stadium in New York, Sunday.
PHOTO: REUTERS
Aubrey Huff homered and Hall had three hits and two RBIs for the Devil Rays, who scored only 11 runs in the series.
The Yankees got six consecutive two-out hits in the third off former NBA player Mark Hendrickson (6-7) to take a 5-0 lead.
Rangers 6, Red Sox 5
In Boston, Eric Young went 5-for-5, and Alfonso Soriano homered and had a tiebreaking sacrifice fly off Keith Foulke (2-2) in the eighth inning as Texas snapped the Red Sox's five-game winning streak.
Kevin Mench and Mark Teixeira also homered for the Rangers, who enter the All-Star break leading the AL West for the first time since 1999.
Doug Mirabelli and Johnny Damon hit back-to-back homers off Frank Francisco in the seventh as Boston rallied for a 5-2 deficit to tie it.
After Mark Bellhorn walked, Brian Shouse (2-0) came on and David Ortiz worked the count full before lofting a long fly ball into a stiff wind and Laynce Nix caught it for the last out of the inning.
Francisco Cordero pitched two innings for his 27th save.
White Sox 4, Mariners 3
In Chicago, Freddy Garcia struck out seven in 6 2-3 innings against his former team, Jose Valentin hit a two-run homer and the White Sox handed Seattle its ninth straight loss.
Aaron Rowand and Juan Uribe both hit solo homers for Chicago, which won its fourth straight to overtake Minnesota for first place in the AL Central.
The losing streak is Seattle's longest since September 1992, when it lost a club-record 14 in a row. The Mariners went 0-9 on their nine-game road trip and they've also lost 12 straight away from home. It was their longest winless trip since Sept. 4-13, 1992.
Garcia (6-8) was traded to Chicago on June 27 and is 2-1 in three starts. He allowed three runs on six hits and gave up one walk.
Kerry Wood gave the Cubs a boost heading into the All-Star break.
The Chicago ace came off the disabled list Sunday night and pitched the Cubs to an 8-4 victory over St. Louis, slowing the team's freefall in the NL Central.
Sammy Sosa also helped out, driving in five runs, as many as the Cubs had scored -- total -- in their past five games, all losses.
The Cardinals, meanwhile, had an eight-game winning streak snapped. Though St. Louis took a seven-game lead over Chicago into the All-Star break, the Cubs were relieved. They knew it could have been nine games.
Well, most of them. The Cubs' struggles didn't appear to affect Wood at all.
"It was just a day to go out and get some work in and do the best I could," Wood said. "I wasn't worried about anything else that happened in the last five or six days.
"I guess that helped more than anything, not even thinking about it or worrying about it."
Wood (4-3) gave up one run and three hits in five innings, his first start since May 11 because of triceps tendinitis. He got his first win since April 24.
"That was the biggest getaway victory we've had," manager Dusty Baker said. "Woody was outstanding."
Giants 9, Diamondbacks 2
At San Francisco, Jason Schmidt won his 11th consecutive decision, the longest streak by a Giants' pitcher in 42 years, and San Francisco beat Arizona for its fourth win in five games.
Schmidt (11-2) hasn't lost since April 26 -- a span of 15 starts. Jack Sanford also won 11 straight for the Giants in 1962.
Casey Fossum (2-8) lost for the Diamondbacks, losers of six of seven overall and 12 of 13 on the road.
Marlins 5, Mets 2
At Miami, Jeff Conine snapped a 3-for-34 skid with a grand slam off Al Leiter (5-3), helping Dontrelle Willis (7-5) beat the Mets for the fifth time in five tries.
Dodgers 7, Astros 4
At Los Angeles, Paul Lo Duca hit his first career grand slam, and Jose Lima (8-3) pitched six strong innings for the Dodgers. Jose Hernandez hit a go-ahead RBI single in the sixth for the Dodgers.
Carlos Beltran, named to the NL All-Star team earlier in the day to replace the injured Ken Griffey Jr., hit a tying two-run homer in the top of the sixth for the Astros.
Comments will be moderated. Keep comments relevant to the article. Remarks containing abusive and obscene language, personal attacks of any kind or promotion will be removed and the user banned. Final decision will be at the discretion of the Taipei Times.