Sharapova shocks Williams
WIMBLEDON FINAL Maria Sharapova became the third-youngest winner in the Grand Slam's history as she methodically beat the tournament's top seed
Waiting to walk out on Centre Court with Serena Williams for the Wimbledon final, Maria Sharapova was fidgety. She bit her nails, tapped her foot, pressed a finger against her neck to feel her pulse.
Taking the next big step in a remarkably quick journey from Siberia to Florida to tennis' grandest lawn, Sharapova was as confident and cagy as a veteran in her first Grand Slam final. She completely outclassed two-time defending champion Williams 6-1, 6-4 Saturday, becoming the third-youngest winner in Wimbledon's 127 years.
"I'm absolutely speechless. I never, never in my life expected this to happen so fast," Sharapova said. "It's always been my dream to come here and to win. But it was never in my mind that I would do it this year."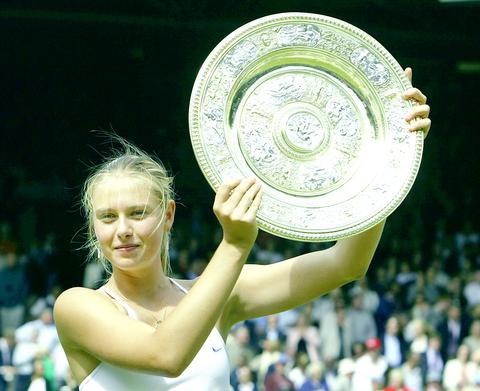 Thirteenth seed Maria Sharapova of Russia holds her trophy after defeating top seed Serena Williams of the US in their final-round match at the Wimbledon Championships in London, Saturday.
PHOTO: REUTERS
It was the most lopsided Wimbledon women's final in a dozen years, and there were so many other reasons the result was stunning: Sharapova's inexperience (just six previous majors), her out-of-nowhere status (at No. 13, she's the tournament's lowest-seeded female champion), and her opponent.
Williams was 6-1 in Slam finals and last lost this soundly in March 2000.
And after all those all-Williams and all-Belgian major finals, the last two Grand Slam tournaments were won by Russians. Anastasia Myskina gave the country its first such title at the French Open last month.
PHOTO: REUTERS
Now Williams, whose ranking slides to No. 14, and older sister Venus have yet another young superstar to deal with.
"I'm definitely going to triple my efforts -- do everything I can to play better next time," said Williams, 22, who had been playing her best tennis since missing eight months after left knee surgery last August. "Like I always say, everyone's a big threat. You just can't underestimate anyone."
No one will dare underestimate Sharapova from now on, thanks to her wonderful backhand and serving, her court coverage and, most importantly, her toughness.
"At 17, to have that ability already, it's pretty amazing," said Andy Roddick, who won his rain-suspended semifinal and will play defending champion Roger Federer in the men's final. "But it's almost like she expects it. There's something inside her that's pretty impressive."
Still, Sharapova's unfamiliarity with Saturday's stage seemed obvious at the start: She cut her warmup short to get permission to leave to go to the bathroom. Once play began, though, it was as clear as the blue sky above that she belonged.
Sharapova opened the match's fourth game by using all of her 183cm frame to reach for a backhand to keep the point going, then whipped a forehand winner. She ended that game by striking a backhand return right at the baseline, throwing Williams back on her heels to break for a 3-1 edge.
Sharapova, fighting a cold, broke again to make it 5-1 with a backhand return angled so well Williams didn't even give chase. Now that's a rare sight.
In the second set, it was more of the same: Sharapova digging in on key points, and Williams on the defensive. On one 19-stroke exchange, Williams fell while scrambling along the worn baseline. She stayed flat on her back while Sharapova deposited the ball in the open court. In the next game, with Williams at the net, Sharapova whacked a two-fisted backhand right at her. The ball glanced off Williams' frame, caught her on the nose and trickled into the net.
After, Williams paid perhaps the ultimate compliment, saying: "She's kind of like me. She doesn't back off. She keeps giving it her all."
That helped when Williams broke Sharapova's serve for the only time to lead 4-2 in the second set. Many players would have folded.
"I was like, `OK, Maria, get yourself together.' But I pulled it out," said Sharapova, who lost the first sets of her quarterfinal and semifinal before rallying.
"I'm just a very tough person when I go on the court."
She broke right back with a backhand return that caught the baseline, then clenched a fist and glared across the net. That opened a four-game run to close the match, including another break with Williams serving at 4-4. It was a superb game, with both players grunting while trading powerful and precise shots, including Sharapova's half-volley lob that curled over Williams like a rainbow.
When Williams dumped a forehand into the net to end the match, Sharapova dropped to her knees, bent over and covered her face with her hands. Williams went around the net for a gracious embrace. Sharapova then climbed into the stands to find her father, Yuri, for a hug and kisses.
Martina Navratilova spotted her wielding a racket at a Moscow tennis exhibition as a kid and encouraged Yuri to get her serious coaching in the US.
So he took his daughter to Florida when she was 7; her mother couldn't get a visa and had to stay in Russia for two years. At 9, Sharapova moved into the dorms at Nick Bollettieri's tennis academy with older girls and had a hard time fitting in.
Sharapova now has four, including a major.
"I hope it doesn't change the person who I am right now," Sharapova said. "I already told a few people, `If I change, then hit me in the head, please.'"
Comments will be moderated. Keep comments relevant to the article. Remarks containing abusive and obscene language, personal attacks of any kind or promotion will be removed and the user banned. Final decision will be at the discretion of the Taipei Times.