Mike Wallace takes race
NASCAR BUSCH SERIES A sudden turn of events on the final lap gave Wallace the win in the Winn-Dixie 250
Mike Wallace drove from fifth to first on the last lap of Friday night's NASCAR Busch series race, taking advantage of crashes by Michael Waltrip and Dale Earnhardt Jr. to earn one of the biggest victories of his career.
Waltrip was strong throughout the race, but fell behind when he had a tire deflate 26 laps from the end of the 100-lap Winn-Dixie 250 at Daytona International Speedway.
He was 25th on the restart with nine laps remaining, but with four fresh tires charged through traffic and moved all the way to the lead on lap 98 with Jason Leffler right on his rear bumper and Earnhardt close behind.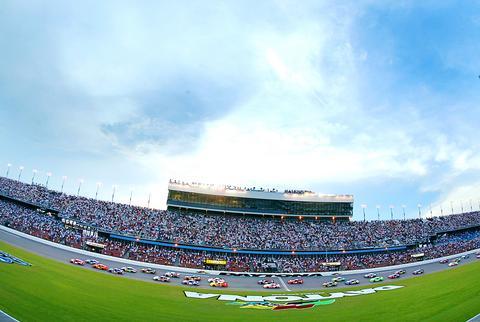 The start of the NASCAR Busch Series Winn-Dixie 250 at Daytona International Speedway as seen through a fish-eye lense in Daytona, Florida, Friday.
PHOTO: AFP
Going into the final lap on the 4km oval, it was that trio followed by Greg Biffle and Wallace.
As the leaders drove into turn two, Waltrip slid up the track in front of Leffler, who bumped Waltrip and sent him spinning off the track and into the wall. That slowed Leffler a bit and Earnhardt, with momentum, drove high on the banked track to pass Leffler, who slid up the track and pinned both himself and Earnhardt to the wall.
That opened the door for Wallace, who shot to the lead and beat Leffler to the finish line by 0.116-seconds -- about five car-lengths. After the race, NASCAR penalized Leffler one second for unnecessary roughness, dropping him to 13th and giving second place to Biffle.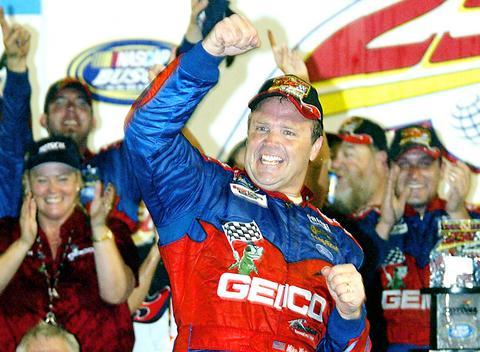 Mike Wallace celebrates his victory in the Winn-Dixie 250 at the Daytona International Speedway in Daytona Beach, Florida, Friday.
PHOTO: REUTERS
"The last few laps were just intense," said Wallace, who had gone 137 races since his last Busch victory in 1994 at Indianapolis Raceway Park.
At 45, the second of the three racing Wallace brothers has been struggling this year without major sponsorship on his Ford and had not finished better than 10th.
"I got behind and I saw Leffler go up to block Junior," the winner said. "My car just turned good and I got out in front and stayed there. So many people doubted my ability. This is for all those doubters."
Leffler said he didn't try to wreck anybody and apologized to Waltrip. But he was less contrite about his run-in with Earnhardt.
"At Talladega, Junior knocked me out of the way with about two [laps] to go and I didn't care who it was, I wanted to hold him off," Leffler said. "It's kind of like short track racing at 180 miles per hour."
Earnhardt, the NASCAR Nextel Cup star who had won in five of his last six Busch appearances, wasn't very happy with Leffler.
"I went to the outside and he just run us in the wall," said Earnhardt, the Daytona 500 winner and the favorite going into Saturday night's Nextel Cup race. "Ain't no other way to put it. He took us out, crashed us.
"I had a run on him and he was going to race to the finish and neither one of us got to do that."
Biffle had a good view of the last lap action, but was hesitant to place blame.
"It's hard to point fingers," he said. "Everybody's jockeying for position out there at that point."
Martin Truex Jr., Earnhardt's teammate, finished fourth, followed by Robert Pressley, polesitter Mike Bliss, Kasey Kahne and Casey Mears.
Rookie Kyle Busch, who came into the race trailing Truex in the standings by 28 points, finished 11th and slipped to 68 behind.
There were five caution periods in the race, including one brought out by a 10-car wreck. There were no injuries in the first Daytona race run with the energy absorbing SAFER barriers in place.
Comments will be moderated. Keep comments relevant to the article. Remarks containing abusive and obscene language, personal attacks of any kind or promotion will be removed and the user banned. Final decision will be at the discretion of the Taipei Times.