Kaz Matsui spurs Mets
AMERICAN BASEBBALL The shortsop from Japan hit a pair of home runs as the Mets pounded their cross-town rivals during a slew of interleague games
Kaz Matsui proved there was another shortstop in New York who could spark his team.
Matsui homered twice and drove in five runs as the New York Mets stopped Mike Mussina's eight-game winning streak, roughing up the Yankees 11-2 Friday in their highest-scoring game this season.
"This kid has had a heck of a career in Japan," Mets manager Art Howe said. "I've seen what he can do when he's going good, and tonight was just a glimpse of that."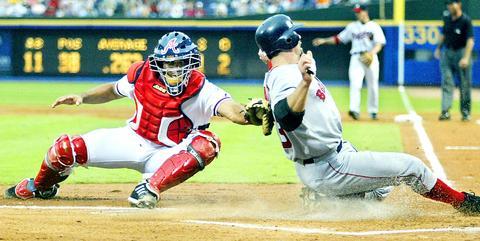 Jason Varitek, right, of the Red Sox, scores on a hit by teammate Bill Mueller ahead of the tag by Braves catcher Johnny Estrada during the second inning in Atlanta, Georgia, Friday.
PHOTO: REUTERS
Derek Jeter started for the Yankees, a day after a dangerous dive into the stands sent him to the hospital. The All-Star shortstop came back with a purple welt under his eye, a bandage on his stitched-up chin and a bruised shoulder, and threw himself headfirst into second base on a steal as if nothing had ever happened.
"They killed us tonight," he said.
Steve Trachsel (8-6) did not allow an earned run over seven innings in stopping the Yankees' five-game winning streak. Mussina (9-5) left for a pinch-hitter in the sixth with the Mets ahead 7-0.
Kaz Matsui of the Mets hits a two-run homer during the sixth inning against the Yankees at Shea Stadium, Friday.
PHOTO: AP
Neither side attributed the rout to the Yankees' draining, 5-4 win in 13 innings over Boston on Thursday night.
"You can't use hangover as an excuse. We just didn't play well," Yankees manager Joe Torre said.
Said Trachsel: "Couldn't tell you what they did in their last three games."
The Mets evened the Subway Series at 2-all this year, and none of the games have been close. Richard Hidalgo homered and added an RBI double, and every Mets starter had a hit and scored.
The sellout crowd of 55,068 was already in an ornery mood after a 42-minute rain delay, during which a group of Broadway performers standing near home plate sang show tunes so loudly they got booed.
But Mets fans soon had a lot to cheer about. After Jeter made a nifty play in the hole to get Matsui for the second out in the opening inning, Mike Piazza singled just past third baseman Alex Rodriguez.
Cliff Floyd followed with a high fly that left fielder Hideki Matsui dropped on the warning track for an error that scored a run, and Hidalgo doubled for a 2-0 lead.
"It's a tough way to start a big game in a big series," Mussina said. "It was a tough night all around."
Struggling at the plate and in the field for most of the season, Kaz Matsui then took over in setting career highs for homers and RBIs in his rookie year.
"Little by little, I'm able to adjust. But this was just one game," he said through a translator. "I don't think I could say I'm on a hot streak."
Matsui launched a three-run homer in the second inning and hit a two-run shot off Bret Prinz in the sixth. The second drive prompted his first-ever curtain call, in front of fans who recently booed him at home.
Despite the hits and a couple of fine plays in the field, Matsui was not about to act like a superstar -- when he crossed the plate after his second homer, he bent down to pick up his own bat and take it back to the dugout.
Matsui said he'd seen Jeter's stellar catch, calling it an "excellent play." Matsui, however, politely declined to compare himself to Jeter.
Trachsel held the Yankees to three hits, and both runs off him were unearned. Gary Sheffield scorched a grounder through third baseman Ty Wigginton's legs for a two-base error and Rodriguez had a sacrifice fly in the sixth.
Cubs 6, White Sox 2
Carlos Zambrano settled down after a shaky first -- benefiting when umpires reversed an initial call and ruled a grand slam foul -- and pitched the Cubs to a 6-2 win over the White Sox on Friday.
Zambrano (9-3) allowed two hits in 6 1-3 innings before leaving in the seventh with a cramp in his right forearm after throwing 123 pitches.
"Not only was it in my right arm, but it was in my left arm after the game and in my ribs," said Zambrano. "I had a cramp. That is a signal I wasn't drinking enough water."
The Cubs finished with 12 hits and ended the White Sox's five-game winning streak.
Zambrano surrendered a two-run, bases-loaded double in the first to Ross Gload, who one pitch earlier nearly had a grand slam when his drive to right was initially ruled fair, then overturned.
Mark Grudzielanek singled and Corey Patterson doubled in the third off Esteban Loaiza (8-4) before Sosa hit a go-ahead, two-run single.
Braves 6, Red Sox 3, 12 innings
In Atlanta, Nick Green hit a tying sacrifice fly off Keith Foulke in the 10th inning, then hit a three-run homer off Anastacio Martinez (2-1) in the 12th as Atlanta defeated Boston.
A night after Boston couldn't hold a 4-3 lead in the 13th inning of a 5-4 loss at Yankee Stadium, the Red Sox stumbled again.
Nomar Garciaparra, who couldn't play Thursday because of his ailing right foot, grounded into an inning-ending double play in the 10th after Manny Ramirez put Boston ahead 3-2 with an RBI single off Kevin Gryboski following an intentional walk to David Ortiz.
Ramirez struck out four times, ending the top of the 12th by fanning against Juan Cruz (2-0) with runners on first and second.
Angels 7, Dodgers 3
In Anaheim, California, Tim Salmon and Robb Quinlan each drove in two runs as Anaheim used a five-run first inning to beat Los Angeles and end a four-game losing streak.
Aaron Sele (5-0) pitched seven innings and allowed three runs on just three hits, including a solo homer by Alex Cora and a two-run shot by Paul Lo Duca.
Brendan Donnelly and Francisco Rodriguez finished the four-hitter.
Kazuhisa Ishii (9-4) allowed seven runs, seven hits and two walks over three innings in his shortest outing of the season after winning his previous four decisions.
Dodgers center fielder Milton Bradley was ejected by plate umpire John Hirschbeck in the fourth inning after getting called out on strikes for the second time -- and flinging his bat away in disgust for the second time.
Giants 7, Athletics 3
In San Francisco, Barry Bonds hit his third homer in three days, and Ray Durham hit two homers and drove in a career-high five runs to lead San Francisco past Oakland.
Marquis Grissom also homered for the Giants, who scored at least six runs for starter Kirk Rueter (4-6) for the fourth time this season in his 17 starts.
Bonds, who went 1-for-3 with an intentional walk, hit his 22nd home run of the year and No. 680 of his career. He sent a 3-2 pitch from Mark Redman (6-5) over the wall in left-center for a solo shot leading off the fourth to put the Giants ahead 4-3.
Bonds has four homers in five days following a 12-game homerless drought.
Cardinals 11, Mariners 2
In St. Louis, Woody Williams came back stronger after a 2-hour rain delay and combined with three relievers on a six-hitter as St. Louis thrashed Seattle.
Williams (6-6) also doubled and scored for the Cardinals, who stopped a three-game losing streak.
Reggie Sanders homered and had an RBI double, and Albert Pujols drove in three runs and scored three times.
John Mabry had a three-run homer in the sixth, and Scott Rolen drove in his major league-leading 77th run.
Ichiro Suzuki had two hits in Seattle's first regular-season game at St. Louis. The Mariners lost for the eighth time in 11 games.
Matt Thornton (0-1) relieved starter Jamie Moyer after the delay.
Comments will be moderated. Keep comments relevant to the article. Remarks containing abusive and obscene language, personal attacks of any kind or promotion will be removed and the user banned. Final decision will be at the discretion of the Taipei Times.