Greece marches into Euro 2004 final
IT'S SHOWTIME! Greece upset the hot favorites Czech Republic 1-0 and faces the team they beat in the group stages, hosts Portugal, in tomorrow's Euro 2004 final
Greece caused yet another astonishing upset when they reached the final of Euro 2004 after beating the Czech Republic 1-0 with a stunning silver goal winner from defender Traianos Dellas on Thursday.
Dellas glanced home a header seconds from the end of the first half of extra time when he reacted first to a corner from substitute Vassilis Tsartas, leaving the Czech defense and goalkeeper Petr Cech helpless. As the Czechs staggered to the ground in disbelief, the Greek players, bench and fans went into ecstasy.
There was just time for referee Pierluigi Collina, officiating in his last major tournament before retiring, to allow the Czechs to finally restart the game.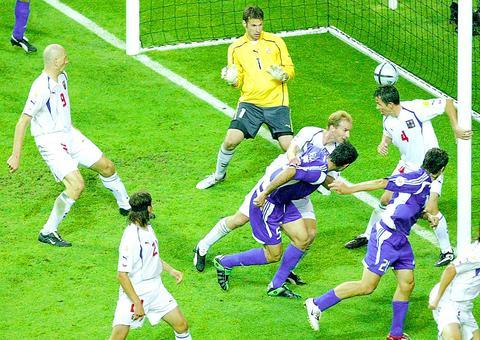 Greece's Traianos Dellas, 5, scores the winning goal past team mate Zdenek Grygera, 2, Czech Republic's goalkeeper Antonis Nikopolidis, 1, Tomas Galasek, 4, as Tomas Ujfalusi, 21, and Jan Koller, 9, look on.
PHOTO: REUTERS
He then almost immediately signalled the end of the match sending Greece into tomorrow's final against hosts Portugal at the Luz Stadium in Lisbon.
Nothing in international soccer history at this level compares with Greece's achievement in reaching the final.
They were 80-1 to win the title before Euro 2004 began, had not won a match in their two previous appearances in a finals tournament and were expected to make up the numbers in a first round group including Portugal, Spain and Russia.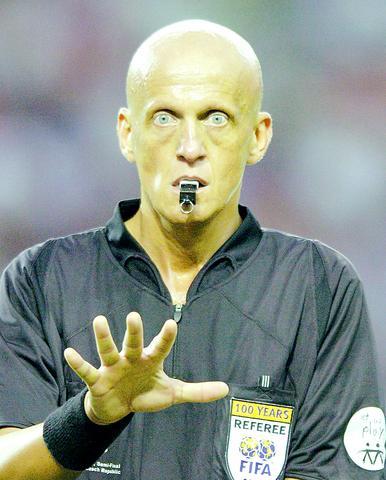 Italian referee Pierluigi Collina, who is retiring from international soccer refereeing after an illustrious career.
PHOTO: EPA
But they never read the script.
"The fairy tale continues. It's unbelievable what they did," said Greece coach Otto Rehhagel. "It's a true miracle. The Czechs were technically better but the passion and the will was on our side. We had nothing to lose, we could risk everything."
Greece captain Theodoros Zagorakis added: "We came to just do our best and we suddenly find ourselves in the final. If we had said from the beginning that we would be finalists, everyone would have said we were crazy."
?
Greece beat Portugal 2-1 in the opening match, became the first team ever to beat the hosts and holders in the same competition when they knocked out champions France 1-0 in the quarterfinals and have now eliminated the favorites.
They stand on the brink of a fairytale title that would eclipse Denmark's shock 1992 win in Sweden, when the Danes were called back from holiday to replace suspended Yugoslavia.
The Danes had appeared in the 1984 European championship and also the 1986 World Cup with some distinction. Greece have only ever been also-rans.
The Czechs had won all their four previous games and were seemingly headed for their third final after winning in 1976 and losing in 1996. They were unbeaten in nine competitive matches and had never lost one under coach Karel Brueckner.
The Czechs had their chances and failed to take them. Greece only really seriously threatened after Stelios Giannakopoulos replaced Angelos Basinas after 72 minutes.
The only downside for Greece is that feisty midfielder Giorgos Karagounis picked up his second yellow card of the knockout phase and will be suspended for the final.
Little in the previous 105 minutes suggested Greece would actually win, apart from possibly getting through on penalties.
They were content to break up the Czechs more flowing football and, although they were disciplined, Greece were largely outplayed in midfield by their more skilful opponents.
The Czechs kept pushing forward even after losing skipper Pavel Nedved in the 40th minute when he was injured in a clash with Costas Katsouranis. He limped on for a few minutes and went down the tunnel at halftime with ice on his knee.
Although having the better of the territorial play, the Czechs could not break down their opponents who regularly surrounded any player on the ball with five or six men.
Greece also resorted to body checks and shirt-pulling around their own penalty area and, although there was a passionate atmosphere in the stadium, too much of the play was fragmented.
The Czechs made the brighter start and came close to scoring after three minutes when a powerful volley by midfielder Tomas Rosicky rattled the bar after Jan Koller headed on a free kick.
Otherwise, there were few chances in a tense opening period in which Greece attempted to shackle Koller and five-goal Milan Baros, the tournament's top scorer.
Dellas played as a sweeper while Michalis Kapsis attempted a marking job on Koller and right back Yourkas Seitaridis was detailed to do the same on Baros.
The tactics worked because chances were restricted and gradually Greece began to exert pressure of their own.
However, they only had one chance of note in the opening period after 29 minutes when striker Zisis Vryzas just failed to connect with a cross from Takis Fyssas.
Koller and Baros had chances to win the game for the Czechs in the dying minutes of normal time but both missed chances they will rue for a long time after Dellas's late winner.
"...in three years as coach and 30 matches we have conceded a goal from a corner for the first time and in the very last seconds," Czech coach Bruckener said. "It proves that the last minute is always a dangerous time."
For Greece, what was once a dream is now a shock reality -- with this summer's Athens Olympic Games still to come.
Superstar Collina retires
Pierluigi Collina refereed the last international match of his career when he took control of the Euro 2004 semifinal between the Czech Republic and Greece on Thursday.
The Italian, widely regarded as the best referee in the world, is 45 next February and so reaches the compulsory age for retirement at international level.
However his last international match ended in suitably dramatic style as Traianos Dellas headed in a silver goal winner in the dying seconds of the first-half of extra-time to give them an historic 1-0 victory.
The bald-headed Italian with the characteristic staring eyes refereed the 2002 World Cup final between Brazil and Germany but is bowing to German official Markus Merk in the final of Euro 2004 tomorrow.
Collina may be too old for UEFA and FIFA's liking, but he has been consistently linked with a role officiating matches in the English Premiership.
He has declined to comment on the rumors of a role in England.
The closest thing to a refereeing superstar that football has ever had, Collina is remembered for the way he handled the 1999 European Champions League final between Manchester United and Bayern Munich, when he consoled the weeping German players after they lost to two late goals.
"It is too easy to celebrate with the winners," Collina said. "It is more important to stay close to the losers. When you see someone crying it's normal to try to say something to them, even if it changes nothing."
Comments will be moderated. Keep comments relevant to the article. Remarks containing abusive and obscene language, personal attacks of any kind or promotion will be removed and the user banned. Final decision will be at the discretion of the Taipei Times.