McGrath routs Sri Lankan bat attack
DREAM RETURN Australian paceman Glen McGrath, playing in his first Test after a year-long injury lay-off, took 5 for 37 in 15 first-innings overs to skittle Sri Lanka for 97
Glenn McGrath admitted yesterday there was a time when he feared he would not get past cricket legends Kapil Dev and Richard Hadlee in his climb up the summit of leading Test wicket-takers.
McGrath, who went into his first Test in a year after a career-threatening ankle surgery, bounced back to his best with his 24th five-wicket Test haul of 5-37 off 15 overs to skittle Sri Lanka for 97 in their first innings.
The Sri Lankans are chasing an improbable 312 runs for victory with three days to play after dismissing Australia a second time for 201 in the last over yesterday.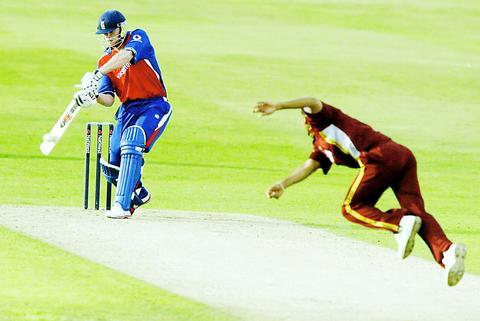 England's Andrew Flintoff drives West Indies' Ravi Rampaul to the boundary during the NatWest series one day match at Headingley, Leeds on Thursday.
PHOTO: EPA
The 34-year-old paceman leapfrogged New Zealander Hadlee (431) and India's Kapil Dev (434) as he moved to 435 wickets in his 96th Test match.
McGrath is now fourth all-time behind Sri Lankan world-record holder Muttiah Muralitharan on 527.
But doubts over whether he would recover sufficiently from last year's ankle surgery plagued him heading into this two-Test series against Marvan Atapattu's Sri Lankans.
Sri Lankan Chaminda Vaas celebrates yesterday as Justin Langer was caught by wicketkeeper Kumar Sangakkara during the afternoon session of Australia's second innings at the Marrara Oval, Darwin.
PHOTO: EPA
"I couldn't be much happier, I played in the NT [Northern Territory Chief Minister's XI] game before here, I found a bit of form and worked out what was happening," McGrath told an end-day press conference yesterday.
"It all came back to my ankle, when my ankle was that little bit sore I wasn't bowling very well and didn't hit the crease and when it felt okay I ran through and hit the crease and that's what I have been trying to get back to for the last two years or more."
McGrath said it had been that long since he was happy with his bowling.
"I always knew it was in there somewhere, I just had to find out where it was and I've found it up here in Darwin," he said.
"The ankle was worrying me at the time I was out and I thought is it going to get any better, and if not then it's hard to run in that way to bowl.
"People were a little bit quick to write me off, it was more a case of how I felt I was going, what I felt like I could do and I wasn't thinking along the same lines as what some people were writing about me."
McGrath said he did wonder if he would catch Hadlee and Kapil Dev on the all-time wicket-taking list.
"Richard Hadlee and Kapil Dev were both in front of me, not too many wickets away, and I did wonder if I would ever catch them," he said.
"So to get those five wickets today and go past those two legends of the game it's a pretty big buzz for me and to get that confidence back in this match.... I couldn't ask for much more."
The key for Sri Lanka to snatch an improbable victory over Australia in the first cricket Test here is to see off the new ball early on today's third day, wicketkeeper Kumar Sangakkara said yesterday.
The tourists have it all to do to avoid defeat as they chase 312 runs for victory, even though they have three days to achieve it.
"I think that's the key," said Sangakkara, one of his team's big hopes to defy the odds and win Sri Lanka's second Test match in Australia.
"It's always nice to see the new ball off and not have any wickets fall in the first 10 to 15 overs and set about the runs.
"But I still believe you have to play positive cricket, it's no use just trying to fend the new ball off because that's not the best approach, but to be circumspect in attack and then very solid in defense."
Sangakkara does not expect much of a change in pitch conditions when Sanath Jaysuriya and skipper Marvan Atapttu head to face the new ball today.
"By the third day of a Test match you hope that the seaming conditions would have eased off and it would be slightly better for batting, but again it's whether it happens like that ... on this wicket it's hard to say."
Sangakkara, who took four catches to restrict the Australians to 201 in their second innings, admitted Sri Lanka put itself in a bad position with their poor batting performance to be routed for 97 in their first innings.
"But it was a big confidence boost to get back out there and have them in trouble again and get them out for 201," he said.
"It's just up to us now to step up and take up the responsibility and try and win.
england vs West Indies
England won their first match of the NatWest Series when they defeated West Indies by seven wickets in their day/night one-day international at Headingley on Thursday.
England, chasing just 160 for victory, won with 28 overs to spare.
Andrew Strauss was 44 not out and the recalled Andrew Flintoff 21 not out after opener Marcus Trescothick had made 55.
Pace bowlers Stephen Harmison and James Anderson took three wickets apiece as England bowled out the West Indies for 159.
Man-of-the-match Harmison, for the second time in successive matches, took career-best one-day figures, finishing with three for 31 while Anderson claimed three for 37.
West Indies were all out with 59 balls of their innings left after losing the toss. They collapsed to 72 for six before a stand of 63 between Ramnaresh Sarwan (46) and Ricardo Powell (36) got them to three figures.
"It was a good performance," England captain Michael Vaughan said after a bonus point victory on his Yorkshire home ground. "Our bowling was outstanding and our fielding matched the bowling as well."
Turning to Harmison, Vaughan added: "He's outstanding, there's no other word to describe him. He's un-doubtedly a world-class performer in both forms of cricket."
But with England still needing at least one more victory from their two renmaining games Vaughan said 25-year-old Harmison, who was recorded bowling at over 94mph at Headingley, would not be rested just yet.
"He's our number one bowler. We are playing a good Kiwi side on Sunday [tomorrow] and he's done very well against them so there's no question of him resting for the next couple."
England gambled on just three front-line bowlers -- Darren Gough, Harmison and Anderson after recalling specialist batsman Robert Key and playing all-rounder Flintoff, who had been ruled out from the whole series with an ankle injury, as a batsman only.
"He [Flintoff] rang me up [Wednesday] and said he was fit. Whether it is as a batter or an all-rounder he's worth having in the side, his batting has been that good in the last 12 months," insisted Vaughan.
"Today we risked that extra batter. We were fortunate today because we got away with it but you can't get away with it every time."
West Indies captain Brian Lara, after seeing his side beaten in the tournament for the first time, was upbeat: "We are still in a very decent position," explained Lara whose side are level on points in joint second-place with England with a match in hand.
"We've got a very important game on Saturday [today] against New Zealand [in Cardiff]. We are looking forward to going into that game very positively."
Defeat for the West Indies confirmed a trend that had seen the side batting first in the tournament lose in all the completed games.
"So far in the series if the team batting first doesn't put up a good performance it's a mismatch," Lara said.
"If that situation arises again we've got to be a bit more mature, show a bit more fight and technique and get things going and get the runs on the board for our bowlers."
England had a boost when Vaughan won the toss and elected to field.
Since Vaughan became captain last year England, in their 21 completed one-dayers, including this one, in which the skipper had played, had won all the 11 where they had bowled first and lost the eight batting first.
The pattern had been maintained during seven-wicket defeats by New Zealand and West Indies earlier in the series where England were bowled out for just 147 and 101 respectively.
Durham quick Harmison sent England on their way when he had Shivnarine Chanderpaul (three) caught behind in the second over.
England then took two wickets in two balls with opener Chris Gayle run out for a brisk 23 by Vaughan's direct hit from extra cover.
Comments will be moderated. Keep comments relevant to the article. Remarks containing abusive and obscene language, personal attacks of any kind or promotion will be removed and the user banned. Final decision will be at the discretion of the Taipei Times.