Roddick, Hewitt, Serena advance
WIMBLEDON CHAMPIONSHIPS Goran Ivanisevic walked off Centre Court for the last time to a standing ovation after losing in straight sets to 2002 champion Lleyton Hewitt
The next time Goran Ivanisevic comes back to Wimbledon, he won't be firing aces and ripping his shirt off on Centre Court. He'll be wearing a suit and tie and sipping tea in the members' lounge.
The 32-year-old Croat ended his colorful 15-year career on the same court where he won his only Grand Slam title as an unseeded wild card in 2001, beating Pat Rafter in a dramatic five-set Monday final.
Ivanisevic, who missed Wimbledon the last two years with injuries, walked off Centre Court for the last time to a standing ovation after losing in straight sets Friday to 2002 champion Lleyton Hewitt of Australia.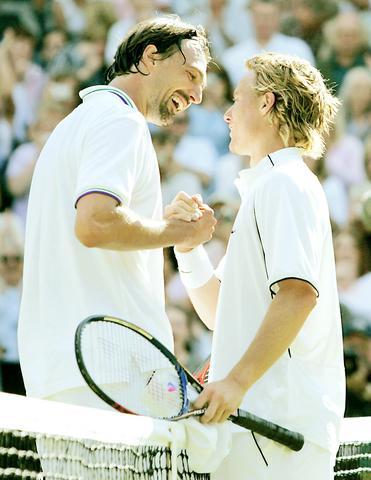 Goran Ivanisevic, left, congratulates Lleyton Hewitt at the end of their third round match during the Wimbledon Championships in London, Friday. Hewitt won the match 6-2, 6-3, 6-4 in what was Ivanisevic's last appearance at Wimbledon as a singles player.
PHOTO: REUTERS
"I still don't believe it's over, but I couldn't pick a better place, a better court," he said after the third-round defeat.
Elsewhere, Andy Roddick and two-time defending champion Serena Williams won in straight sets, while French Open champion Anastasia Myskina and men's French Open runner-up Guillermo Coria were both upset. No. 2-seeded Myskina was eliminated 4-6, 6-4, 6-4 by Amy Frazier, while No. 3 Coria lost to Germany's Florian Mayer, 4-6, 6-3, 6-3, 6-4.
Saturday's schedule featured top-seeded defending champion Roger Federer of Switzerland facing Sweden's Thomas Johansson and Williams against Magui Serna of Spain.
Ivanisevic was unable to defend his title in 2002 after undergoing surgery on his left shoulder and withdrew in 2003 after a knee injury. He struggled to get back this year for a 15th and final appearance. Even a one-sided 6-2, 6-3, 6-4 loss didn't dampen the moment.
"It was a victory for me to come here, play two matches and lose to a guy who is a Wimbledon champion," Ivanisevic said. "Everything was perfect -- the weather, the crowd, the court. I just enjoyed myself."
Despite passionate support from the fans, including shouts of ``We love you, Goran!'' he was never able to mount a challenge against the No. 7-seeded Hewitt. After the Australian ripped a forehand winner to end the match, the two players chatted warmly at the net.
"I think he said something like, `You killed me out there today,'" Hewitt said. "I said, `You're a great champion. It's been an honor playing you out here on Centre Court."
The 13,000-capacity crowd gave Ivanisevic a two-minute ovation. He soaked in the applause, saluted the fans and, at one point, took a long look around the arena.
"I focus on every inch of this court," he said. "I have great memories of this court and some bad memories. I lost three finals, but I think the last one was the best one."
Ivanisevic slipped on a No. 10 Croatian soccer shirt, drawing good-natured boos from the English fans, still smarting from their national team's quarterfinal elimination by Portugal in the European Championship. But the cheers returned as Ivanisevic left the court for the last time.
"I'm going to miss everything," he said. "I'm going to miss the guys that I spent so many years with. I'm going to miss serving ace on 15-40, 30-40. I'm going to miss talking to the umpire, sometimes bad, sometimes good. I'm going to miss waiting for the rain to stop."
But he's also looking forward to taking it easy.
"No more painkillers, no more practicing, no more exercising," he said. "I just want to enjoy and be proud of myself, everything I did in the last 15 years."
Ivanisevic, who made his first appearance here in 1988, lost in the finals in 1992 (Andre Agassi), 1994 (Pete Sampras) and 1998 (Sampras). Then, ranked No. 125, he came out of nowhere in 2001 to become the first wild card to win a Grand Slam title.
Over his career, Ivanisevic played against some of the game's greats: Sampras, Agassi, Boris Becker, Stefan Edberg. But none of them, he says, can match the all-around game of Federer.
"I don't know if he's going to win so many Grand Slams like Pete, but definitely he's the most talented player I ever played," Ivanisevic said. "Some things he does better than Pete. I mean on the court he's like a magician."
He said his only regret was never reaching the No. 1 ranking. He was twice No. 2 behind Sampras.
"But to be No. 2 behind Pete Sampras, for me that's the biggest honor because he is the best player in the history of tennis," he said.
Ivanisevic plans to spend time with his wife and 15-month-old daughter, play some exhibitions and perhaps become captain of Croatia's Davis Cup team. Next year, as a former champion, he'll mingle with the other members of the All England Club.
"Unfortunately this year I didn't have time to have my tea, but next time when I come, I'm going to come especially for that," he said. "I have my tie, my suit and them I'm going to just enjoy myself here."
Ivanisevic's fans will sorely miss the passion and personality he brought to the game.
"A new Goran is going to come," he said. "I don't know when, maybe in 10 years. Every generation has its own Goran."
Forget the umpiring error that overshadowed Venus Williams' second-round upset loss, it was a contentious refereeing decision almost 1,600km away causing the biggest flap at Wimbledon.
England's loss on penalties to host Portugal in soccer's European Championship was the hot topic Friday.
Most locals claimed England was "robbed" of a win by Swiss referee Urs Meier, who disallowed a goal late in regulation time to defender Sol Campbell. Portugal won on penalties after extra time.
Meier ruled that an Englishman blocked the Portuguese goalkeeper as Campbell went up for a header.
Andy Roddick was diplomatic.
"As much as I would love to say it wasn't legitimate, I mean, the guy's arm was on the goalie's shoulder," Roddick said.
Besides, the sandy penalty spot resembled more a patch for TV series Bay Watch than a soccer pitch when England captain David Beckham attempted his first kick in the shoot out, he said.
"It looked like a beach," Roddick said. "David Hasselhof would have made the penalty shot before Beckham."
Serena Williams thought both calls were wrong.
"It was a really bad yesterday," she said.
Umpire Ted Watts gave Karolina Sprem a point in a tiebreaker against Venus when he shouldn't have and then didn't pick up that the players hadn't swapped sides for the next serve. He was banished for the rest of the tournament.
"I've never been in a match where an umpire isn't able to stay focussed on their job," Serena said. "Kind of like the umpire in the England game. I thought England was going to come through with that last goal. Too bad."
Tim Henman is back under pressure now that England's run is over at Euro 2004. He didn't like the "dodgy" ruling in Lisbon.
"I think after what happened on Center Court last night, it was a bad day for umpires and referees."
LUNCH ANYONE?
Andy Roddick says Court 2 at Wimbledon, known as the "graveyard of the champions" does have some redeeming features -- if you're interested in what's on the lunch menu.
"I'm not used to being able to hear people eating in the dining room, ordering lunch all that stuff," he said.
Many former winners have lost in upsets on Court 2, and the top players generally try to avoid it. Adding to the distraction, the redeveloped Centre Court VIP and player restaurants and lounges have balconies near the court.
"It's part of tennis, though. I have no issue with it at all."
Comments will be moderated. Keep comments relevant to the article. Remarks containing abusive and obscene language, personal attacks of any kind or promotion will be removed and the user banned. Final decision will be at the discretion of the Taipei Times.