Sweden shocks Italy with a 1-1 draw
EURO 2004 The result may send Sweden to the quarterfinals while Italy, who were expected to advance, could end up leaving Portugal early
He called it a "lucky" goal, a "beautiful" goal, an "incredible" goal.
By any name, Zlatan Ibrahimovic's strike in the fading minutes Friday to rally Sweden to a 1-1 draw with Italy may be just enough to get the Swedes into the quarterfinals of Euro 2004.
It also could send the highly favored Italians home early from Group C.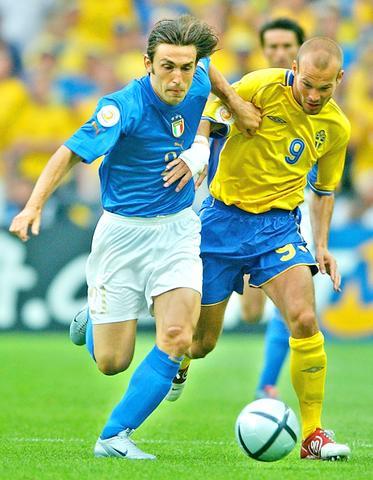 Andrea Pirlo, left, of Italy, fights for the ball with Sweden's Fredrik Ljungberg during their European Championship Group C match at the Dragao Stadium in Porto, Portugal, Friday. Sweden surprised heavily favored Italy as the match ended in a 1-1 draw.
PHOTO: EPA
Italy should have scored two or three in the first half. Instead, it got only one from 21-year-old Antonio Cassano, who came on as a starter in place of banned star forward Francesco Totti.
Totti watched from the stands in Porto with his girlfriend, TV showgirl Ilary Blasi, sitting out a three-game suspension for spitting in the face of Danish midfielder Christian Poulsen in Monday's 0-0 draw against Denmark.
Sweden and Denmark are in control in the group after Denmark defeated Bulgaria 2-0 in Friday's other match. Denmark and Sweden lead with four points and Italy has two. Bulgaria is winless and eliminated.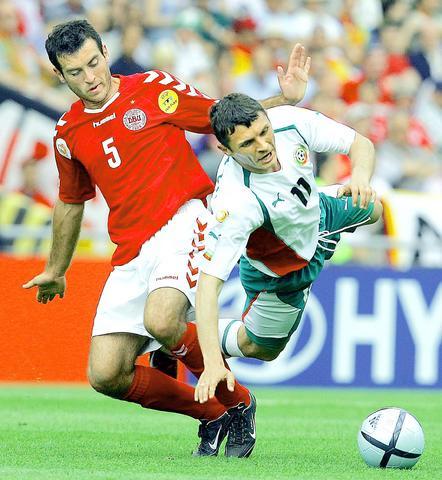 Bulgarian striker Zdravko Lazarov, right, falls as he vies with Denmark's defender Niclas Jensen at Braga's stadium during their Euro 2004 Group C match in Portugal, Friday.
PHOTO: AFP
Italy plays Bulgaria on Tuesday and Sweden faces Denmark, and the Azzurri must win to have any chance of advancing to the quarterfinals.
Not a single team has reached the last eight after seven days of the three-week European championship. On Saturday, the Czech Republic faced the Netherlands and could advance with a victory. Latvia, a 500-1 longshot, faces Germany in the other Group D match.
Ibrahimovic scored in the 85th as Italy seemed on the verge of victory. The 1.92m tall striker leaped on a bouncing ball in the area and, spinning in the air, flicked the it with his right heel in a looping arc over Italian 'keeper Gianluigi Buffon.
?
"It was an incredible goal, I think one of the most beautiful and important goals, especially for a European championship," he said "There weren't many opportunities to score goals, but today I was lucky and I'm very happy."
"It's always difficult to play against Italy," he said. "They are not the easiest to play against. But you have to keep on fighting and do your job. At the last when you get a chance, you have to score."
Italian coach Giovanni Trapattoni warned the end could be near.
"We produced a great performance, we had a lot of chances and their goalkeeper made good saves,'' he said. ``In the final minutes we were tired and slowed down. Certainly the result makes our chances for qualifying questionable."
Totti, who declined to appeal his three-game suspension on Friday, will miss the match Tuesday against Bulgaria and quarterfinals, should the Italians get that far.
"We felt the sentence was fair and proportionate to the offense,'' said William Gaillard, a spokesman for the European soccer body UEFA. ``Perhaps the Italian federation also did."
Denmark had lots of chances in beating Bulgaria 2-0. Jon Dahl Tomasson scored in the first half and Jesper Gronkjaer, who came on in the 23rd for injured Dennis Rommendahl, scored a poignant goal to seal the victory.
As joyful teammates mobbed him in celebration, Gronkjaer remained subdued.
Gronkjaer arrived in Portugal last Friday following the death of him mother in Denmark.
"It's tough to be joyful after what I went through in recent days," he said. "Scoring goals is a great feeling, but the sense of losing someone so close is much stronger."
All of the groups are extremely tight.
In Group B, France has four points followed by England (3) Croatia (2) and Switzerland (1). France closes group play on Monday against Switzerland, and England plays Croatia.
In Group A, Spain and Greece have four points followed by Portugal (3) and Russia (0). Iberian neighbors Spain and Portugal play Sunday with Russia playing Greece.
With the masses of English fans behaving themselves in central Coimbra after Thursday's 3-0 win over Switzerland, there were no reports of major trouble.
Portuguese authorities deported 44 Englishmen on various violent public disorder charges, following street battles in the southern Algarve resort area. One man was sentenced to two years in jail and will serve the sentence in England.
Police arrested three soccer fans, two English men and one Swede, late Friday after they allegedly threw beer glasses at officers patrolling a southern Portuguese town where dozens were detained in rioting last week.
Police spokesman Captain Manuel Jorge said officers took the identity details of 13 others -- 12 English fans and one Swedish fan -- who were suspected of instigating disturbances during the scuffles in Albufeira. Those men were later released.
Jorge said there were no reports of injuries in the latest incidents involving fans at Euro 2004.
About 50 fans, most of them English, gathered outside a bar in downtown Albufeira around midnight and trouble broke out an hour later.
"The fans made obscene gestures at police and chanted," Jorge said. "Those detained were caught throwing glasses at the police."
Mounted police and dogs were deployed nearby but were not used because there were no clashes between the police and fans, he said.
Albufeira, a coastal resort 200km south of Lisbon, has been the scene of most disturbances since the European Championship started. Officials say about 20,000 England fans are in the southern Algarve region.
Comments will be moderated. Keep comments relevant to the article. Remarks containing abusive and obscene language, personal attacks of any kind or promotion will be removed and the user banned. Final decision will be at the discretion of the Taipei Times.