Swinging Sammy returns
MAJOR LEAGUE BASEBALL The Chicago Cubs went 16-14 while right fielder Sammy Sosa was out with an injury, and the club's runs per game fell from 5.1 to 4.7
A month after a couple of violent sneezes landed Sammy Sosa on the disabled list, the Chicago Cubs' slugger is finally back. \nSosa was activated Friday and in the lineup for the game against the Oakland Athletics. It's his first game since May 15, and he got a loud ovation when his name was announced before the game. \n"It's a good feeling to be back," he said. "The team played very well, I like that. It's always good to be back in the field." \nTo make room for Sosa, the Cubs optioned outfielder Jason Dubois to Triple-A Iowa. Dubois hit .167 with an RBI in 11 games. \nSosa sprained a ligament in his back when he sneezed hard twice before Chicago played in San Diego on May 15. He had back spasms initially, and his back hurt so much for several days he had trouble walking down stairs. \nSosa took batting practice for the first time June 8, then went to Double-A West Tenn last weekend for a rehab assignment, only the second of his career. Sosa played three games for the Diamond Jaxx, going 2-for-7 with three strikeouts, a double and an RBI single. \nHe had hoped to play one game in right field, but that plan was scrapped because of wet conditions. \n"I decided to go the minor leagues because I wanted to be ready from the first day," said Sosa, who went 0-for-11 with eight strikeouts when he returned from the DL last year. \n"I went there to make sure everything is OK. I'm happy to be back. I'm ready to go." \nCubs manager Dusty Baker had Sosa bat fourth, one spot below his normal place in the lineup. \n"I know last year when he was out, it took him a couple of days to get his stroke back," Baker said. "So I moved him down to take the pressure off." \nNo matter where he hits, the Cubs are thrilled to have Sosa back. Chicago went 16-14 without him, and the club's runs per game dropped from 5.1 to 4.7. Sosa was hitting .291 with 10 home runs and 24 RBIs before his injury. \nStill, the Cubs just wrapped up a road trip to Anaheim and Houston with a 6-1 record, including a four-game sweep of the NL Central rival Astros. The Cubs began the day two games behind division-leading St. Louis. \nThe Cubs will get another boost Saturday when second baseman Mark Grudzielanek (Achilles' tendon) is activated. Chicago also hopes to get right-hander Kerry Wood (strained triceps) back in the next few weeks. \n"That was an unbelievable road trip, we got six out of seven. That's nice," Sosa said. "When everybody's together, it'll be hard for us to go into a little slump again." \nAthletics 2, Cubs 1 \nMark Kotsay homered and drove in another run, and the Oakland Athletics spoiled Sammy Sosa's return from a month on the disabled list with a 2-1 victory over the Chicago Cubs on Friday. \nSosa, who went 0-for-4 in his first game since May 16, had a chance to tie the score with two outs in the ninth. With fans standing and chanting "SAM-MEE! SAM-MEE," Sosa grounded out to short to end the game. \n"I'm just happy to be back," Sosa said. "I want to do the best that I can, but I didn't have any luck today. They pitched me great. I'll see you tomorrow." \nKotsay finished 2-for-4, improving to .466 with four homers and 19 RBIs in his last 19 games. \nMark Redman (5-3) scattered four hits and an unearned run over eight innings, walking one and striking out six. Chad Bradford pitched the ninth for his first save in two chances. \n"It's tough to lose another one-run game, but what can I say?" manager Dusty Baker said. "Matty [Clement] threw a great game. If it hadn't been for Kotsay, they wouldn't have gotten anything." \nClement (7-5) was solid, giving up seven hits and two runs in eight innings while striking out eight and walking none. \nRoyals 10, Phillies 4 \nIn Philadelphia, Matt Stairs homered twice and Benito Santiago hit a three-run shot to lead Kansas City past Philadelphia. \nChris George (1-0) allowed four runs and nine hits -- all singles -- in 6 2-3 innings, helping the Royals win their third straight game -- each by the same score. \nKansas City, which has the AL's worst record, has won five of seven and is 18-18 since an 8-20 start. \nSantiago's three-run homer off Paul Abbott (0-1) gave the Royals a 4-0 lead in the first inning. Santiago left in the sixth after a pitch by Geoff Geary hit the back of his left hand. \nWhite Sox 11, Expos 7 \nIn Montreal, Carlos Lee went 4-for-6 with four RBIs and the Chicago White Sox extended Montreal's losing streak to seven. \nLee, who fell a triple short of the cycle, drove in the go-ahead run in the eighth with an RBI single off Luis Ayala (0-6) that made it 8-7. \nNeal Cotts (1-3) pitched a perfect seventh and doubled in his first major league plate appearance before James Burke was thrown out at the plate to end the eighth. \nJose Valentin doubled in the first and hit RBI triples in the fourth and eighth. He also had two triples in the same game on Sept. 29, 1999. \nRangers 8, Marlins 1 \nIn Miami, John Wasdin (1-0) won his first start in nearly six years and Alfonso Soriano drove in two runs as Texas beat Florida to snap a four-game losing streak. \nBrad Fullmer's ninth homer, a three-run shot in the seventh, put the game out of reach. \nWasdin allowed six hits and a run in seven innings. He walked two and struck out one, winning his first start since July 29, 1998, as a member of the Boston Red Sox. \nThe Rangers hit Marlins starter Brad Penny hard, handing him his third loss in as many starts. \nBrad Penny (6-5) struck out 10 but also allowed four runs on eight hits and a walk. \nIn his Marlins debut, Billy Koch gave up a run on two hits. \nIndians 4, Braves 2 \nIn Atlanta, Cliff Lee outpitched Mike Hampton to win for the first time in six starts, and Casey Blake hit a tiebreaking homer to lift Cleveland over Atlanta in their first meeting since the 1995 World Series. \nLee, who had four no-decisions and a loss after a 5-0 start, did not walk a batter in seven innings. The left-hander gave up two runs and six hits, striking out seven. \nLee (6-1) has allowed no more than three runs in 11 of 13 starts this season. \nJose Jimenez worked a perfect ninth for his sixth save. \nBlake's leadoff shot against Hampton (1-7) in the sixth inning broke a 2-2 tie. \nAstros 5, Angels 0 \nIn Houston, Pete Munro combined with three relievers on a five-hitter, and Jeff Kent drove in three runs to lead Houston past Anaheim. \nThe Astros snapped a four-game losing streak and gave manager Jimy Williams his 900th career victory. Williams is 900-778 in the majors. \nMunro (1-0) allowed three hits in 6 1-3 innings in his second start of the year. Dan Miceli, Brad Lidge and Octavio Dotel finished Houston's fifth shutout this season. \nKent had an RBI double and a two-run triple, and Jeff Bagwell hit his 10th homer for the Astros, who sent the Angels to their 10th loss in 13 games. Jose Vizcaino had four hits. \nKelvim Escobar (4-3) allowed four runs and seven hits in 5 2-3 innings. He tied a career high with seven walks. \nRockies 5, Orioles 3 \nIn Denver, Shawn Estes allowed two runs in seven innings for his first win in a month, and Todd Helton drove in three runs to help Colorado beat Baltimore. \nRafael Palmeiro hit career home run No. 538 and Jerry Hairston was a homer short of the cycle, but the rest of the Orioles managed just five hits in losing their sixth straight. \nSidney Ponson (3-9) dropped his sixth consecutive decision. \nEstes (7-3) worked his way out of trouble all night, and Shawn Chacon pitched the ninth for his 13th save in 18 chances. He allowed a solo homer to pinch-hitter David Newhan. \nColorado center fielder Preston Wilson returned to the lineup ahead of schedule after missing 58 games because of knee surgery. He went 0-for-4. \nBlue Jays 3, Padres 2 \nIn San Diego, Frank Menechino homered on David Wells' fifth pitch for Toronto and Ted Lilly became the latest starter to shut down San Diego. The Blue Jays snapped their four-game losing streak, winning for just the fourth time in their last 14 road games. \nLilly (6-3) and two relievers combined on a six-hitter. The left-hander allowed one run and three hits in 6 1-3 innings. Rookie Jason Frasor allowed an RBI single by Ryan Klesko in the ninth before finishing for his fifth save in six chances. \nThe Padres lost their season-high sixth straight game and dropped to .500 -- at 33-33 -- for the first time since April 20. \nWells (2-5) allowed three runs and five hits in eight innings, struck out three and walked none. \nRed Sox 14, Giants 9 \nIn San Francisco, pinch-hitter Kevin Millar hit a go-ahead three-run homer in the fifth inning as Boston powered past San Francisco. \nDavid Ortiz and Manny Ramirez also homered in the fifth, and Trot Nixon and Doug Mirabelli hit back-to-back home runs in the ninth for Boston. \nMarquis Grissom homered twice for the Giants, who had their nine-game home winning streak snapped in the highly anticipated first regular-season meeting between the teams. \nThe game was played before a rowdy sellout crowd of 42,557, the Giants' third-largest this season. After the homers by Nixon and Mirabelli, fans started throwing about two dozen baseballs onto the field, delaying the game. \nMike Timlin (4-2) pitched 2 2-3 innings for the win.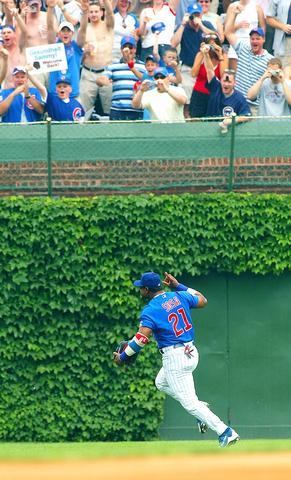 Sammy Sosa of the Cubs runs out to right field to great Chicago fans in his first game back after several weeks on the disabled list during a game against the Athletics at Wrigley Field in Chicago, Illinois, Friday. Oakland defeated the Cubs 2-1.
PHOTO: AFP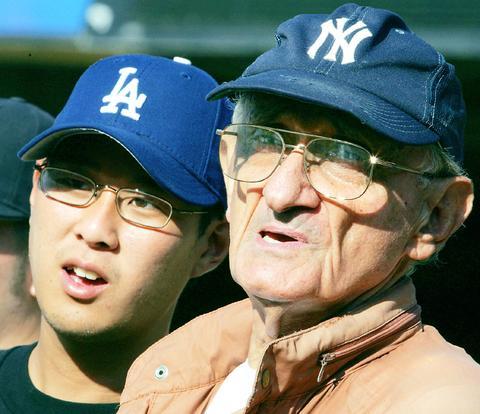 Yankees fan Sheldon Cohen, right, 71, from Sherman Oaks, California, and Dodgers fan Andrew Imamura, 25, from Honolulu, Hawaii, watch the 1955 World Series match up between the Yankees and the Dodgers on a giant screen TV before interleague play in the teams' first game since the 1981 World Series, in Los Angeles, Friday.
PHOTO: REUTERS
Comments will be moderated. Keep comments relevant to the article. Remarks containing abusive and obscene language, personal attacks of any kind or promotion will be removed and the user banned. Final decision will be at the discretion of the Taipei Times.