Fred Couples uses needles to get to top
PROFESSIONAL GOLF The American employed an acupuncturist to deal with back pain and Vijay Singh, taking the lead in the Buick Classic after shooting a 65
Fred Couples had pins sticking out of his ears -- and the top spot on the crowded Buick Classic leaderboard. \nThanks to Dr. Snowball -- otherwise known as Halina Snowball, acupuncturist. \nAfter night and morning acupuncture sessions to relieve throbbing pain in his back, the 44-year-old Couples shot a bogey-free 6-under 65 on Friday to take a one-stroke lead over Fiji's Vijay Singh, Fredrik Jacobson and playing partner Luke Donald. \n"As soon as I left her office yesterday, I didn't have any pain in my back," Couples said. "I don't get it, but I'm going to keep trying it." \nHe played with tiny pins sticking out of his ears. \n"For some reason she ripped these in there," Couples said. "It hurt like heck, but they just stay in there for a while." \nComing off a second-place finish last week in the Memorial, the 15-time PGA Tour winner birdied the final two holes for the second straight day on the hilly, tree-lined Westchester Country Club course. \n"I've kept the ball in play, which is the key here," Couples said. \nCouples' wife, Thais, tried to talk him into withdrawing Wednesday night to rest his back for the US Open next week at Shinnecock Hills. \n"I snuck out of there Thursday when she was still sleeping," Couples said. "She's downtown with the kids now. She'll come home and I'll tell her I'm leading the tournament and she's going to have a heart attack." \nCouples, also the 36-hole leader last year en route to his emotional Houston Open victory, took advantage of Jacobson's double bogey on the par-5 ninth -- his last hole -- to top the leaderboard at 10 under. \nJacobson's tee shot struck a tree and bounced away from the tree line, but he failed to take advantage of the break when his 8-iron third shot went into the thick rough to the right of the green. After lobbing his fourth shot into an awkward position in the left fringe, he chipped 5 feet past the hole and missed the bogey putt. \n"It could have been a 9," the Swede said. \nHe finished with a 69, Donald had a 66 and Singh followed his opening 63 with a 70. \n"I had a lot of half-shots today," said Singh, the 1993 and 1995 winner. "If you're between clubs, it's very hard to get close." \nJacobson holed out from 101m for eagle on the par-4 second hole to tie Singh for the lead at 9 under, and pulled two strokes ahead with birdies on Nos. 5 and 6. \n"I still realize that I'm in position, where if I play well tomorrow, I can win the tournament," he said. \nTom Byrum eagled the 18th for a 64, the best round of the day, to finish at 7 under. Padraig Harrington shot his second straight 68 to join Billy Mayfair, Scott Hend, Tjaart Van der Walt and Cameron Beckman at 6 under. Van der Walt, the last player to get into the field, had a 65, and Mayfair, Hend and Beckman shot 68s. \nMasters champion Phil Mickelson and two-time Buick Classic winner Ernie Els were 5 under. Mickelson had a 68, and Els, the Memorial winner, shot a 69. \n"I think 5 under is within striking distance," Mickelson said. \nLPGA Championship \nJennifer Rosales had the lead going into the weekend at a major championship, but the journey to the trophy is longer than it seems. \nA steady, overnight rain washed out the second round of the LPGA Championship on Friday, so Philippines-born Rosales still had 54 holes remaining to hold off Swden's Annika Sorenstam, Grace Park, Pak Se-ri of South Korea and a host of others. \nRosales was looking forward to building on her lead Friday. Instead, she did laundry as LPGA officials hoped the gray skies that continued to spit a light rain would allow DuPont Country Club to be ready for a 54-hole weekend marathon. \nThe second round was to resume today with the same groups and same tee times. The cut will remain the top 70 and ties, and they will try to play 36 holes tomorrow. \n"My hope is we have a very small cut, and the players play quickly," tournament director Alice Miller said. \nThe LPGA Tour was criticized in 1996 when it shortened the McDonald's LPGA Championship to 54 holes because of rain. It was the only time an LPGA major has not gone 72 holes. \n"We regret that situation," said Barb Trammel, vice president of tournament operations for the LPGA Tour. "We do have an opportunity to complete 72 holes by Sunday at dark. And that's our first objective." \nThis is the fourth consecutive year rain has interrupted the LPGA Championship, and the second straight year the players face a long final round. A year ago, most of the third round was washed out by rain and Annika Sorenstam had to play 34 holes Sunday -- one in a playoff -- before winning. \n"It will get to you," Rosales said. "The last time I played 36 holes was the US Open qualifier three years ago. It's tough. At least we get to put in 72 holes, which is good in a major tournament." \nRosales, who opened with a 5-under 66, showed up at the course and noticed no one was on the practice range. She learned of the delay and headed back to her room. \n"I just did my laundry," she said in a telephone interview. "I'm going to have lunch and watch a movie." \nShe held a one-shot lead over Karen Stupples, Gloria Park and Chiharu Yamaguchi. \nSorenstam and Grace Park were among those at 68, while two-time LPGA champion Pak was another shot behind. \nDuPont will go through a major renovation after the tournament, and club officials are hopeful it will lead to better drainage on the course. Only 1.1 inches of rain fell overnight, and it was so quiet that ``most of us slept through it,'' LPGA rules official Janet Lindsay said. \nThe start of the second round was delayed one hour, then officials announced a three-hour delay before realizing there was no way to get the course ready. \n"The bunker crews had already been out numerous times to try to pump bunkers," Lindsay said. "Just as they would get a bunker prepped, the rain would accumulate again and they would have to start over." \nThe LPGA Championship will go to Monday if necessary to complete 72 holes, but Trammell says it should end today.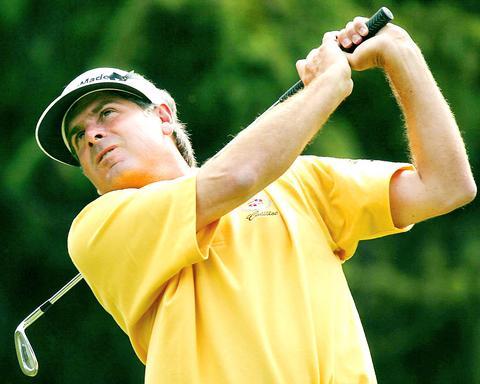 Fred Couples tees off on the sixth hole during the Buick Classic in Harrison, New York, Friday. He shot a bogey-free 6-under 65 to take the lead in the tournament.
PHOTO: AP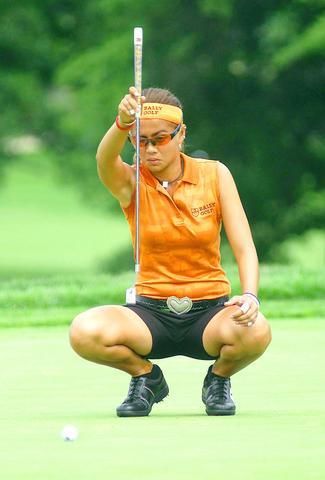 Jennifer Rosales eyes a putt on the 14th hole during the LPGA Championship at the DuPont Country Club in Wilmington, Delaware, Thursday.
PHOTO: AP
Comments will be moderated. Keep comments relevant to the article. Remarks containing abusive and obscene language, personal attacks of any kind or promotion will be removed and the user banned. Final decision will be at the discretion of the Taipei Times.