Birdstone ruins Smarty Jones's day
BELMONT STAKES Smarty Jones failed to win the Triple Crown when a 36-1 longshot passed the favorite on the last stretch
Two out of three ain't bad? Try telling that to Smarty Jones and his legion of disheartened fans. \nThe Pennsylvania-bred Smarty came up just short Saturday at the 136th Belmont Stakes, losing to a 36-1 longshot and missing out on his chance at winning the Triple Crown. The three-year-old, an overwhelming favorite coming into the race, wound up second by a length to Belmont champion Birdstone. \nIt marked the first loss of Smarty's career after eight straight victories. Birdstone collected US$1 million for the win, and denied Smarty a US$5 million Triple Crown bonus. \nThe race also marked the third consecutive year that a Triple Crown hopeful lost at the Belmont after sweeping the Kentucky Derby and the Preakness. Only 11 horses have ever won the three races to achieve equine immortality. \nEven the jockey of the winning horse seemed disappointed that Smarty's bid fell short on the 1-mile oval. \n"This is part of the business," said Edgar Prado. "And I'm very sorry it had to be me." \nBirdstone's owners offered an apology, too, and trainer Nick Zito shared their feelings: "It was one emotional thing. It's sad because Smarty is great for racing." But Smarty's disappointment was matched by Zito's elation; it was the first Belmont victory for the New York trainer after five second-place finishes \nThird place went to Royal Assault, while Smarty's two biggest competitors -- Rock Hard Ten and Eddington -- finished out of the money in the nine-horse field. \nThe last Triple Crown winner was Affirmed in 1978. Smarty's loss extended the longest drought between Triple Crown champions. \nSmarty grabbed the lead around the track's second turn, with the record crowd of 120,139 wildly cheering his move. But he was unable to hold off a late charge by Birdstone, who left Smarty's boosters stunned and disappointed when he crossed the finish line first. \n"I saw him coming," said Smarty's jockey, Stewart Elliott. "My horse saw him. We just couldn't hold him off." \nSmarty's trainer, John Servis, offered congratulations to Zito but said he was proud of his horse's effort. \n"It hurts," Servis said. "We won't put our heads down." \nThe crowd turned out despite intermittent showers for the third and final jewel in racing's Triple Crown. More than eight hours before the race started, the parking lot was already filled with fans waiting beneath a gray, cloudy sky, hoping for a look at history. \nSmarty Jones had done well on wet tracks, winning the Arkansas Derby in the mud and doing the same on a sloppy track in the Kentucky Derby. He went off as a prohibitive 1-5 favorite, meaning his backers had to bet US$5 to win US$1.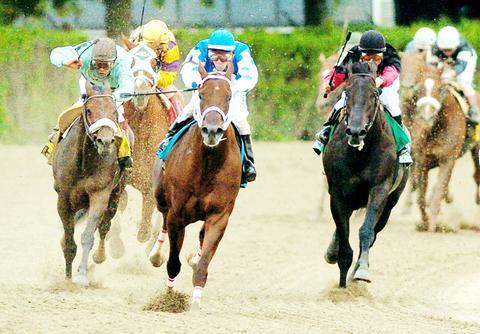 Jockey Edgar Prado on board Birdstone, left, in the final turn following Smarty Jones, third from right, during the Belmont Stakes in Elmont, New York, Saturday.
PHOTO: REUTERS
Birdstone trainer Nick Zito holds the Belmont Trophy in the winners circle after the 136th running of the Belmont Stakes at Belmont Park, Saturday.
PHOTO: AFP
Comments will be moderated. Keep comments relevant to the article. Remarks containing abusive and obscene language, personal attacks of any kind or promotion will be removed and the user banned. Final decision will be at the discretion of the Taipei Times.