Sister act get closed down early in Paris
FRENCH OPEN Serena Williams was joined on the sideline 28 minutes after her 6-3, 2-6, 6-3 loss to Jennifer Capriati by older sister Venus, who lost to Anastasia Myskina 6-3, 6-4
By beating Serena Williams, Jennifer Capriati also conquered a few demons.
Capriati closed out a big match for a change Tuesday, advancing to the semifinals of the French Open and ousting longtime nemesis Williams 6-3, 2-6, 6-3.
As often happens in Grand Slam events, Capriati won the first set and went ahead in the third. This time she hung onto the lead.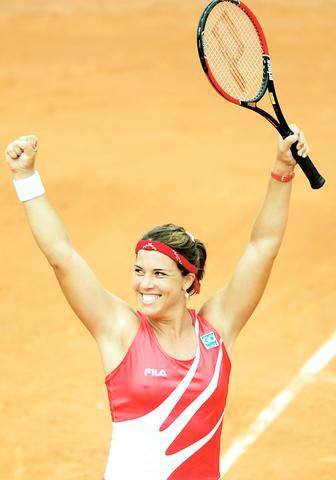 Jennifer Capriati wins her quarterfinal match against Serena Williams at Roland Garros stadium in Paris, Tuesday.
PHOTO: REUTERS
"I tried not to listen to those voices, you know, that sometimes come in my head -- you know, the negative ones," she said.
Williams was joined on the sideline 28 minutes later by older sister Venus, who lost to Anastasia Myskina 6-3, 6-4. It was the first time the sisters lost in the same round of a tournament.
Capriati has three Grand Slam titles, including the 2001 French Open, but knows all about coming up short. Six times in the past two years, she has been eliminated from a major event in three sets, often after leading.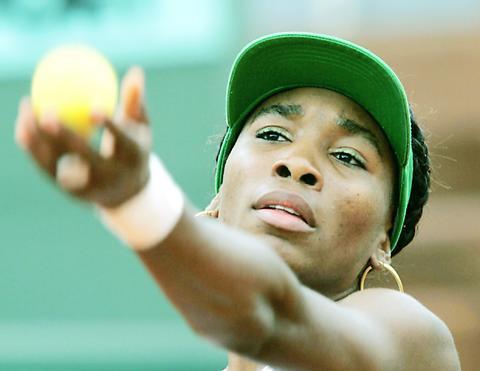 Venus Williams serves to Anastasia Myskina during her quarterfinal at the French Open in Paris, Tuesday. Myskina will now face Jennifer Capriati in the semifinals..
PHOTO: REUTERS
Last year, for example, she was two points from victory 10 times in the US Open semifinals before losing to eventual champion Justine Henin-Hardenne.
And Capriati had lost seven consecutive times when Williams pushed her to three sets.
"I have to give myself credit for not, you know, just giving up," Capriati said. "You have to take it like a fighter. You're going to get punched, and you've got to take the blows and just keep coming back. And that's why it just feels like a huge weight lifted off my shoulders."
With the Williams sisters eliminated, the seventh-seeded Capriati becomes the favorite in an upset-filled event. The highest-seeded woman remaining is No. 6 Myskina, who advanced with steady play that lured Venus Williams into 43 unforced errors.
Serena Williams had 45 errors against Capriati.
"We're going to pack our bags and leave," Venus said. "There's nothing left for us here anymore."
The back-to-back defeats for the first family of women's tennis reinforced the notion that the sisters' best results might be in the past. Venus and Serena combined to win eight of 11 Grand Slam titles through the Australian Open in 2003, but other players -- including the champion to be crowned Saturday -- will have won four of the past five major events.
"Now, of course, everybody believes at least that they can fight with them," Myskina said. But she cautioned that the sisters will be back.
"I mean, they were the best," she said. "They can be the best again. It's going to be little bit harder for them, because I think right now more players believe."
The lineup for Thursday is a mite hard to believe: Capriati vs. Myskina, and ninth-seeded Elena Dementieva against No. 14 Paola Suarez. It's the first time since the 1978 Australian Open that none of the five top-seeded women made the semifinals.
Myskina and Dementieva give Russia two women among the final four of a Grand Slam event for the first time since the Open era began in 1968.
Capriati said the Williams sisters were rusty following injury-related layoffs, which helped explain their absence from the semifinals.
"It's not really shocking," she said. "There are a lot of girls that have been playing a lot more tennis than they have. And if anyone's going to really have a chance to beat them, it would be on clay, which is a little slower surface."
The sisters weren't the only upset victims in the quarterfinals. Dementieva disappointed a partisan crowd by beating third-seeded Frenchwoman Amelie Mauresmo 6-4, 6-3.
Suarez won the final 15 points and eliminated Russian Maria Sharapova 6-1, 6-3.
There was one surprise on the men's side: No. 9 Tim Henman became the first Englishman in 41 years to reach the semifinals at Roland Garros by beating Juan Ignacio Chela 6-2, 6-4, 6-4.
Henman's opponent Friday will be No. 3 Guillermo Coria, who beat 1998 champion Carlos Moya 7-5, 7-6 (3), 6-3.
Jennifer Capriati got to celebrate her French Open quarterfinal victory over Serena Williams twice.
On match point, Capriati's forehand landed near the baseline, and Williams didn't play it. Capriati shrieked and skipped to the net, thinking her 6-3, 2-6, 6-3 win was complete, until she realized her shot was called out.
Chair umpire Pascal Maria overruled the call -- correctly, TV replays showed -- and ordered that match point be replayed.
Williams put one last forehand into the net, and dropped her racket, while Capriati was able to fully enjoy the moment. After they traded kisses on the cheek at the net, Capriati went out on court and bowed to the stadium's four sides, a la Andre Agassi.
"I was just so happy that we replayed the point, that I didn't lose the point," Capriati said.
Asked whether it was difficult to get her mind back in the match after thinking it had ended, Capriati smiled.
"It just kind of helped, because it really got the adrenaline going so much," she said. "If anything, it would have just made her think about it a little more."
SULLEN SERENA
Serena Williams was downcast after her loss to Jennifer Capriati, which isn't surprising, because she's not used to losing.
She hadn't been beaten as early as the quarterfinals at a Grand Slam tournament since Wimbledon in 2001. Since then, she had reached the finals at six of seven majors, playing older sister Venus for the title each time, winning five.
"I'm alive. I'm breathing. I'm healthy. Things could be worse," Serena said. "But, I mean, obviously, I'm not happy."
MAJOR FIRSTS
The upsets just keep coming at this French Open.
Defending champions Juan Carlos Ferrero and Justine Henin-Hardenne lost in the second round, as did No. 1 Roger Federer. Andre Agassi lost his opener to a Frenchman playing his first tour-level match, while Andy Roddick was beaten by someone ranked 125th.
On Tuesday, the French Open became the first Grand Slam tournament in which the women seeded Nos. 2-4 all lost on the same day: No. 2 Serena Williams, No. 3 Amelie Mauresmo and No. 4 Venus Williams.
With No. 1 Henin-Hardenne and No. 5 Lindsay Davenport gone earlier, No. 6 Anastasia Myskina is the highest-seeded woman left, making it the first major since the 1978 Australian Open that none of the top five reached the semifinals.
And Myskina and No. 9 Elena Dementieva give Russia two women in a major's final four for the first time.
One last factoid: The 2000 French Open was the last time both Williams sisters, Henin-Hardenne and Kim Clijsters (out with a left wrist injury) all were absent from the semifinals at a Slam.
ADIEU, AMELIE
Amelie Mauresmo knew her glorious run at Roland Garros was doomed, once again on Tuesday.
The last of 21 French players in the singles tournaments, the third-seeded Mauresmo fell prey to that pressure, committed a bunch of errors, and lost her quarterfinal to No. 9 Elena Dementieva of Russia 6-4, 6-3.
"I'm in France. I'm French. This is where I started playing tennis. I really want to play well here," she said. "Sometimes I get the feeling that I'm making headway, but I'm still not there."
Mauresmo has reached the final of the Australian Open, and the semifinals at Wimbledon and the US Open. But she never has been past the quarterfinals at the French Open, losing at that stage last year, too.
"This morning I felt more under pressure than previous matches," said Mauresmo.
"After that, when I came back, I didn't really get the feeling that I was going to be able to relax and play well," she said. "It's more than disappointing. It's frustration."
Comments will be moderated. Keep comments relevant to the article. Remarks containing abusive and obscene language, personal attacks of any kind or promotion will be removed and the user banned. Final decision will be at the discretion of the Taipei Times.