Nets clinch division title
Lucious Harris matched his season high with 24 points, and the New Jersey Nets won their third straight Atlantic Division title with a 108-83 victory over the New York Knicks on Friday.
Rodney Rogers added 20 points, Richard Jefferson had 18 and rookie Zoran Planinic a career-high 11 for the injury-depleted Nets, who took the division title when Detroit beat Miami.
"Richard has been the key to this team since Jason and Kenyon have been out," Harris said.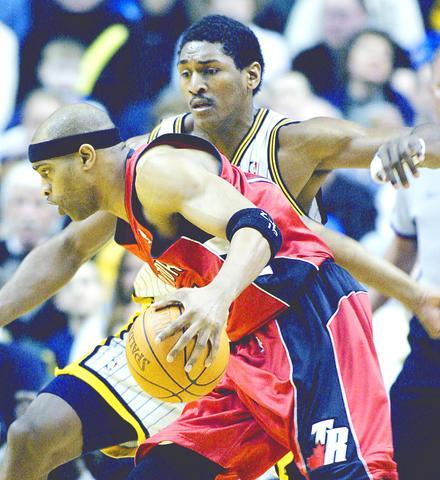 Raptors guard Vince Carter, left, drives around Pacers forward Ron Artest during the second quarter at Conseco Fieldhouse in Indianapolis, Indiana, Friday.
PHOTO: REUTERS
"We came over here and we didn't have the intensity that we needed," said Penny Hardaway, who had 14 points for New York. "They beat us up pretty bad."
Stephon Marbury also scored 14 points for the Knicks, tied for seventh with Boston in the Eastern Conference.
Celtics 111, Warriors 106
In Boston, Paul Pierce scored 32 points for Boston, including the last five, after Golden State rallied to equalize.
Pierce attempted a career-high 23 free throws, making 16 of them. And Marcus Banks just missed a team record for steals. He had seven, two fewer than the mark shared by Pierce and Larry Bird.
Jiri Welsch and Ricky Davis each added 15 points for Boston. Jason Richardson led Golden State with 25 points and 11 rebounds.
Pistons 92, Heat 84
In Auburn Hills, Michigan, Chauncey Billups had 31 points, seven rebounds and seven assists as Detroit downed Miami.
Rasheed Wallace added 17 points after missing two games because of a sore back, and Detroit responded with its 11th win in 13 games. Lamar Odom led the Heat with 18 points.
Pacers 84, Raptors 64
In Indianapolis, Ron Artest scored 21 points, and Al Harrington added 16 points and 11 rebounds as Indiana trounced Toronto.
The Pacers, an NBA-best 56-20, pulled most of their starters in the second half after building a 15-point advantage.
Jalen Rose led Toronto with 22 points.
Timberwolves 91, Wizards 73
In Minneapolis, Kevin Garnett scored 22 points, and Wally Szczerbiak added 20 as Minnesota downed Washington.
Szczerbiak spiced up an otherwise uneventful night in the final minute, when a female fan went on the court and lunged at him before Szczerbiak scurried away and security nabbed her.
Sam Cassell, who had 13 points and seven assists, got a huge kick out of it -- running over to Szczerbiak and planting a mock hug on his grinning teammate.
Jerry Stackhouse scored 14 points for the Wizards.
Nuggets 110, Rockets 100
In Denver, Marcus Camby had 20 points and 12 rebounds, and Carmelo Anthony added 20 points as Denver beat Houston.
With the victory, the Nuggets moved within percentage points of eighth-place Portland in the Western Conference playoff chase.
Yao Ming had 23 points and 10 rebounds for Houston.
Spurs 94, Jazz 81
In Salt Lake City, Tim Duncan had 18 points and 10 rebounds in San Antonio's 17th straight victory over Utah.
Devin Brown added a career-high 19 points and had seven rebounds for the Spurs. Gordan Giricek led Utah with 22 points.
Lakers 97, SuperSonics 86
In Seattle, Shaquille O'Neal had 23 points and 14 rebounds, and Kobe Bryant scored 25 pointsto help Los Angeles beat Seattle for its 11th straight victory.
Comments will be moderated. Keep comments relevant to the article. Remarks containing abusive and obscene language, personal attacks of any kind or promotion will be removed and the user banned. Final decision will be at the discretion of the Taipei Times.