New York Islanders secure playoff berth
Mariusz Czerkawski and Adrian Aucoin each scored twice Friday to help the New York Islanders clinch their third straight playoff appearance with a 6-4 victory over the Carolina Hurricanes.
New York secured the final postseason berth in the Eastern Conference, eliminating Buffalo from the race.
"I'm happy, but more important I'm happy for the 24 guys in that room," said Islanders coach Steve Stirling. "They didn't need to hear from anybody that they backed in, or didn't get in. They needed to win their way in and they did."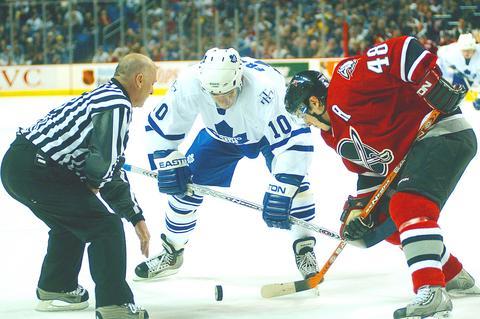 Veteran linesman Ray Scapinello drops the puck during his 2,500th and final NHL game at HSBC Arena in Buffalo, New York, Friday. Maple Leafs center Ron Francis, center, and Buffalo Sabres center Daniel Briere face off. Toronto won the game 2-0.
PHOTO: REUTERS
The Islanders scored four straight goals within a span of 7:27 to take a 6-1 lead into the third period.
"We just didn't execute," Hurricanes coach Peter Laviolette said. "We got what we deserved."
Carolina enforcer Jesse Boulerice had two goals, but the Hurricanes' NHL-worst power play failed them again in going 0-for-4.
Senators 3, Flyers 1
In Philadelphia, Zdeno Chara had a goal and an assist, and Martin Prusek made 39 saves to lead surging Ottawa past Philadelphia.
Despite a number of big hits, the much-anticipated game was less combative than the previous meeting. In the Flyers' victory on March 5, the teams combined to set an NHL record with 419 penalty minutes.
The rematch produced only six minor penalties, totaling 12 minutes.
Antoine Vermette and Peter Bondra also scored for the Senators, 4-0-1 in their last five. Ottawa pulled into a tie with Boston for the Northeast Division lead and the second spot in the Eastern Conference.
Michal Handzus scored the lone goal for the Flyers, who lead New Jersey by two points in the race for the Atlantic Division title.
Avalanche 4, Blue Jackets 2
In Columbus, Ohio, Marek Svatos scored his first two NHL goals and Joe Sakic added his 33rd to lead Colorado over Columbus.
Svatos scored on the fourth and fifth shots of his career -- in his third career game -- to end Colorado's five-game road losing streak. Nikolai Zherdev and Jaroslav Spacek each had a goal and an assist for Columbus, which lost its third straight.
Penguins 3, Thrashers 2
In Atlanta, Kelly Buchberger scored his first goal of the season and Pittsburgh beat Atlanta, overcoming Ilya Kovalchuk's 40th goal of the season.
The Thrashers tried all night to set up Ilya Kovalchuk and were finally successful with 5.6 seconds left when he scored his 40th goal of the season, tying Columbus' Rick Nash and Calgary's Jarome Iginla for the NHL lead.
Kovalchuk, who was denied on six first-period shots by Jean-Sebastien Aubin, hadn't scored in five games. Lasse Pirjeta also scored, and Aleksey Morozov had a goal and assist for Pittsburgh.
Comments will be moderated. Keep comments relevant to the article. Remarks containing abusive and obscene language, personal attacks of any kind or promotion will be removed and the user banned. Final decision will be at the discretion of the Taipei Times.