Zach Johnson secures lead
Zach Johnson used a run of four birdies in his final six holes for a 6-under 66 to take the second-round lead after another windy day in the BellSouth Classic on Friday. \nHe had a 9-under 135 total for a two-stroke lead over 2003 winner Ben Crane, Craig Bowden and Tim Petrovic. \nThen Johnson strolled into the interview room, accompanied by his father and a group of about 10 people, financial backers from early in the PGA Tour rookie's professional career. Some came for the entire week, others arrived late Thursday night, and everybody got quite a show from their player. \n"These are the guys that when others didn't see the potential in me, these guys did," Johnson said. "This business is hard financially to get started, and quite frankly, I didn't really have to worry about it too much. \n"Fortunately, I'm able to go on by myself. At the same time, their support is still there and I can still feel it." \nBrian Gay and Scott Hend were three strokes back, and PGA champion Shaun Micheel and Padraig Harrington were another shot behind. \nJohnson started his round on No. 10, and an eagle on the par-5 18th helped him get going. After three pars, he birdied the next three holes, then capped his day with a 21-footer for another birdie on the last hole. \n"My putter has been pretty good the past two days," he said. \nA strong, swirling wind made conditions tough again, with only 16 scores in the 60s. Hend tied Johnson for low round of the day, and Peter Lonard had a 67. \n"Sometimes it feels like it's at your back, sometimes it feels like it's in your face," Bowden said of the wind. "It's tough to pick a club and then commit to it, because there's a few holes out there that you can have a train wreck on." \nPetrovic had that problem. After starting on the back nine, he three-putted the par-5 18th for a bogey, and followed that with another at No. 1. He took the lead with birdies on the fifth and sixth, then gave it back with two bogeys in a row. \nFinally, Petrovic completed the up-and-down round with a birdie on No. 9, rolling in a 12-footer for a 70. \nJose Maria Olazabal, who shared the first-round lead with rookie Roger Tambellini, had a rough day. Admittedly mired in a long slump, the two-time Masters champ missed seven of his last nine greens after starting his day on No. 10.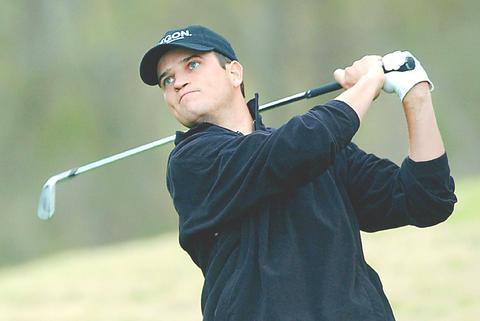 Zach Johnson of Cedar Rapids, Iowa, tees off on the 8th hole during the second round of the BellSouth Classic golf tournament at the TPC at Sugarloaf in Duluth, Georgia, Friday. Johnson finished the round at 9-under par.
PHOTO: AP
Comments will be moderated. Keep comments relevant to the article. Remarks containing abusive and obscene language, personal attacks of any kind or promotion will be removed and the user banned. Final decision will be at the discretion of the Taipei Times.