Norwegian takes big lead in Alaska's Iditarod race
Norway's Kjetil Backen retook the lead on Friday in the Iditarod Trail Sled Dog Race, leaving the first checkpoint on the Yukon River with nearly a three-hour lead.
Backen, a 34-year-old musher racing in just his second Iditarod, left the Ruby checkpoint and headed to Kaltag 83km away. From Ruby, the trail runs 240km along the frozen Yukon River.
Ruby is 799km from the finish line in the 1,769km race from Anchorage to Nome, the longest sled dog race in the world.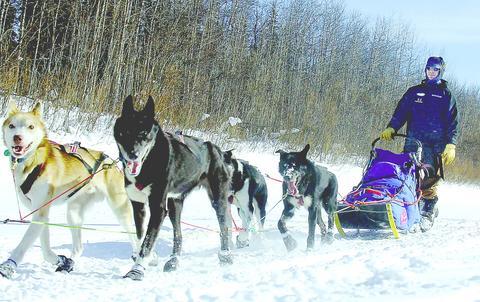 Norwegian Kjetil Backen drives his dog team onto the Yukon River and out of the Ruby, Alaska checkpoint of the Iditarod Trial Sled Dog Race Friday, to take the lead in the race.
PHOTO: AP
"Of course it is a pleasure to have some hours ahead of the others, but of course it is a long way from Nome," said Backen, as he threw frozen Alaska salmon steaks to his dogs. "There are a lot of good teams."
In his other Iditarod appearance, Backen finished 10th in 2002.
Backen's team contains some of the dogs that were in fellow Norwegian Robert Sorlie's 2003 winning team. Sorlie is not racing this year.
A record 87 mushers signed up for the 2004 Iditarod, with six scratching so far. This year's purse is more than US$700,000 with a first-place prize of US$69,000 and a new Dodge truck.
Charlie Boulding was second into Ruby. He was followed within a half-hour by John Baker, four-time winner Martin Buser and Mitch Seavey. Ramy Brooks, the 2002 and 2003 runner-up, arrived about an hour after Seavey.
Seavey, who is running in his 11th Iditarod and finished fourth in 1998, said he can't remember the race ever being so close so late.
"Everybody here is in competition for first place," Seavey said.
Three-time Iditarod winner Jeff King, who was the first musher to arrive in Ruby and got a gourmet meal and US$3,500 for being first to the Yukon, was resting his team for 24 hours, a requirement the other teams already had out of the way. He was expected to leave the checkpoint about 3 1/2 hours after Backen, and after Boulding, Baker, Buser and Seavey.
"He is a huge threat to win the race," King said of Backen. "The kid just reeks professionalism. He knows what's he doing."
It remains to be seen if King's gamble to push all the way to Ruby before resting his team will pay off. He's hoping that a well-rested team will gain on the others closer to Nome.
"I'm done going slow. I've been in the race a long time, and I'm not doing that anymore," said King, 44, racing in his 15th Iditarod. The last time King won was in 1998.
The race's only five-time winner Rick Swenson was eighth into Ruby, arriving on one of Buser's sleds about 4 1/2 hours behind Backen. The sled was flown from McGrath into the Cripple checkpoint after, for the second time, Swenson busted the runners on his sled.
Swenson said Buser's sled was holding up well.
"It drives like the owner. It drives like a champ," he said.
King's sled was getting a lot of attention from the other mushers. The sled, which King calls a tail dragger, allows the musher to sit down. Part of the load is carried behind the driver. King said the sled is so comfortable he actually fell asleep, and then fell off the sled, losing his team in an area near Rohn.
When he looked around, his team was still moving.
"They're going and going and going. It's 2am and I'm leading in the Iditarod, I'm thinking, God knows how far they will go," he said.
King began yelling out his leaders' names, hoping one of them would turn the team around. He said the team was about a half-kilometer away when the dogs finally realized he wasn't on board. Then he saw them coming back.
"I said, `Thank you Lord, what have I done to deserve this?' Then I remembered I loaned Swenson parts for his sled and I said, `This must be good karma,'" King said.
Swenson said the sit-down sled, also being used by Buser, was first designed by Iditarod musher Art Church, who has been using one for a couple of years now.
Swenson said he will have to consider the sit-down sled.
"It is a great idea. It's simple. It's light. It would be easy on my back," he said.
Comments will be moderated. Keep comments relevant to the article. Remarks containing abusive and obscene language, personal attacks of any kind or promotion will be removed and the user banned. Final decision will be at the discretion of the Taipei Times.