Yao puts Mavericks to the sword at last
TOWERING The giant Rockets center has now beaten every NBA outfit, and he had a huge hand in Sunday's victory, with five crucial points in the last 45 seconds
Yao Ming scored 29 points, including five in the final 45 seconds, and the Houston Rockets snapped a six-game losing streak against the Dallas Mavericks with a 101-98 victory on Sunday.
It was Yao's first win ever against the Mavericks. He has defeated every other NBA team.
"There is a phrase in Chinese `Resolve is victory,"' Yao said.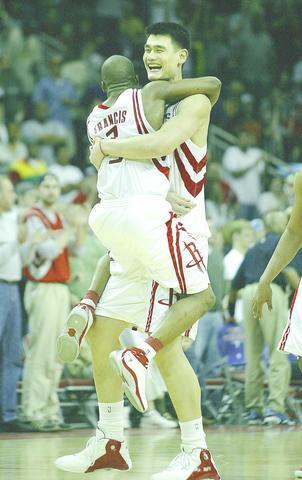 Steve Francis, left, of the Houston Rockets leaps into the arms of teammate Yao Ming after Yao was able to complete a three-point play late in the game against the Dallas Mavericks at Toyota Center in Houston, Texas, on Sunday.
PHOTO: EPA
The Mavericks lost their third game in a row but almost fought back against the Rockets, who had to overcome 30 turnovers and a season high 20 steals by an opponent. Dirk Nowitzki had nine steals, an individual season high against the Rockets.
Steve Nash led Dallas with 22 points and nine assists. Nowitzki scored 18 points and Finley had 16.
"It was a really good game, I liked our energy and our effort," Dallas coach Don Nelson said. "There must have been seven or eight missed layups. Maybe Ming had something to do with that but we had too many misses around the goal."
Pistons 86, SuperSonics 65
The Pistons became the first team since the shot clock was implemented in 1954-55 to hold three consecutive opponents under 70 points with an 86-65 victory over the Seattle SuperSonics.
"This is mind-boggling," Pistons coach Larry Brown said Sunday night. "The idea coming out here [to the West] late in the season with everybody that we're playing is fighting for the playoffs. It was good -- real good."
Rasheed Wallace had 18 points for the Pistons, who won 97-66 at Denver and 83-68 in Portland in their two previous games. They're 7-3 since acquiring Wallace in a trade with Atlanta.
Ben Wallace had 12 points and 13 rebounds as Detroit won for the seventh time in eight games. Lindsey Hunter had six steals for the Pistons, and the Sonics committed 20 turnovers. Seattle's 65 points tied the franchise low.
"Defensively, we really got after it," Hunter said. "Defensively, I don't remember being this good down a stretch in a long time."
The Pistons limited the Sonics to just two baskets in the final 7:49 of the first half. They used a 16-4 run, including nine unanswered points to end the half with a 51-33 lead.
Detroit then put the Sonics away early in the third quarter by making the first three baskets, including a 3-pointer by Chauncey Billups. Rasheed Wallace wowed the fans with a one-handed dunk to give the Pistons a 58-33 lead 3:09 into the second half.
"That's a good defensive team," Sonics coach Nate McMillan said. "They know how they can disrupt you and take you completely out of your offense. They got up on us from the start."
The Sonics played without Ray Allen, who was sent home with the flu. Rashard Lewis had 16 points to lead Seattle, which shot just 39 percent (23-for-59).
Raptors 84, Hornets 76
In Toronto, Vince Carter had 26 points, including a buzzer-beater from just beyond halfcourt at the end of the third quarter, and the Toronto Raptors ended a seven-game home losing streak with a victory over the New Orleans Hornets.
Carter capped a 19-4 run in the third by making his 41-foot 3-pointer that hit off the backboard.
Toronto native Jamaal Magloire had a career-high 21 rebounds and 23 points for the Hornets, who have lost six of nine.
Chris Bosh had 16 points and 12 rebounds for the Raptors, losers of 11 of their previous 12 games.
Knicks 99, Wizards 86
In Washington, Stephon Marbury had 24 points and 13 assists, and the New York Knicks' frontcourt controlled the boards in a victory over the Washington Wizards.
Marbury had six points and an assist in a 12-0 run that spanned the third and fourth quarters and put the Knicks firmly in control. Allan Houston added 23 points. as the Knicks won their third straight following six-game losing streak.
Gilbert Arenas scored 28 points, and Juan Dixon had 25 as the Wizards' backcourt held its own, but Washington was outrebounded 35-23 through three quarters _ including 11-4 on the offensive boards -- and 40-34 for the game thanks to rebounds in garbage time.
Lakers 94, Nets 88
In Los Angeles, Shaquille O'Neal went 10-of-14 from the foul line and scored 32 points as the Lakers defeated the New Jersey Nets in their first game since Kobe Bryant went out with a shoulder injury.
Gary Payton added 18 points for the Lakers, while Bryant and the team's other injured star, Karl Malone, watched from the bench.
The Nets' Jason Kidd missed his fourth straight game because of bruised left knee, hurt in a 100-83 loss to the Lakers in New Jersey on Feb. 29.
Richard Jefferson scored 21 points for New Jersey, but only five after halftime. Kerry Kittles scored 19 and Kenyon Martin 17.
Kings 107, Magic 90
In Orlando, Florida, Peja Stojakovic scored 12 of his 28 points in the third quarter, and the Sacramento Kings shook off their early sluggishness to defeat the Orlando Magic.
Mike Bibby had 26 points, while Brad Miller added 22 with 12 rebounds.
Doug Christie had 13 points and a season-best 12 assists. Sacramento, the NBA leader in assists, had 30 on 38 field goals. The Kings also made all 24 of their foul shots.
Comments will be moderated. Keep comments relevant to the article. Remarks containing abusive and obscene language, personal attacks of any kind or promotion will be removed and the user banned. Final decision will be at the discretion of the Taipei Times.