Ferrari starts off like a jackrabbit
AUSTRALIAN GRAND PRIX World champion Michael Schumacher led a Ferrari 1-2 finish at the season-opening race down under. Renault's Fernando Alonso was third
David Coulthard says his McLaren team has a "mountain to climb" to catch Ferrari, despite new rules in Formula One designed to bring the red racers back to the field. \nWorld champion Michael Schumacher led a Ferrari 1-2 at the season-opening Australian Grand Prix yesterday with a powerful performance that sent a chill through the rest of the grid. \nMcLaren was left in the wake. A year after Coulthard had triumphed in Melbourne and his teammate, Kimi Raikkonen, had also finished on the podium by taking third at the Australian GP. \nThis time Raikkonen, runner-up to Schumacher in the 2003 drivers' championship, completed just nine of the 58 laps before a water pump problems forced him out. \nCoulthard came from the sixth row on the grid to win here last season. Starting from the same row Sunday, he was never in with a chance. \nThe Scot, without a drive for 2005 after McLaren signed Williams driver Juan Carlos Montoya for next year, finished a lap behind Schumacher in eighth place for one championship point. \n"Quite clearly our performance isn't there and getting a point is small consolation for the fact we have quite a mountain to climb," said Coulthard. \n"We've had the first reality check as to our pace and performance. But rather than dwelling on this result we have to get on with the work and look for improvement." \nMcLaren had emerged from off-season testing in a confident mood, with Formula One followers expecting them to be among the leading contenders with their MP4-19 cars. \nF1 organizers introduced a raft of regulations in a bid to make all teams competitive. But it seemed to backfire. Coulthard said McLaren struggled in Melbourne with its race pace and tires. \n"We need to improve in every area and that's what we're going to do," he said. "We can't hide from it \n"If we knew exactly what was the one problem you would be working flat out on that, but I think generally we're not making the most of the tires on one lap, the car's difficult to position, and our race pace, although closer to the pace than in qualies, isn't good enough." \nRaikkonen, 24, was bitterly disappointed. The Finn had arrived in Melbourne with high hopes after coming within two points of taking the world drivers' title off Schumacher in 2003. \n"It was an engine failure. Nothing I could do," said Raikkonen, whose car locked up and then spun out. \n"I didn't expect it. I lost water pressure and then the engine gave up. It's very disappointing for me. We should be fighting for the front two places anyway, not running 10th ... that is not good enough." \nMcLaren boss Ron Dennis went into damage control after the race, saying the conditions suited the Bridgestone tires used by Ferrari better than McLaren's Michelin tires. Williams, Renault, BAR and Jaguar also use Michelin tires and couldn't match speed with Ferrari. \n"But hats off to them, they've done a great job this weekend," Dennis said. But "we're not gonna just stand and do nothing, we'll fight back." \nHe said McLaren had identified some flaws and would be better prepared for the Malaysian Grand Prix on March 21. \n"We'll do a detailed post-mortem and then get focused for Malaysia," he said. \n"I think the performance of all the Michelin runners will be significantly better but obviously Ferrari are in a league of their own at the moment and it's going to be difficult for any of the teams to match that performance." \nRenault engineering director Pat Symonds predicted McLaren would rebound after "a rough start to the season." \n"They're a professional team and will come back. It looks like the problems are big enough to take a little while, and that's got to dent their championship hopes, but don't discount them," he added. \nMichael Schumacher also was wary of the McLarens. \n"It's no point to make too much of a judgment after one race. I need to see different circuits, different characters, then you can be a little bit more correct in the judgment," he said.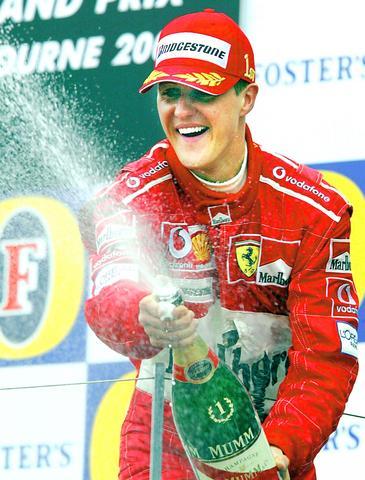 Michael Schumacher of Ferrari celebrates after winning the Australian Formula One Grand Prix at the Albert Park Street Circuit in Melbourne, yesterday. Ferrari teammate Rubens Barrichello finished second and Renault driver Fernando Alonso was third.
PHOTO: EPA
Comments will be moderated. Keep comments relevant to the article. Remarks containing abusive and obscene language, personal attacks of any kind or promotion will be removed and the user banned. Final decision will be at the discretion of the Taipei Times.