Sports Briefs
■ Cycling
Armstrong keeps pace
Lance Armstrong kept up with the pace in the third stage of the Tour of Murcia cycling race in Yelca, Spain on Friday, finishing among the pack in the same time as winner Max van Heeswijk of the Netherlands. Van Heeswijk, a US Postal Service teammate of Armstrong's, completed the 156km route which began and ended in this southeastern town in 3 hours, 32 minutes, 23 seconds, followed by German Erik Zabel of the T-Mobile team. Armstrong, preparing to win a sixth consecutive Tour of France title this year, stayed second in the overall standings, 29 seconds behind leader Jose Ivan Gutierrez of Spain. Armstrong's Tour de France rival Jan Ullrich of Germany also finished among the pack, and was 61st overall, 9:10 behind Gutierrez. Saturday's second-to-last stage is the toughest of the tour's five, a 169km route which includes three mountain climbs.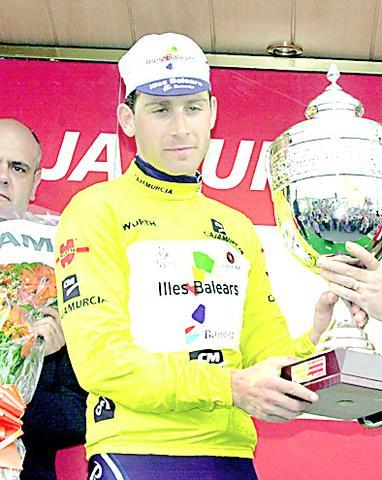 ■ Diving
Huang, Richter on top
China's Qiang Huang won the men's 3m springboard and Austrian Anja Richter the women's 10m platform at a diving grand prix in Rostock, Germany on Friday. The Chinese swept four of the six podium places on the opening day of the three-day event, the second grand prix of the season. Qiang was awarded 493.50 points, followed by countryman Shauyun Tang with 464.18 and Germany's Andreas Wels at 432.60. Richter scored 355.56 and edged China's Dongjin Jia at 345.42 and Na Lin with 338.43. "We saw high-class finals with extreme difficult programs, especially from the Chinese," German coach Lutz Buschkow said.
■ Boxing
Phillips wastes no time
Verno Phillips stopped Julio Garcia with a second left in the first round of their junior middleweight bout at Pala Casino in Pala, California on Friday night. Phillips, who improved to 37-9-1 with his 19th knockout, floored Garcia twice before referee Jack Reiss halted the scheduled 12-round fight. Both fighters weighed in at 153 1/2 pounds. Phillips is ranked No. 3 in the world by the International Boxing Federation. Garcia is 25-3-2. In an earlier 10-round bout, Carlos Quintana of Puerto Rico stopped Edwin Cassiani of Miami in the third round. Quintana is 16-0 with 12 knockouts, and Cassiani is 26-4.
■ Baseball
Selig has zero tolerance
Commissioner Bud Selig hopes major league baseball can institute a zero-tolerance policy on steroid use similar to one that covers players with minor league contracts. Selig recently sent a directive to all 30 teams, telling them to decline comment on steroids and the federal grand jury that indicted the trainer of San Francisco Giants star Barry Bonds. "There's been enough comment," he said. "We know what we have to do and we're going to do it." Selig, attending Anaheim's game against San Diego, sought to put baseball's focus back on the field. He said baseball could set an attendance mark this season, based on preseason ticket sales.
Comments will be moderated. Keep comments relevant to the article. Remarks containing abusive and obscene language, personal attacks of any kind or promotion will be removed and the user banned. Final decision will be at the discretion of the Taipei Times.