Philadelphia gets a flying start
Claude Lapointe and Mark Recchi scored 30 seconds apart in the first period, helping the Philadelphia Flyers beat the Ottawa Senators 5-3 on Friday in a game that featured five consecutive brawls in the final two minutes.
Danny Markov, Kim Johnsson and Alexei Zhamnov also scored for Philadelphia, which snapped a five-game winless streak (0-3-2) against Ottawa.
"We're not scared of Ottawa and we're not intimidated by their talent," Flyers goaltender Robert Esche said.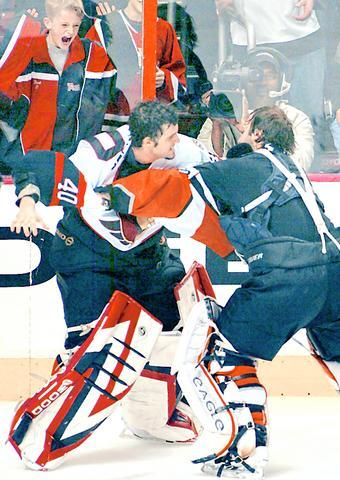 Ottawa Senators goalie Patrick Lalime, left and Philadelphia Flyers goalie Robert Esche join in the fight-filled final 1:45 of the third period in Philadelphia, Friday.
PHOTO: AP
Philadelphia enforcer Donald Brashear and the Senators' Rob Ray started the fighting by dropping their gloves with 1:45 left. As they skated off the ice, the rest of the players joined in, including the goalies as Ottawa's Patrick Lalime skated the length of the ice to go after Robert Esche.
Once play resumed, all the players, except the new goalies, immediately went after each other. After play resumed again, Philadelphia's Michal Handzus and Ottawa's Mike Fisher started fighting. Another fight broke out 30 seconds later. Finally, Philadelphia's Patrick Sharp and Ottawa's Jason Spezza finished it off.
The Flyers had seven players remaining and Ottawa had six as the game ended.
"Their tough guy [Ray] got beat up and then their next two lines fought guys who don't fight," Flyers coach Ken Hitchcock said. "I don't care what it shows them. We played a great game."
Chris Neil, Zdeno Chara and Peter Bondra scored for Ottawa.
Rangers 3, Capitals 2
In New York, Jason LaBarbera made 19 saves for his first NHL victory and assisted on Bobby Holik's winning goal to lead the New York Rangers over Washington in a matchup of also-rans that have been busy trading away star players.
Mark Messier had a goal and an assist, and Chris Simon also scored for New York, which snapped a four-game winless streak (0-3-0-1).
Trent Whitfield and Kip Miller had goals for the Capitals, 1-5-1 in their last seven. Sebastien Charpentier stopped 19 shots in his third start in five games.
The Rangers played their first home game since star defenseman Brian Leetch, leading forwards Alex Kovalev and Petr Nedved, and backup goalie Jussi Markkanen were traded.
Red Wings 3, Canucks 1
In Detroit, Nicklas Lidstrom had a goal and two assists and Manny Legace made 23 saves to lift Detroit over Vancouver.
Brendan Shanahan and Brett Hull scored the other goals for Detroit, which was without centers Pavel Datsyuk (sprained ankle) and Kris Draper (partially separated rotator cuff) and defenseman Mathieu Dandenault (broken foot).
The Red Wings are 11-2-2 in their last 15 games and have a league-best 89 points.
Mike Keane scored for Vancouver.
Hurricanes 3, Thrashers 2, OT
In Atlanta, Kevyn Adams scored with less than a second left in overtime to give Carolina a victory over Atlanta.
Jean-Luc Grand-Pierre tied it for Atlanta with 12.4 seconds left in regulation, fighting off Ron Francis to poke in the rebound of a shot by Ilya Kovalchuk. Patrik Stefan also scored for the Thrashers, who had a three-game winning streak snapped.
Rod Brind'Amour and Jeff O'Neill had goals in a dominating second period for the Hurricanes, who are 3-0-1-1 in their past five road games.
Lightning 3, Devils, 2 OT
In Tampa, Florida, Dave Andreychuk scored with 2:43 left in overtime, as Tampa Bay beat New Jersey to set a franchise record with a seventh straight win.
Andreychuk scored on a backhander. It was his 15th goal of the season and 628th overall. Tampa Bay's Vincent Lecavalier tied the game with 9.6 seconds left in the regulation, beating Martin Brodeur on a wrist shot from the slot after Pavel Kubina split the defense at the blue line.
Dmitry Afanasenkov also scored for the Lightning, and Nikolai Khabibulin turned aside 30 shots.
John Madden and Jeff Friesen had second-period goals for the Devils, losers in three of their last four games.
Comments will be moderated. Keep comments relevant to the article. Remarks containing abusive and obscene language, personal attacks of any kind or promotion will be removed and the user banned. Final decision will be at the discretion of the Taipei Times.