Flyers win following penalty shot
Simon Gagne scored on a penalty shot with 1:01 left, leading the Philadelphia Flyers to a 5-4 victory over the Atlanta Thrashers on Saturday that snapped a three-game losing streak.
"I didn't have too much time to think about it because I wasn't supposed to take the shot," Gagne said. "I just tried to make sure the puck was flat, that it didn't roll on my stick and I waited for him to give me an opening.''
Serge Aubin, Andy Sutton, Dany Heatley and Ilya Kovalchuk scored for Atlanta, which had won three of four after a 10-game winless streak.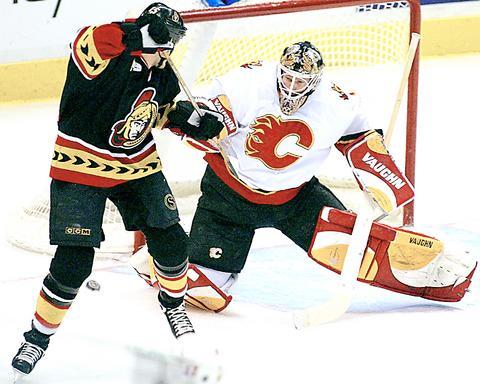 Senators' Peter Schaefer, left, tries to deflect puck past Flames' goalie Roman Turek during first period of their game in Ottawa, Saturday.
PHOTO: REUTERS
Joni Pitkanen scored two power-play goals around one by Michal Handzus in a span of 2:42 in the first period, but Philadelphia couldn't hold leads of 3-0 and 4-3. Marcus Ragnarsson also scored for the Flyers.
Sean Burke made 32 saves for his third win since coming to Philadelphia.
Devils 7, Rangers 3
In New York, Scott Gomez scored two goals and added three assists for the second time in three games, and Patrick Elias had four points to lead New Jersey past the New York Rangers.
Gomez had his first multigoal game of the season and tied his career-high with five points.
Elias scored twice and added two assists. Turner Stevenson and Grant Marshall also had first-period goals, and Gomez set up Elias and Brian Gionta in the second.
Martin Rucinsky, Jaromir Jagr and Bobby Holik scored for the Rangers, 4-12-2 in their last 18 games.
Senators 2, Flames 1
In Ottawa, Martin Havlat scored 2:26 into the third period, lifting Ottawa over Calgary.
Bryan Smolinski scored a power-play goal in the first and Patrick Lalime made 18 saves for Ottawa, undefeated in regulation in its last eight games (5-0-1-2).
Defenseman Jordan Leopold scored on a power play midway through the first for Calgary, which has lost two in a row on the heels of its third four-game winning streak of the season.
Maple Leafs 5, Canadiens 4
In Toronto, Backup goalie Mikael Tellqvist remained undefeated, while Matt Stajan and Tom Fitzgerald scored and had an assist each in Toronto's victory over Montreal.
Comments will be moderated. Keep comments relevant to the article. Remarks containing abusive and obscene language, personal attacks of any kind or promotion will be removed and the user banned. Final decision will be at the discretion of the Taipei Times.