Cuban tough on Olympic hopefuls
NATIONAL BASKETBALL ASSOCIATION Dallas Mavericks owner Mark Cuban says that players need to decide whether they want to play for money or their country
Fiery Dallas Mavericks owner Mark Cuban would like his players to make a choice -- either make millions of dollars playing for him or go to the Olympics. \nCuban, who traded barbs on the issue with Detroit Pistons and US Olympic basketball coach Larry Brown through The Dallas Morning News, spoke Monday at a small business symposium held before the Mavericks played the Atlanta Hawks. \n"I prefer that, if you have a contract, you make a choice," he said. "We all make choices. If it's that important to me to play for my country, I'm not going to sign my contract. \n"I want that leeway to play for my country, understanding the risks involved. Notice, you don't see players who are not under contract playing for their national teams." \nOn Monday, Brown reiterated his claim that having NBA players in the Olympics broadens the game worldwide. \n``That's why we've got Asians and South Americans and African kids and European kids playing in our league," he said. "Most of the owners that have issues have benefited by that, so has the NBA. \n"All of the sudden now, when we've got what we want, `It's not good to send our players over.' It's not fair to the game." \nCuban told the newspaper in an e-mail that Brown wasn't qualified to criticize the stance Cuban and other owners have taken against international play by their athletes. He didn't back down from those statements Monday. \n"He's entitled to his opinion. It's really easy to spend other people's money," Cuban said of Brown. "And honestly, I don't think Larry fully understands. He understands from a USA perspective." \nFive of Dallas' players compete for national teams other than the US, including starters Steve Nash (Canada) and Dirk Nowitzki (Germany). Reserve forward Eduardo Najera, who played for Mexico in the Tournament of the Americas over the summer, got in a fight with a Canadian player in a first-round game. \nNajera exchanged elbows with Peter Guarasci under the basket late in the second quarter of the first-round finale for both teams. As the teams headed upcourt, Guarasci shoulder-checked Najera to the floor in front of the Mexico bench. \nNajera charged Guarasci and tackled him near midcourt. A brief scrum ensued until coaches from both teams broke it up. Both players were suspended for one game of the tournament. \n"Eduardo Najera got into a fight at center court with a guy from another team because he was the focal point," Cuban said. "The refs can't control the game. If you're playing on the USA team, you have a little bit of leeway, because you've got all these stars. \n"If you're carrying Team Canada, you're really the only NBA player. You're going to be the target of the opposing teams." \nThe symposium with Cuban was supposed to include Atlantans Michael Gearon Jr. and Rutherford Seydel, who are part of a nine-person group completing the purchase of the Hawks and the NHL's Atlanta Thrashers. But they didn't show up, and Cuban attributed their absence to a directive from the NBA. \n"They wanted to be here, but the NBA, in its wisdom, didn't want them to be here," said Cuban, who has been fined more than US$1 million by the NBA since he bought the team in January 2000. \n"So I apologize for them, on behalf of the NBA." \nGearon was sitting courtside for the game with his father, Michael Gearon Sr., another member of the new ownership group. He declined comment, but his father said it was simply a misunderstanding. \n"We haven't bought the teams yet, and there's probably a concern about us speaking in the role of owners," the elder Gearon said. \n"I think it was just a technicality. I just think it was a thing that slipped through the cracks. I think if we'd have asked anybody, we probably could have gotten an exception." \nMavericks 102, Hawks 96 \nStephen Jackson had 11 of his career-high 30 points during an early fourth-quarter rally, helping the Atlanta Hawks beat the Dallas Mavericks 102-96 Monday night. \nThe Hawks improved to 8-7 over their past 15 games, including three victories in four games. The first of those was over the Minnesota Timberwolves, another top team from the Western Conference. \nAtlanta beat Dallas for the first time since Jan. 14, 1998. \nShareef Abdur-Rahim added 27 points and 10 rebounds for Atlanta, and Jason Terry had 14 points and nine assists. \nMichael Finley scored 24 for the Mavericks.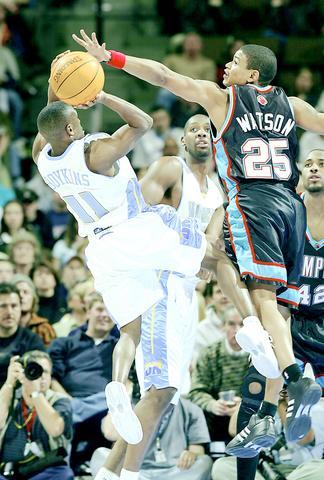 Earl Watson, right, of the Memphis Grizzlies blocks Earl Boykins of the Denver Nuggets as he attempts to get a shot off in the first half at the Pepsi Center in Denver, Colorado, Monday. The Nuggets won 86-83 and snapped the Grizzlies four-game winning streak.
PHOTO: AFP
Comments will be moderated. Keep comments relevant to the article. Remarks containing abusive and obscene language, personal attacks of any kind or promotion will be removed and the user banned. Final decision will be at the discretion of the Taipei Times.