Henin-Hardenne takes Open
AUSTRALIAN OPEN FINAL With both players plagued by jitters and unforced errors, Henin-Hardenne overcame a mid-match lapse to beat Clijsters 6-3, 4-6, 6-3 to stay No. 1
Three Grand Slam finals in eight months, three victories.
Justine Henin-Hardenne added the Australian Open title to her collection Saturday, leaving fellow Belgian Kim Clijsters as the bridesmaid again. Then she set her sights on the only major to elude her: Wimbledon.
"It's wonderful," Henin-Hardenne said.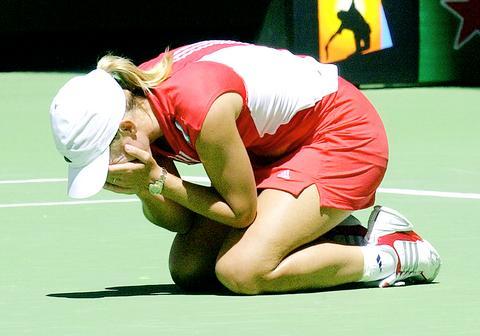 Belgium's Justine Henin-Hardenne falls to the court as she celebrates her win in the women's singles final against compatriot Kim Clijsters at the Australian Open in Melbourne, Australia, yesterday. It was her third consecutive Grand Slam championship. Henin-Hardenne won in three sets 6-3, 4-6, 6-3.
PHOTO: AP
Roger Federer, who took the men's top ranking by beating Juan Carlos Ferrero in the semifinals Friday, will try to end Marat Safin's comeback from injury in Sunday's singles final.
Clijsters, who watched fiance Lleyton Hewitt lose to Roger Federer in the fourth round after a foot-fault call turned the momentum, saw her rally ended by a controversial call, too.
After looking tight in dropping the first set and falling behind 4-2 in the second, Clijsters clawed her way back into the match, winning four straight games to force a deciding third set.
France's Michael Llodra, left, with partner and compatriot Fabrice Santoro after their win over Bob and Mike Bryan of the US in the men's doubles final at the Australian Open in Melbourne, yesterday. The French pair won the title 7-6 6-3.
PHOTO: REUTERS
Again she stumbled, losing her serve twice to fall behind 4-0. And again she rallied, breaking Henin-Hardenne twice to pull within 4-3. With the crowd cheering her, she had game points twice on her next service game, but double-faulted each time.
Clijsters sent a backhand volley out to give Henin-Hardenne a break point and then smacked a swinging forehand that was originally called good at the baseline, but chair umpire Sandra De Jenken of France overruled and called it out after Henin-Hardenne complained.
TV replays appeared to show the ball barely catching the line.
Henin-Hardenne, serving at 5-3, closed it out in 1 hour, 47 minutes with a first serve that Clijsters couldn't return.
Both women, friends have known each other since they were 10, resisted being drawn into a controversy over the controversial call, though Henin-Hardenne said she thought the ball was just long and Clijsters said she was disappointed and felt she had hit a winner.
"I'm not the type of player that's going to start complaining after matches," Clijsters said. ``Nothing I can do about it now.''
But she said she might support having some kind of replay system in the future.
"That's what they do in the cricket," Clijsters said. "It could have been the other way around today as well."
De Jenken said she had "absolutely no doubt about the call I made."
"And afterwards, the two people working on the scores down at courtside told me it was an excellent call," she said.
Henin-Hardenne, who beat Clijsters to win the 2003 French Open and US Open titles, consistently whipped winners with her backhand, one of the best in the women's game.
She finished with 30 winners and 38 unforced errors. Clijsters had just 12 winners and 43 unforced errors.
"I just tried to stay focussed on every point. But game after game, I was feeling more nervous," said Henin-Hardenne. "I'm not afraid of anyone, but sometimes I'm afraid of myself. The mental part is very important.
"Being stronger physically helps, and being stronger in my head."
After match point, she spun her racket in the air and slumped to her knees, crouching with both hands over her face.
"I was feeling free of all the pressure. I usually never show my emotions. It was too much today, I had to," Henin-Hardenne said. "Going into a Grand Slam as No. 1 seed for the first time -- I didn't play well in the first few matches.
"Finally, when I had to, I played my game. It's been a lot for me, I'm tired. I'm going to have a week off."
Wimbledon is her biggest goal in 2004. She said she has to improve her grass-court game to match the power of the Williams sisters. Serena Williams, the 2003 Australian Open champion, didn't recover from a knee operation in time to defend the title. Venus Williams, coming back from six months off with recurring abdominal muscle problems, was upset in the third round.
Henin-Hardenne said Clijsters deserved to win a Grand Slam title and her time would come soon. Clijsters is 0-4 in Grand Slam finals. In addition to losing three to Henin-Hardenne, Jennifer Capriati beat her 12-10 in the third set at the 2001 French Open.
Men's doubles finals
France's Michael Llodra and Fabrice Santoro won their second consecutive Australian Open men's doubles title, beating twin brothers Bob Bryan and Mike Bryan of the US 7-6 (4), 6-3.
After the trophy presentation, the French players celebrated by stripping to their underwear and throwing most of their clothes and towels to the crowd at Rod Laver Arena. Llodra emptied the contents of his sports bag and walked off the court bare-chested, dangling the team's trophy in one hand.
"It wasn't a bet," said Santoro after being asked if he was auditioning for the stage production of The Full Monty in Melbourne.
"And we didn't plan it ahead of time," added Llodra. "We were just having some fun."
The French pair won their 50th match together when they beat Gaston Etlis and Martin Rodriguez of Argentina in the semifinals. They first teamed at the 2002 Australian Open, when they lost in the final.
The 25-year-old Bryan brothers won the 2003 French Open title in their 21st major together and were seeded No. 1. It was the third time they have advanced to the final in the last four Grand Slam tournaments.
The Bryans were down a break at 5-6 in the first set after being up 4-1 but broke Santoro's serve to send the opener to a tiebreaker. The French team took the first set on a hard overhead smash by Llodra that went between the Bryans.
In the second, the French side closed out the match when Santoro held his serve. Llodra and Santoro raised their arms triumphantly when Bob Bryan's forehand from the back of the court went wide.
The match was a replay of the Masters Cup final in Houston after the Bryans took over the No. 1 ranking. They beat Llodra and Santoro in five sets in the final after defeating the French pair in the round-robin portion of the tournament.
The Bryan brothers will represent the United States in next week's first-round World Group match against Austria in Connecticut.
"You always are disappointed when you let a Grand Slam get away," said Mike Bryan. "We were up 4-1 and we thought we were going to have a good day. But we had two set points in the first and let them get away. In doubles, it always comes down to just a few points."
Bob Bryan said they will use the loss as motivation for future matches.
Llodra and Santoro have teamed three times to represent France in the Davis Cup, with a record of 2-1. Although Llodra is on the team to play Croatia in Metz next weekend, Santoro has been dropped from the French team for the first time since 2000.
Comments will be moderated. Keep comments relevant to the article. Remarks containing abusive and obscene language, personal attacks of any kind or promotion will be removed and the user banned. Final decision will be at the discretion of the Taipei Times.