Dortmund starts league play with loss
EUROPEAN FOOTBALL Schalke started the second half of the season with a road win over Dortmund as the Bundesliga heats up
Borussia Dortmund wasted two penalties and conceded a late goal in a stormy match Friday to kick off the second half of the Bundesliga season with a 1-0 loss at home to Schalke. \nBoth teams finished the match with 10 players. \nSubstitute Ebbe Sand ended a long scoring slump to notch the winner in the 89th minute for his first goal of the season. The Danish striker used a fast Schalke counterattack to break free and chip the ball over the advancing Dortmund goalkeeper Guillaume Warmuz. \nDortmund wasted an unjustified penalty after eight minutes. German international Torsten Frings took a dive over the advancing Schalke goalkeeper Frank Rost's outstretched hand but Dortmund was awarded the penalty. Striker Jan Koller took it but shot straight at Rost. \nThe home team, playing before a capacity crowd of 83,000 on a cold evening, got into more trouble when star midfielder Tomas Rosicky was sent off for a hard tackle from behind two minutes before halftime. \nMinutes earlier, Rosicky had earned a yellow card for another dive in the Schalke penalty area. \nRosicky has been the target of transfer speculation. Dortmund needs to raise cash and the talented Czech international has been linked with Chelsea, but his move is not expected before the end of the season. \nWith Schalke dominating the match and squandering scores of chances, Dortmund suddenly got another opportunity from the spot when Thomas Klaesener handled the ball in front of the Schalke goal in the 73rd. \nKlaesener was also sent off, while Frings took the penalty shot this time. He sent a low ball to the left and Rost dived to palm it away. \n"I didn't have much luck before in stopping penalties but today I stopped two," Rost said. \nFrench league \nFrench first division leader Monaco took a 1-1 draw Friday with Paris Saint-Germain, which lost a chance to inch its way closer to the top. \nAt the start of the 22nd round, Monaco has 48 points. PSG holds the third slot with 40 points. \nMonaco's Sebastien Squillaci opened the score with a header in the 26nd minute. Gabriel Heinze of PSG matched the goal in the 31st minute. \nOn Saturday, defending champion Lyon, which is second in the standings with 41 points, has a chance to leave PSG further behind when it plays Toulouse. In other matches, Sochaux vs. Marseille and Auxerre vs. Bordeaux. \nScottish premier league \nIt just gets worse for Partick Thistle. \nMired in last place in the Scottish Premier League with 16 losses from 21 games, Thistle now face up to Dutch twin brothers Ronald and Frank de Boer. \nThe twins have joined up again, this time at Scottish club Rangers. \nFrank de Boer joined Ronald at Rangers from Galatasaray earlier this week and will make his debut on Sunday against Thistle. \n"He has got leadership qualities, a sackful of winner's medals and Dutch caps," Rangers manager Alex McLeish said. \n"He is technically an excellent player and I think he is also a great competitor." \nDe Boer has not played since December and moved to Scotland in a bid for more playing time to make the Dutch team for the Euro 2004 finals. \n"We have looked at Frank in training this week and he has worked very hard," McLeish said. "We put the players through the mill and he has coped well with that. \n"He doesn't seem to have lost much fitness despite not playing since December." \nThe de Boer brothers have also played together at Ajax and Barcelona. Ronald de Boer, a striker, joined Rangers in August 2000. \nRangers are eleven points behind Celtic, but shouldn't have too much trouble beating Partick Sunday. \nPartick has only nine points from 21 games and have conceded almost as many goals, 42, as Rangers have won points. \n"Partick have been unlucky in recent games," McLeish said. "We have had them watched and the reports back say they have been battling very hard." \nDefender David Lilley is set to make his debut for Killie after moving from Partick Thistle and hopes he's not too busy. \n"It's the best Celtic side I've seen for a number of years. They're relentless," Lilley said. \n"Maybe the fact that they're now 11 points clear and they're not neck and neck with Rangers will help us." \nIn other Saturday matches -- Dundee United vs. Dunfermline, Hibernian vs. Dundee, Livingston vs. Hearts and Motherwell vs. Aberdeen. \nItalian league \nGiacinto Facchetti, a former captain-defender of Inter Milan, on Friday was named to succeed Massimo Moratti as president of the soccer powerhouse. \nFacchetti's appointment by the Milan club's board had been recommended by Moratti, who stays on as team owner and financier. \nMoratti, an oil industrialist who invested millions of dollars in the so-far vain attempt to win for his team an Italian league title, quit as club president on Jan. 19, the day after Inter was upset at home by lowly Empoli in a Serie A match. \nThe loss, the third in four league matches, touched off bitter protests by the fans as Inter slipped out of contention for the title. \nWhile naming Facchetti, the club board also appointed five new board members to replace Moratti, some of his relatives and industrialist Marco Tronchetti Provera who stepped down the day Moratti resigned. \nTronchetti Provera is the chairman of Inter's top sponsor -- the Pirelli tire group. \nEnglish premier league \nLeeds United was Friday given another week to find enough money to stop the club from going into financial administration, the last step before bankruptcy. \nLeeds had been given until close of business Friday to produce evidence they could raise 5 million pounds (US$9 million). \nThursday, the players agreed to a pay deferral of 25 percent, worth around £2.5 million (US$4.5 million) and the club was forwarded £1.5 million (US$2.7 million) owed by Manchester United for the transfer of Rio Ferdinand. \nLeeds United, Champions League semifinalists just three seasons ago, is £82 million (US$148 million) in debt. \nLeeds said in a statement that it had met the "financial and other convenants" required to extend the "standstill" agreement until Feb. 6. \nUEFA \nDjibril Cisse's hopes of helping France defend its title at Euro 2004 all but ended on Friday when UEFA upheld a five-match ban on the striker. \nUEFA's disciplinary body rejected Cisse's appeal against the ban, imposed for aggressive behavior during an international under-21 match against Portugal in November. The ban only applies to competitive matches with France, not friendlies or club games, which means the Auxerre player is ineligible to play for Les Bleus at the European championship unless it reaches the final. \nCisse, who is the French league's top scorer this season with 15 goals, will be sorely missed by the national side. \nFrance coach Jacques Santini said he was unhappy with the UEFA panel's decision. \n"This sanction was totally disproportionate when it was first imposed," he said in a statement. "It remains so, given the particular circumstances of this match.'' \nSantini said he had yet to decide on Cisse's possible participation in Euro 2004.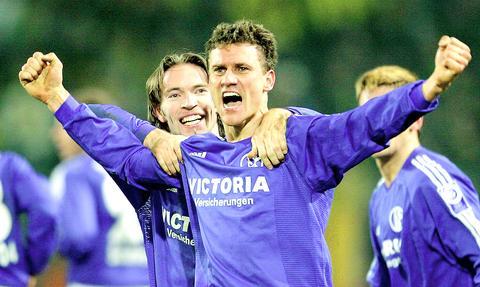 Schalke's striker Ebbe Sand, center, of celebrates with midfielder Sven Vermant after he scored against Dortmund in the last minute during their Bundesliga match at Dortmund's Westfalenstadion, Friday.
PHOTO: AFP
Comments will be moderated. Keep comments relevant to the article. Remarks containing abusive and obscene language, personal attacks of any kind or promotion will be removed and the user banned. Final decision will be at the discretion of the Taipei Times.