Miracle throws Packers into playoffs
LAST GASP The Packers were down and out with two minutes to go in the Vikings' match against the Cardinals, but a late, late Arizona rally had Green Bay celebrating
Arizona knocked the Minnesota Vikings out of the playoffs on Sunday with a fourth-down miracle that put the Green Bay Packers in.
Josh McCown threw a 28-yard touchdown pass to Nathan Poole on fourth-and-25 as time expired, rallying the Cardinals to an 18-17 victory. That left the Vikings at 9-7 and gave the division title to the Packers, who beat Denver 31-3.
Had the Vikings won, Green Bay (10-6) would have been eliminated on a series of complicated tiebreakers.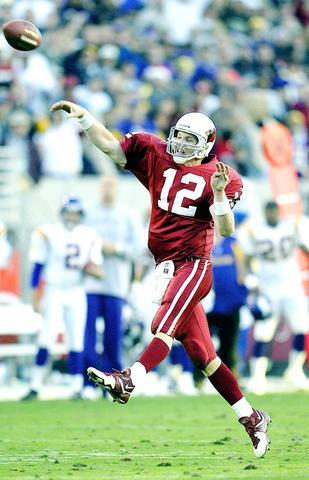 Quarterback Josh McCown of the Arizona Cardinals throws the game winning touchdown against the Minnesota Vikings on Sunday at Sun Devil Stadium in Tempe, Arizona.
PHOTO: AFP
Poole caught the ball near the sideline in the end zone, where officials ruled he was forced out by Minnesota's Denard Walker and called it a touchdown. A video review upheld the call.
Minnesota led 17-6 with two minutes left.
But Arizona (4-12) cut the lead to 17-12 on McCown's fourth-down 2-yard pass to Steve Bush with 1:54 to play.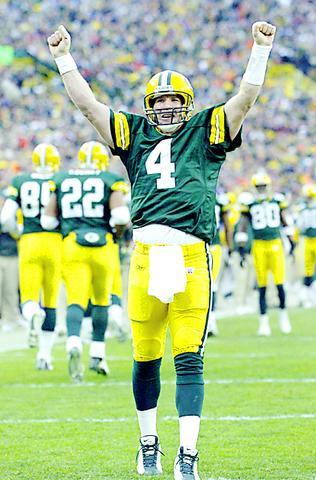 Quarterback Brett Favre of the Green Bay Packers celebrates at Lambeau Field in Green Bay, Wisconsin, on Sunday.
PHOTO: AFP
Damien Anderson recovered the onside kick for Arizona, and a 30-yard pass-interference call against Walker put the Cardinals in scoring position.
Packers 31, Broncos 3
The biggest cheer at Lambeau Field in Green Bay, Wisconsin, came for the play in Arizona that got the Packers into the playoffs.
Ahman Green reeled off a 98-yard touchdown run and Brett Favre completed a hard week in which he buried his father to lead Green Bay.
The Packers (10-6) had little hope of playing into January only minutes earlier. They celebrated wildly on the sideline after their crowd, listening on radios, broke into frenzied elation over the fourth-down pass in Arizona.
Denver (10-6) rested starters for its playoff game next Sunday in Indianapolis.
The Packers will host the Seattle Seahawks (10-6) and former coach Mike Holmgren on Sunday. The Packers beat the Seahawks 35-13 at home on Oct. 5.
Green set a franchise record with 218 yards rushing and ran for two scores, giving him 20 and breaking Jim Taylor's record of 19 set in 1962.
Ravens 13, Steelers 10, OT
In Baltimore, Jamal Lewis became the fifth player ever to rush for more than 2,000 yards in a season, but fell 39 yards of Eric Dickerson's 19-year-old record of 2,105.
Matt Stover's 47-yard field goal 3:28 into overtime gave the win to the Ravens (10-6.) They clinched the AFC North earlier in the day when Cincinnati lost to Cleveland.
Lewis finished with 114 yards on 27 carries. Jerome Bettis of Pittsburgh (6-10) ran for 54 yards to move pass Jim Brown into sixth place on the career list with 12,353.
Browns 22, Bengals 14
In Cincinnati, rookie Lee Suggs ran for 186 yards and two touchdowns Sunday as Cleveland knocked Cincinnati from playoff contention by beating the Bengals 22-14.
That allowed the Baltimore Ravens to clinch the AFC North title several hours before playing Pittsburgh in the final regular-season game.
A renaissance season ended in a gut-wrenching disappointment for the Bengals (8-8), who reverted to form in their biggest game in 13 years against a Cleveland team that finished 5-11.
With a chance to stay in contention for at least a few more hours and clinch their first winning record since 1990, Cincinnati fell down. The largest crowd for a Bengals game in Cincinnati filed out silently after Jon Kitna's final pass was intercepted by Robert Griffith with 41 seconds left.
Saints 13, Cowboys 7
In New Orleans, Donte' Stallworth's 76-yard touchdown reception sent Dallas into the playoffs on a down note.
The Saints (8-8), who will miss the playoffs for the third straight year, responded to a tongue-lashing from owner Tom Benson and a team meeting Friday night.
Dallas (10-6) had already clinched a playoff spot, but the loss dropped the Cowboys to the sixth seed in the NFC. They will play at Carolina on Saturday night.
The real winner was Seattle, which sneaked into the No. 5 seed under the NFL's complicated playoff formula.
Lions 30, Rams 20
In Detroit, Joey Harrington threw three touchdown passes as Detroit knocked St. Louis from the top spot in the NFC with 20 points in a span of 15:31 in the second half.
The top-seeded team now is Philadelphia, also 12-4, but with a better conference record after beating Washington on Saturday night.
The Eagles can thank the lowly Lions (5-11) for winning a game they were expected to lose by double digits.
Colts 20, Texans 17
In Houston, Mike Vanderjagt kicked his NFL-record 41st consecutive field goal, a 43-yarder as time expired, giving the Colts the AFC South title. Vanderjagt went 37-for-37 this season.
The Colts (12-4) trailed 17-3 before rallying. Peyton Manning's 5-yard TD pass to Brandon Stokely tied it following an interception by Donald Strickland.
The Colts will host Denver next Sunday.
Chiefs 31, Bears 3
In Kansas City, Missouri, Priest Holmes scored twice, erasing NFL records by Emmitt Smith and Marshall Faulk.
The Chiefs (13-3) were already locked into the No. 2 seed and guaranteed a first-round bye in the AFC playoffs. The Bears finished 7-9.
Holmes' two scores gave him 27 for the season and broke both Smith's record for touchdowns rushing (25) and Faulk's record for total touchdowns (26).
Titans 33, Buccaneers 13
In Nashville, Tennessee, Steve McNair stayed on the sideline, resting his aching legs for the playoffs as Neil O'Donnell threw two touchdown passes to Derrick Mason in his first start since Sept. 23, 2001.
Gary Anderson kicked four field goals for the Titans (12-4) as Tampa (7-9) became the first Super Bowl champion to finish with a losing record.
Tennessee will be at Baltimore in a wild-card game on Saturday.
Dolphins 23, Jets 21
In Miami, Olindo Mare kicked a 22-yard field goal with 3 seconds left to give Miami the win.
The Dolphins (10-6) became the first team since Philadelphia and San Francisco in 1991 to win 10 games and miss the playoffs. Their disappointing season has left coach Dave Wannstedt's job in jeopardy.
The Jets (6-10) closed out their first losing season since 1996 and their first under Herman Edwards. They lost seven games by seven points or less.
Falcons 21, Jaguars 14
In Atlanta, Michael Vick threw two touchdown passes, including a 44-yarder to Peerless Price on Atlanta's first fleaflicker of the season.
Atlanta (5-11) improved to 3-1 since Vick returned to the starting lineup. After breaking his leg in the preseason, he missed the first 10 games, then played sparingly in a loss to Houston.
Fred Taylor rushed for 121 yards for the Jaguars (5-11).
Panthers 37, Giants 24
In East Rutherford, New Jersey, Jake Delhomme threw two touchdown passes as former Giants assistant John Fox and his Panthers won in coach Jim Fassel's final game after seven seasons in New York.
In other NFL games: Chargers 21, Raiders 14
Comments will be moderated. Keep comments relevant to the article. Remarks containing abusive and obscene language, personal attacks of any kind or promotion will be removed and the user banned. Final decision will be at the discretion of the Taipei Times.