Pavel Nedved gets Golden Ball award
FOOTBALL AWARDS The 31-year-old native of the Czech Republic helped Juventus to the Serie A championship this year along with a Champions League runner-up spot
Pavel Nedved, star midfielder for Juventus and the Czech Republic, won the Golden Ball award as Europe's best soccer player, edging out France's Thierry Henry and Italian veteran Paolo Maldini. \n"I didn't even dream of this," Nedved told Canal Plus television, which showed him cradling the prestigious trophy. "I am very happy to win such an extraordinary prize." \nNedved, a first-time winner, finished with 190 points, ahead of Arsenal striker Henry on 128 and AC Milan defender Maldini on 123. The winner is picked by an annual survey of 52 European journalists conducted by France Football magazine. \n"I heard I was part of the nominees, but I didn't really think I was going to win," Nedved said. "There are many players who have had great seasons, like Zinedine Zidane, Paolo Maldini and Raul." \nNedved, 31, helped his Italian team to the Serie A championship this year and a Champions League runner-up spot. \nHis Champions League semifinal performance was key in Juventus' defeat of powerhouse Real Madrid. But he missed the final against AC Milan, which Juventus lost on penalties, because of suspension. \n"He's a very creative, talented player and deserves his award," Juventus coach Marcello Lippi told Canal Plus. \nNedved, a rugged and talented playmaker, also captained the Czech team that won its Euro 2004 qualifying group ahead of the Netherlands. \nReal Madrid striker Ronaldo won last year's Golden Ball after leading Brazil to the World Cup title. This year he placed 11th with 11 points. \nNedved is the second Czech winner after Josef Masopust in 1962 and the sixth Juventus winner -- following Michel Platini, Paolo Rossi, Roberto Baggio, Zidane and Omar Sivori. \nNedved was also named Czech athlete of 2003 by sports journalists in his home country and was British magazine World Soccer's Player of the Year. \nNedved has scored 24 goals in 99 league and European games since joining Juventus, one of Italy's most successful clubs, two years ago from Lazio of Rome. \nHe totals 17 goals in 72 international appearances. \nThe Golden Ball, Nedved's first major individual award, joined a host of silverware he already gained with Juventus, Lazio and Sparta Prague. \nWith Lazio, Nedved won the league title in 2000, the Cup Winners Cup in 1999, the Italian Cup in 1998 and 2000, and the Italian Super Cup in 1998. \nNedved -- a skillful player capable of scoring brilliant individual goals -- has helped Juventus win the league title twice (2002/2003) and the Super Cup (2002/2003). \nHe also won the Czechoslovak league title in 1993 with Sparta Prague, and was Czech Republic league champion the next two years, also with Sparta. \nMeanwhile, Henry was second again: He finished runner-up last week to Zidane in FIFA's World Player of the Year award. \nHenry has been sensational for Arsenal and France, scoring 10 league and three Champions League goals this season for the Gunners. They are second in the English Premier League, one point behind leader Manchester United. \nHe notched 24 league goals for the Gunners last season, added another seven in the Champions League and scored 10 times in 13 appearances for Les Bleus, including the winner last June in the Confederations Cup final against Cameroon. \nVeteran Maldini captained AC Milan to Champions League victory this year. The 35-year-old has played for Milan since 1984, clocking a mammoth 514 league appearances. He retired from the Italian national side after the 2002 World Cup, with 126 caps. \nIn other Golden Ball placings, AC Milan striker Andriy Shevchenko was fourth with 67 points; Real Madrid maestro Zidane was fifth on 64 and Manchester United's Ruud van Nistelrooy was sixth. \nbest Slovak \nAustria Vienna playmaker Vladimir Janocko was named the best Slovak soccer player of 2003 on Monday. \nThe 27-year-old midfielder won the most votes in a survey carried out by the Slovak Football Federation and daily Pravda, which questioned 40 coaches and journalists. \nThe Slovak midfielder, who was named Austrian soccer player of the year in 2002, was a key player for the Slovak national team, which finished third in its 2004 European Championship qualifying group behind group-winner England and Turkey. \nAfrican nominations \nNigerian stars Obafemi Martins and Jay-Jay Okocha were two of the five players nominated Monday for Player of the Year by the African Football Confederation. \nMartins plays for Inter Milan in Italy while Okocha, the Nigeria captain at the 2002 World Cup, plays for Bolton in England. \nDidier Drogba of Togo, Hatem Trabelsi of Tunisia and Samuel Eto'o of Cameroon were also nominated. Drogba plays for Marseille in France while Trabelsi plays for Ajax in the Netherlands and Eto'o plays in Spain with Mallorca.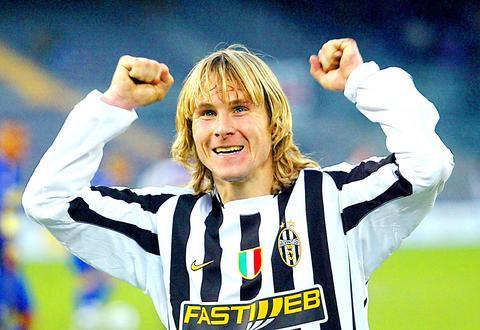 Czech midfielder Pavel Nedved of Juventus won the Golden Ball as the European Footballer of the Year in a poll of European soccer journalists from 52 countries published by `France Football' magazine, the Italian club's official Web site said Monday. Nedved is seen celebrating scoring against Parma during their Serie A soccer match in Turin on Dec. 14.
PHOTO: REUTERS
Comments will be moderated. Keep comments relevant to the article. Remarks containing abusive and obscene language, personal attacks of any kind or promotion will be removed and the user banned. Final decision will be at the discretion of the Taipei Times.