McGrady leads Magic to their third straight win
MUCH-NEEDED BOOST: McGrady's 29 points and 20 from Howard gave the Orlando team its sixth win in eight games, lifting it off the bottom of the table
Tracy McGrady scored 29 points to guide Orlando to a 104-93 triumph over the Toronto Raptors Sunday, the Magic's third straight victory and sixth in the last eight games.
Juwan Howard added 20 points and 12 rebounds for Orlando (7-21), which moved out of last place in the overall Eastern Conference standings.
Orlando lost 19 straight games after opening the season with a win but continued its improvement with a solid team effort against the struggling Raptors.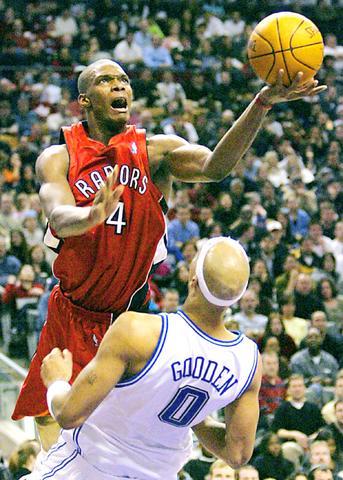 Toronto Raptors center Chris Bosh goes to the hoop over Orlando Magic forward Drew Gooden during the first half of their game in Toronto on Sunday.
PHOTO: REUTERS
Toronto (14-13) has lost five of its last six games after a run of five successive wins.
Drew Gooden had 14 points and 14 rebounds for the Magic while Rod Strickland added 14 points, six rebounds and eight assists.
Donyell Marshall tallied 19 points and 19 rebounds for the Raptors while Vince Carter chipped in with 17 points.
Heat 104, Warriors 93
In Miami, Dwyane Wade piled up a career-high 33 points to give the Heat a 104-93 victory over the Golden State Warriors.
Eddie Jones added 21 points and Lamar Odom 11 points and 15 rebounds as the Heat won their fourth straight home game.
Nick Van Exel and Jason Richardson both scored 17 points for the Warriors.
Celtics 87, 76ers 84
In Boston, Paul Pierce contributed 31 points and 10 rebounds to hand the Celtics an 87-84 win over the Philadelphia 76ers.
The Celtics picked up their seventh victory in nine games after Jiri Welsch scored 22 points and Vin Baker added 10 points and 10 rebounds.
Aaron McKie totaled 24 points but could not stop the 76ers losing for the fourth time in five games.
Pistons 96, Jazz 75
In Detroit, Chauncey Billups and Chucky Atkins both had 19 points as the Pistons cruised past the Utah Jazz 96-75.
Tayshaun Prince added 18 points for the Pistons, who jumped into a 12-point lead in the first quarter.
Carlos Arroyo picked up 11 points for the Jazz, who lost for the third time in four games.
Lakers 107, Suns 101
In Los Angeles, Shaquille O'Neal recorded 18 points and 18 rebounds to power the Lakers to their second win in successive nights, 107-101 over the Phoenix Suns.
Devean George added 19 points and nine rebounds and Gary Payton 19 points and seven assists.
The Lakers (20-5) had six players in double figures.
Stephon Marbury claimed 31 points and 11 assists for Phoenix while Shawn Marion added 23 points and 10 rebounds.
Kings 117, Trail Blazers 98
In Sacramento, Brad Miller notched 18 points and 14 rebounds as the Kings overcame the Portland Trail Blazers 117-98.
Peja Stojakovic amassed 29 points and Vlade Divac 26 to lead the Kings to their seventh win in eight games.
Portland's Zach Randolph had 26 points and 13 rebounds while Rasheed Wallace picked up 27 points. The Trail Blazers are winless in nine road games this season.
Comments will be moderated. Keep comments relevant to the article. Remarks containing abusive and obscene language, personal attacks of any kind or promotion will be removed and the user banned. Final decision will be at the discretion of the Taipei Times.