LeBron gets 36 on 76ers
AMERICAN BASKETBALL Cleveland's young rookie sensation scored nearly half of the team's points to give the struggling Cavs a rare win while on the road
LeBron James ended Cleveland's 34-game road losing streak with his best shooting performance yet. \nJames made five 3-pointers and scored 36 points, leading the Cavaliers to an 88-81 victory over the Philadelphia 76ers on Friday night for Cleveland's first away win since Jan. 12 at Seattle. \n"It was great to get a road win," James said. "My teammates are seeing I'm coming into my own. I'm focused and playing hard every game." \nCleveland's road losing streak tied for the second-longest in NBA history behind Sacramento's 43-game streak in the 1990-1991 and 1991-1992 seasons. New Jersey also had a 34-game streak in the 1989-1990 and 1990-1991 campaigns. \nJames finished 14-of-24, including 5-of-7 from 3-point range. He made all three of his free throws and had four rebounds and five assists. \n"I'm a natural-born leader," James said. "My teammates are coming to me now and I've been a leader all my life." \nMagic 119, Warriors 93 \nIn Orlando, Florida, Tracy McGrady had 29 points and a season-high 12 assists in leading the resurgent Orlando Magic to their largest victory margin of the season. \nDrew Gooden added a season-best 25 points and 13 rebounds off the bench for his seventh double-double of the month. \nRod Strickland had 11 points and a season-high 11 assists in his second straight start as Orlando won at home for just the second time. The Magic had season highs in points, shooting (51.6 percent), field goals (49), 3-pointers (10), assists (32) and rebounding margin (23). \nOrlando has won five of seven since snapping a franchise-record 19-game losing skid. \nRaptors 105, Knicks 99, OT \nIn Toronto, Vince Carter scored 10 of Toronto's 12 points in overtime to help the Raptors end a four-game losing skid. \nDonyell Marshall added 19 rebounds and 15 points for the Raptors, who are 6-4 since their big trade with Chicago. \nNew York's Allan Houston forced overtime on a 3-pointer with 4.4 seconds left, but he missed two jumpers and turned the ball over in the final 1:30 of overtime. \nHouston had 33 points for the Knicks, who have lost seven straight road games and eight of 10 overall. It was their first game since a team meeting following their lopsided loss to Golden State on Tuesday. \nKings 98, Hawks 86 \nIn Atlanta, Brad Miller had his third straight double-double and hit a big 3-pointer late to help the Kings hold off the Hawks. \nMiller finished with 17 points and 12 rebounds and Peja Stojakovic scored 31 for the Kings, who have won six of seven games. \nAtlanta guard Jason Terry, coming off his first scoreless game in more than two years, had 25 but couldn't stop the Hawks from losing their sixth in a row. Shareef Abdur-Rahim added 21 points and 10 rebounds. \nNets 97, Wizards 87 \nIn East Rutherford, New Jersey, Kenyon Martin had 22 points, 14 rebounds and five assists and the Nets spoiled former assistant coach Eddie Jordan's return to New Jersey. \nRichard Jefferson had 18 points and Kerry Kittles 16 as the Nets won for the sixth time in seven games and for the second time this season over Jordan and the Wizards. \nThe victory put the two-time defending Eastern Conference champions over the .500 mark for the first time since Nov. 1, when they were 2-1. \nJarvis Hayes had 22 points and Larry Hughes 17 for the Wizards, who have lost nine of 11 and fell to 8-17 in Jordan's first season as coach. \nJazz 99, Celtics 96 \nIn Boston, Raja Bell's jumper with 26.8 seconds left put Utah ahead for good. \nBell, who did not score until hitting the go-ahead bucket as the shot clock expired, scored the last four points of the game as the Jazz won for only the third time in 12 road games this season. \nDeShawn Stevenson scored 22 points and Matt Harpring had 21 points and 11 rebounds for the Jazz, who led by as many as 18 in the third quarter. Andrei Kirilenko added 18 points, seven blocks, six assists and six rebounds. \nPaul Pierce led the Celtics with 19 points and eight assists. \nGrizzlies 97, Heat 83 \nIn Memphis, Tennessee, Memphis moved five games over .500 for the first time in franchise history as Mike Miller scored 18 points to lead six players in double figures. \nMiller was 6-of-10 from the field, including 3-of-5 from 3-point range, as Memphis built a big lead before halftime and the Heat never cut it below double digits. \nThe win was Memphis's sixth straight at home, setting a new franchise mark. The Grizzlies also set a franchise record for wins (15) before the All-Star break. \nMiami lost for the second straight time after a four-game winning streak. \nPacers 80, Pistons 75 \nIn Indianapolis, Ron Artest scored 22 points, Jermaine O'Neal added 19 and Austin Croshere came off the bench for 12, all in the fourth quarter. \nThe Pistons, threatening to give the Eastern Conference-leading Pacers their first two-game losing streak this season, led by 13 points in the first half and by as many as 10 early in the final period before Indiana rallied. \nChauncey Billups led Detroit with 13 points, while Richard Hamilton and Ben Wallace each added 12. \nRockets 99, Clippers 85 \nIn Houston, Yao Ming recorded his 12th double-double of the season with 21 points and 10 rebounds. \nThe Rockets never trailed after the first basket as they snapped the Clippers' four-game winning streak. \nCuttino Mobley added 22 points for Houston, followed by Steve Francis with 16, Jim Jackson with 12 and Maurice Taylor with 13 off of the bench. \nQuentin Richardson led the Clippers with 20 points, while Corey Maggette had 16 and Elton Brand added 11 points and 11 rebounds. \nSpurs 87, SuperSonics 73 \nIn Seattle, Tim Duncan had 27 points and 20 rebounds to lead San Antonio over Seattle for its ninth straight victory. \nThe defending NBA champions improved their record to 18-10, including 7-7 on the road. They can tie the Los Angeles Lakers for the longest winning streak in the NBA this season with a win at Portland on Saturday night. \nTony Parker scored 16 points and Manu Ginobili added 14 for the Spurs, who have their longest winning streak since they won 10 straight in the 2001-2002 season. \nThe Sonics, who lost their third straight game, got 15 points from Ronald Murray, who shot a paltry 6-for-26. \nLakers 101, Nuggets 99 \nIn Los Angeles, Kobe Bryant hit a 6m jump shot at the buzzer after arriving late from a court hearing in Colorado as Los Angeles edged the Nuggets. \nBryant took the inbounds pass from Devean George, drove left, pump-faked defender Jon Barry off his feet and sank the winning jumper from the top of the key before falling on his rear end. He was mobbed by teammates, and the crowd that had welcomed him with a loud ovation at the start of the second quarter went wild. \nShaquille O'Neal had 26 points, 11 rebounds and made 10 of 17 free throws to help the Lakers end a two-game losing streak. They are 13-1 at Staples Center.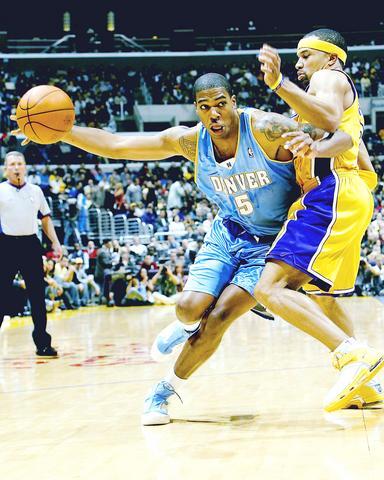 Rodney White, left, of the Denver Nuggets drives around Derek Fisher of the Los Angeles Lakers at Staples Center in Los Angeles, California, Friday. The Lakers won 94-92.
PHOTO: AFP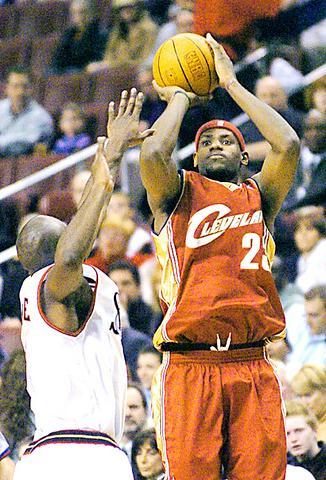 Cleveland Cavaliers' rookie guard LeBron James, right, shoots a jump shot under pressure from Philadelphia 76ers' guard Aaron McKie during the first quarter in Philadelphia, Friday.
PHOTO: REUTERS
Comments will be moderated. Keep comments relevant to the article. Remarks containing abusive and obscene language, personal attacks of any kind or promotion will be removed and the user banned. Final decision will be at the discretion of the Taipei Times.